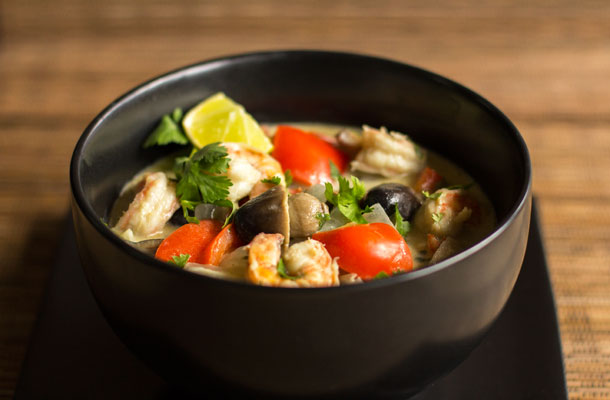 Most of the time when we get a craving for Thai food we go out to eat.  However, this Thai Green Curry Shrimp dish is the exception.  I found a basic Thai Shrimp Curry recipe years ago in Bon Appetit (Feb 2008).  I loved the "base" of the dish (the coconut milk, broth, and Thai flavorings), but I wanted more vegetables. The Bon Appetit recipe only uses onion and tomato, and I'm not a fan of tomato in my curry dishes, especially green curries. So as you can see here, I've changed it up a bit.
This shrimp curry recipe uses onion, bell pepper and mushrooms and lots of them.  This combination, along with the shrimp, provides many flavors as well as textures.  It is a very easy dish to make and comes together quickly.  One can be sitting down to eat within 30 minutes.  I know it is not "authentic" Thai, but the green curry flavor is there and very close to the flavor of the green curries we order at local Thai restaurants.  OH…..and it's spicy!  The green curry paste adds, not just Thai curry flavor, but Thai curry heat as well, and what a wonderful heat that is.
If you don't have shrimp or don't eat shrimp, then you can make a Thai Chicken Red Curry with just a few changes.  To see the chicken curry recipe, please be sure to check out the Kitchen Notes below. And if you don't eat meat at all, then replace the meat with tofu and use either the green curry or the red curry paste.  We've used tofu with red curry paste and it was excellent.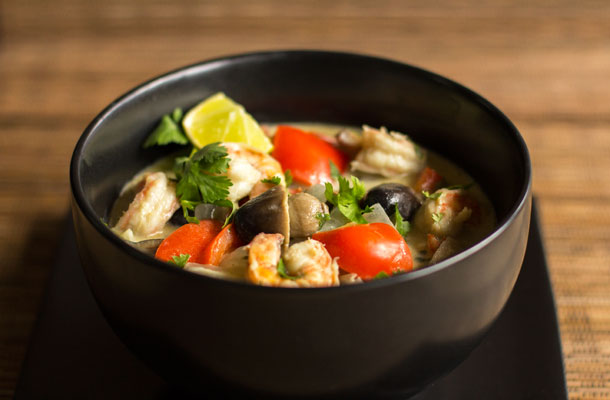 Thai Green Curry Shrimp Recipe
An easy and delicious shrimp stew that was adapted from a February 2008 recipe in Bon Appetit. Can be served with either white or brown rice.

"*" See Kitchen Notes for more information or links to special ingredients.
Course:
Main Course, Seafood, soups & stews
Ingredients
1

Tbsp.

peanut oil

1

tsp.

toasted sesame oil

1

medium onion,

coarsely chopped*

1

small to medium bell pepper,

any color, coarsely chopped

2

cups

fresh crimini mushrooms,

quartered or 1 can straw mushrooms, drained*

2 - 5

tsp.

Thai green curry paste*

(adjust amount for mild, medium, hot)

2

Tbsp.

Thai fish sauce

1

– 14 oz. can unsweetened coconut milk

1

cup

chicken or seafood stock*

1

tsp.

honey or 2 tsp. sugar

1

lb.

medium shrimp,

peeled and deveined

¼

cup

fresh cilantro or fresh Thai basil*,

chopped

lime wedges,

1 for each serving
Cooked white or brown rice
Rice ingredients
2

cups

liquid

(1 cup chicken broth, 1 cup water)

1

cup

rice

(brown or white)
Instructions
To start the rice bring 2 cups liquid to a boil. Add the rice, cover and bring to a simmer. Turn to heat to low and let simmer 20 minutes for white rice, 45 minutes for brown rice.

Heat peanut oil in wok or large skillet over medium high heat. When hot, add onion and bell pepper and cook for 4 minutes, stirring frequently.

If using fresh mushrooms, add them now and cook for 2 minutes, stirring frequently.

Reduce heat to medium. Add the sesame oil and curry paste. Stir until fragrant, about 1 minute.

Add fish sauce, broth, coconut milk and honey. Bring to a boil and reduce heat for a simmer until the rice is done.

About 3 minutes before serving, add the shrimp (and straw mushrooms if using) to the curry. Cook for 3 minutes. Shrimp should be pink and just cooked through. Stir in the cilantro.


Scoop ½ to 1 cup rice into bowls. Top with shrimp and vegetables and the desired amount of curry sauce.

Squeeze a wedge of lime over each serving and enjoy!
Kitchen Notes
How to cook Brown Rice in 30 minutes
Seafood stock - Make a simple seafood stock with the shrimp shells.  Just add the shells to 2 cups water, bring to a boil, then simmer for 15 minutes. Strain and use.  For a spicy stock, add 1/2 tsp. cajun spice or red chile spice.
Onion – The medium onion can be substituted with two bunches of scallions, white chopped into 1″ lengths and green tops diced.  Cook the white part of the scallions with the bell pepper.  Add the green tops with the shrimp and fresh herbs at the end.
Mushrooms – I normally use only fresh or frozen vegetables, but I make an exception with canned straw mushrooms.  I have to admit that I'm a sucker for these mushrooms and they are my favorite with this dish.  If using fresh mushrooms, crimini mushrooms are best, not just for their flavor, but for their texture as well.  Notice in the recipe instructions, that the canned mushrooms are added with the shrimp, and the crimini are added after cooking the onion and bell pepper.
Thai Green Curry Paste – Thai Kitchen brand is the brand I use. There may be a better brand out there, so use what you like.  Green curry paste is quite spicy; therefore, we usually use about 3 teaspoons for a medium heat and 5 teaspoons for those nights when we want it hot.
Fresh Herbs – If you don't eat or don't have fresh cilantro nor Thai basil, sweet basil is a good substitute.
I find that the best pot for cooking rice is a heavy pot with a glass lid.  The glass lid lets you see what's going on in the pot without lifting the lid. To test to see if the rice is done, all you have to do is tilt the pot, and if you see any liquid, it's not done.
Thai Red Curry Chicken Variation
– Substitute the following:
Thai red curry paste for the green curry paste
2 cups of uncooked chicken (cut into bite size strips) for the shrimp.  Add to the wok after cooking the onion and bell pepper for 4 minutes.  You could also use leftover chicken. If the chicken is cooked then add the chicken at the end with the fresh herbs.
Fresh parsley, Thai basil or sweet basil instead of cilantro
Vegetarian/Vegan Version – As I mentioned earlier, tofu can be substituted for the chicken or the shrimp in either of these curries.  Add the tofu about 5 minutes before serving. Substitute the chicken broth with vegetable broth and omit the fish sauce. The fish sauce does add a distinctive flavor to this dish, so if you know of a substitute, then use it; otherwise, just leave it out.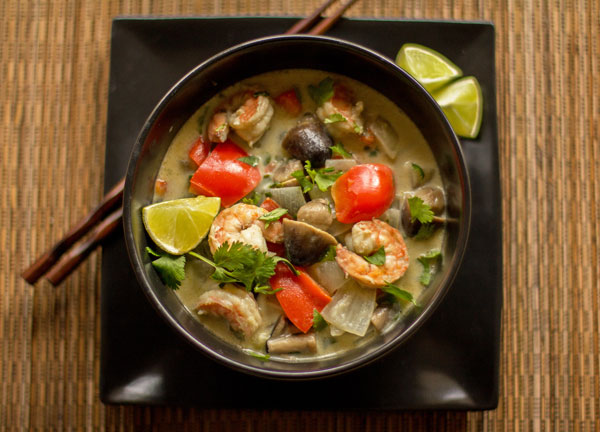 Because it is extremely easy and quite delicious, this Thai Green Curry Shrimp is in the top 20 of my "Quick & Easy Meal Ideas".  It's hearty, healthy, spicy, and packed with flavor.