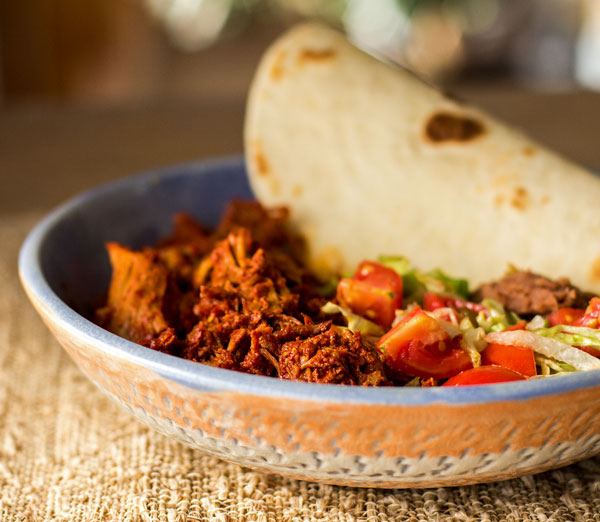 I thought I would start the new year off with the most requested recipe of 2014 – Carne Adovada, pork marinated in New Mexico red chile – a relatively simple dish to make.  It takes about an hour's worth of work on day 1, then a long braise on day 2.  Bobby and I made this for Christmas Day along with Green Chile, Corn, and Mushroom Tamales, roasted red chile tamales and a citrus salad. There was a lot of "Christmas" in this house with all of the red and green!
New Mexico carne adovada is a very meaty dish consisting of chunks of pork shoulder marinated for about 24 hours in a red chile sauce, then slow cooked in the oven for 2 to 4 hours depending on oven temperature and the amount of pork. This process yields tender pieces of pork that easily pull apart with a fork and that melt in your mouth, releasing the spicy, earthy goodness of New Mexico's red chile.
There are thousands of carne adovada recipes out there as well as carne adobada recipes, Mexico's version of meat marinated in red chile.  All are very similar with slight differences in amounts or omissions of various ingredients such as vinegar, cumin, coriander, and oregano, as well as the types of chiles used.  The red chile for my carne adovada is made with New Mexico red chile and is as simple as my regular red chile sauce recipe, but with a few minor differences. It uses basic ingredients such as onion, garlic, dried red chile pods, oregano and a little vinegar.  When the red chile pods are really, really hot, I add just a touch of honey to tone the heat down a bit.
Serve carne adovada with a flour tortilla, a simple salad and some beans or rice (if you choose), and you have yourself a deliciously hearty and spicy meal.  If you have leftovers, make a burrito or, my favorite, carne adovada enchiladas.
New Mexico Carne Adovada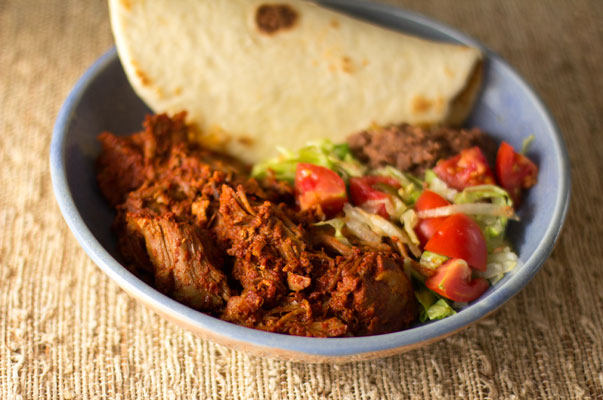 New Mexico Carne Adovada Recipe (Pork Marinated in Red Chile)
This dish takes 2 days to make.

On Day 1 you make the red chile (allow at least 1 hour) and marinate the meat by sitting it in the refrigerator overnight or longer.

On Day 2 you braise the red chile smothered pork for 3 - 4 hours. It's a long process, but worth it!

"*" See Kitchen Notes for more information or links to special ingredients.
Ingredients
7 to 8

pounds

bone in pork shoulder or pork butt*,

remove bone and visible fat, cut meat into 1 to 2 inch chunks

1

Tbsp.

oil or bacon dripping

1/2

medium onion

4-6

large garlic cloves

25-30

red chile pods*,

stems and seeds removed. Pods cut into 1-2 inch lengths

1

tsp.

salt

2

tsp.

Mexican oregano

3

cups

water

2

tsp.

medium red chile powder*

(optional)

1

tsp.

honey*

(optional)

2

tsp.

apple cider vinegar
Instructions
Day 1 - Make the red chile sauce
Heat the oil in a large heavy skillet or pot over medium heat. Add the onion and garlic and lower the heat to medium low.

Sweat the onions until translucent.

Add the red chile pieces and increase heat to medium. Toast the chile, stirring frequently for about 5 minutes. When you start smelling the chile, keep an eye on it so it doesn't burn.

Once the chile pods have started to darken a bit, add the oregano, water, and chile powder. Bring to a boil and then reduce to a simmer.

Cover and simmer for 10 minutes.

Transfer to a blender, reserving some of the water to use as needed. Add only just enough water to be able to get a smooth puree.*

Add the vinegar and blend until smooth.

Taste. Add more salt if needed and honey if you find the sauce too hot or bitter*.


Let rest while you cut up the meat.

If you want a really smooth sauce, you can press the red chile through a strainer or colander to remove bits of unprocessed chile or seeds. Use a rubber spatula to move the chile around and press through.

Marinate the pork pieces.
Spray a large, heavy Dutch oven with cooking oil. (This pot will be placed in the oven.)


Transfer the pork pieces to the Dutch oven and pour enough red chile over the meat to coat the meat when stirred. (See Kitchen Notes for Amount of red chile. Any extra red chile can be used to "smother" the carne adovada after serving.)

Stir well to coat all of the pieces with the red chile.

Cover and set in the refrigerator overnight or for 24 hours.
Day 2 - Braise the marinated pork
One hour before placing in the oven, remove the Dutch oven from the refrigerator so that the meat can come up to room temperature.

Preheat the oven to 300° F.*

Place the meat in the hot oven and cook for COVERED for 2 hours.

Remove from the oven and stir. There will be quite a bit of liquid.

Return the meat to the oven UNCOVERED for 1 to 1.5 hours or until the meat is pull apart tender and the liquid has reduced.*

Turn the oven off and leave the carne adovada in the oven until ready to serve.

Top each serving with red chile if desired.
Kitchen Notes
Pork Shoulder (pork butt) Size – For this recipe I usually start with an 8 pound, bone-in, pork shoulder. Once I remove the bone and much of the fat, I end up with about 5 pounds of meat.  Therefore, if you just want to start with a 5-6 pound boneless shoulder that would save the time of cut away the bone. I use the bone to make a pork stock.  You could also use a 3-4 pound boneless shoulder.  This would yield a smaller batch, but it would also only take about 2 hours of cook time.  Just be sure to reduce the amount of red chile.
Cutting up the pork – I personally am not fond of biting into a big piece of fat with I eat carne adovada; therefore, we trim the larger pieces of fat off of the cut pieces of meat.  However, we don't get too carried away because we want to leave some of the fat for flavoring.
As mentioned, we usually cut the meat into about 2 inch chunks. This yields larger pieces that can be pulled apart with a fork once cooked.  Smaller pieces (1 inch cubes) yield bite size pieces that won't need to be "pulled".
Chile Pods and chile powder – If your pods are hot, then use mild to medium chile powder.  This helps bring down the heat of really hot chile pods and adds a little depth to the flavor of the chile. If your chile pods are mild to medium, then use hot chile powder for a spicier chile. When I'm using a VERY hot chile, I'll reduce the number of pods to 20 pods, then add 2 tablespoons of powder.
Honey – Honey kills the burn.  Therefore, honey is a great ingredient to help reduce a little of the heat from the chile as well as bitterness.  However, be careful and don't add too much.  More than 2 teaspoons can make your red chile too sweet.
Amount of red chile sauce – The amount of red chile made in this recipe is plenty for 5- 7 pounds of meat, but is too much for any less than that.  A rough estimate for how much red chile you need is ½ cup of red chile for 1 pound of meat. You can always add more for a saucier carne adovada. You just want to make sure that you use enough chile to fully coat the pieces of pork.
Oven Temperature – I have found it best to braise carne adovada at a low temperature of 300°F.  However, if you don't have to time to braise for 3 – 4 hours, you can increase the temperature to 350°F and cook for 1 to 1.5 hours. If you choose to cook at a higher temperature, just cut the pieces of meat smaller, about 1″ cubes.
The amount of liquid in the cooked meat – Some people may want a stew like carne adovada with quite a bit of sauce, while others, like it a little saucy, but not soupy.  If you want a more stew like carne, then wait and uncover the Dutch oven 2.5 hours into cooking.  However, if you want the chile thicker and more saucy, then uncover after 2 hours of cooking.  If you want it even less sauce, then you can use a slotted spoon to scoop out the meat, throw it into a skillet and cook off even more of the sauce before serving. Just don't cook off too much. You'll need some sauce for the flour tortilla. 🙂 I actually love having extra sauce for making carne adovada enchiladas with the leftovers.
This recipe make a large batch of carne adovada, so unless you're serving 8 – 10 people, you will have leftovers. But never fear, this freezes very well and can be used in a variety of dishes such as burritos, enchiladas, tacos, and tostadas.