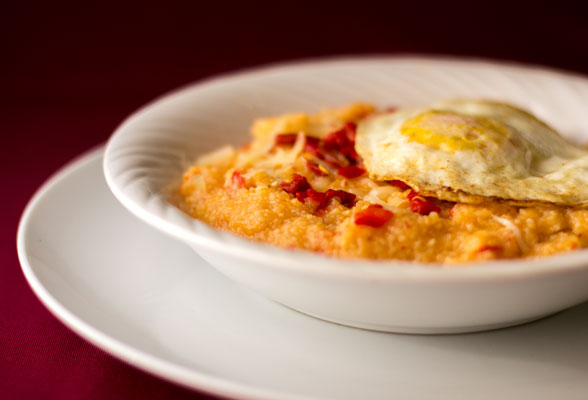 As many of you already know, grits and chile is one of my all time favorite breakfasts.  At least once a week I'm cooking up a pot of grits and in the cooler months, we could be eating grits and chile 2 to 3 times a week.  With all of the great chiles out there it is pretty easy to keep our grits exciting by changing up the flavor with different chiles and cheese.  In previous years, I've shared my chipotle, feta and grits and my grits and green chile.  Now it's time for Grits with Red Chile and Cheese.  These grits are just as easy to make as all of the others and can be made in less than 20 minutes; however, you do need some kind of red chile paste and either some roasted red chile or roasted red bell peppers.
For this batch of grits I used my red chile paste and some roasted red chile (both of which I had in the freezer).  The main objective here is to incorporate the wonderful flavors of red chiles into the grits.  It's a great combination!  For alternatives to the chile paste, please check out my Kitchen Notes below.
On a side note…Some of you may be asking "Which is better – red or green?"  Even though they are the exact same chile, the flavor of red chile is completely different from the flavor of green!  Just think about the difference in flavor between a red bell pepper and a green bell pepper. Night and day – right?  Chiles work the same way.  Once a green chile turns red, it keeps the heat, but develops a sweeter taste.  And then when you dry the red chile, the flavor changes again.  Personally, even though I do LOVE my freshly roasted green chile and green chile dishes, I'm really more of a red chile girl. 🙂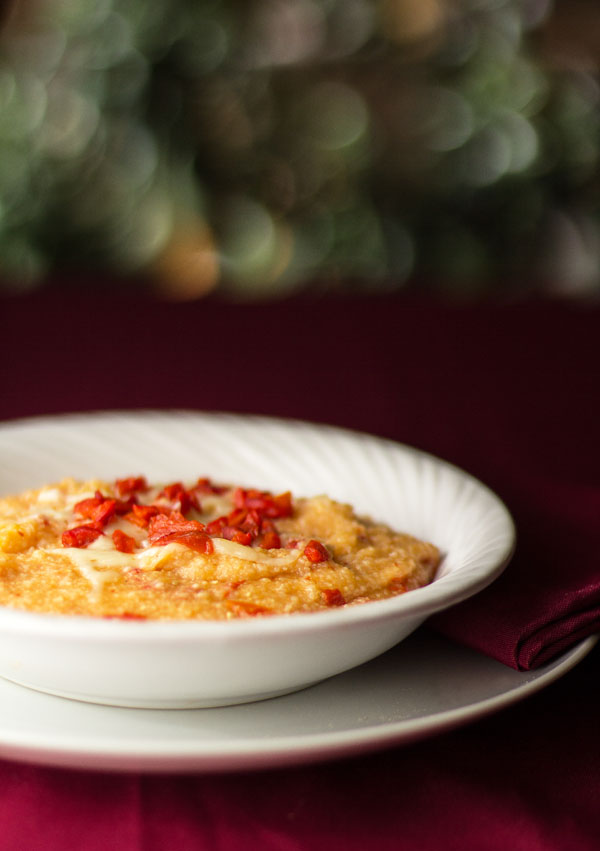 [print_this]
Grits with Red Chile And Cheese Recipe
Recipe author:  MJ of MJ's Kitchen
Serves 2 – 4
Prep and cook time: less than 20 minutes
Ingredients
3 cups water
¼ tsp. salt
~1 Tbsp. red chile paste (optional)*
¾ cup quick-cooking grits*
~½ cup grated Fontina or Monterey Jack*
¼ to ½ cup chopped roasted red chile* (the amount depends on the heat of the chile and how much heat you want)
1 egg overeasy or sunnyside up per person (optional)
*See Kitchen Notes
Instructions
Add the water, salt and red chile paste to a 2 quart sauce pan.  Cover and bring to a boil.
SLOWLY whisk in the grits. Reduce heat to low and cover. Whisk every 1 minute for 5 minutes.
Once the grits have thickened (about 5 minutes), stir in the cheese and chile. Cook for another 1 – 2 minute, stirring frequently.
Remove from heat and pour into bowls.
If desired, top your bowl of grits with a fried egg.
Enjoy!
[/print_this]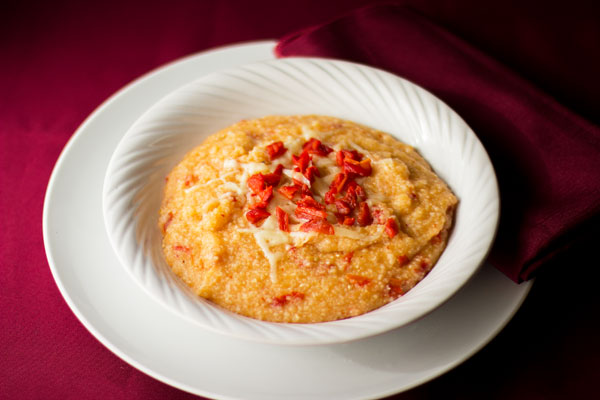 Kitchen Notes
Red Chile Paste – This ingredient is really optional.  If you don't have it, don't worry.  This dish is great with just the roasted red chile and cheese.  The paste adds another depth of chile flavor and makes the grits more rich tasting; therefore, when I have the paste, I use the paste.  I've used both my red chile paste and roasted red chile spread, one of which I usually have in the freezer.  Both the paste and the spread can be frozen by pouring it into ice cube trays and freezing.  Each cube is about 1 tablespoon. Once frozen, the cubes are transferred to a freezer bag.  It only takes 1 cube to make a delicious, spicy pot of grits.
Grits –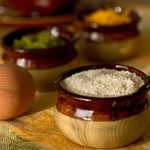 I used to use Quaker's Quick Cooking Grits, but last fall I discovered Bob's Red Mill Organic White Corn Grits. These make creamier grits and cook up just as fast (about 5 minutes).  So give them a try if you haven't already.
Cheese – For these grits we really like Fontina the best, but you can use Monterey Jack as well.  The cheese needs to be a milder tasting cheese as to not overpower the chile flavors, and also one that melts easily.
Chopped Roasted Red Chile – The addition of roasted red chile is to add the flavor of "roasted" chile to the grits.  You could substitute the chile with roasted red bell peppers, but you'll need to the chile paste to get the spicy chile flavor.  If you don't have roasted red chile of any kind, you could really switch it up and substitute about 1/2 cup of onion sautéd in butter until it is translucent and soft. This is pretty darn good as well!
And as far as the egg on top goes…that's a personal choice. Bobby loves an egg with his grits, but I prefer to eat them without one.  No matter whether you use an egg or not, I really think you're going to love these grits and red chile!