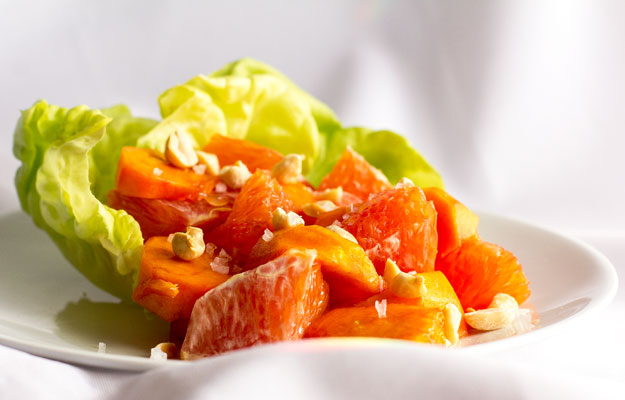 Cara Cara oranges and Fuyu persimmon are my favorite winter fruits.  It was not until I had a flat of both sitting on the counter that I thought of putting them together in this simple salad.  If any two fruits below in the same bowl, it's these two.  We have been eating this salad a couple of times a week since November.  By using different flavored sea salts, one can slightly alter the taste of the salad to best complement the meal and to provide a different finish.
This salad is the perfect salad for spicy food because it helps to calm the burn and cool the palate, getting it ready for another bite.  Serve with carne adovada, tamales, enchiladas, and smoked meats. It's also a nice salad for non-spicy meals such as chicken and turkey, fried fish, soups or pasta.  When I serve it with a non-spicy meal, I sometimes use a spicy sea salt like Thai Sriracha.  See my Kitchen Notes for suggestions of sea salts.
One really doesn't need an entree to serve this salad.  It makes a great lunch or light dinner.
Cara Cara Orange and Persimmon Salad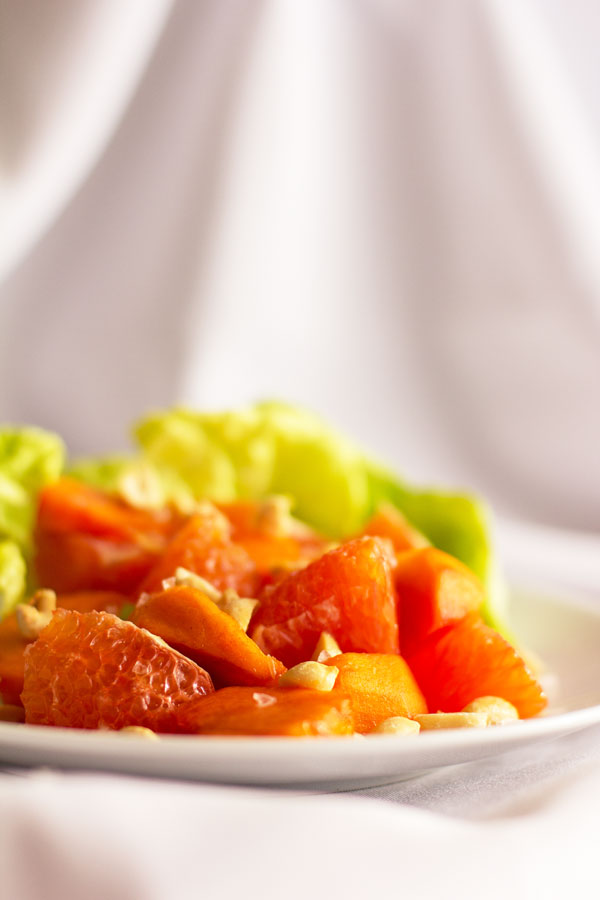 Cara Cara Orange and Persimmon Salad Recipe
An easy to throw together for any meal. Refreshing, with lots of flavor.

"*" See Kitchen Notes for more information or links to special ingredients.
Course:
Salad, Vegetarian
Ingredients
1

Cara Cara Orange,

peeled, wedges separated and cut into 2-3 pieces

1

ripe Fuyu Persimmon,

peeled and sliced

A few pinches of infused sea salt

About 2 Tbsp. coarsely chopped, roasted peanuts

Lettuce
Instructions
Transfer orange and persimmon pieces to a bowl.

Sprinkle with sea salt and toss.

Place the lettuce on two salad plates.

Divide the fruit mixture between the two plates and top with the chopped peanuts.

Serve.
Kitchen Notes
Cara Cara Oranges – These are my favorite oranges, consistently sweet and juicy.  However, you could use any sweet orange, tangerine, satsuma, or cutie.
Infused (Flavored) Sea Salt – Here is where you can really have fun with this salad.  Over the past year I have purchased a variety of sea salts.  The sea salts that I like best with this salad are Sichuan Pepper, Sweet Ginger, and Thai Sriracha.  With a variety of salts in your pantry it is easy to match a salt to the meal.
Roasted peanuts – The peanuts can be salted or unsalted.  If salted, just cut back on the amount of sea salt.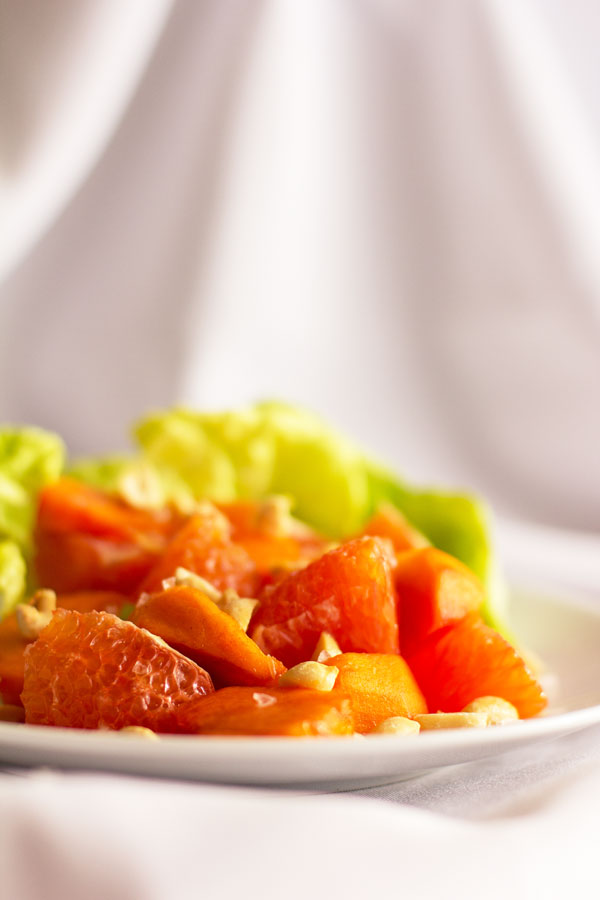 If you enjoyed this Cara Cara and Persimmon salad, here are some other citrus salads you might enjoy
Avocado, Orange, and Cucumber Salad