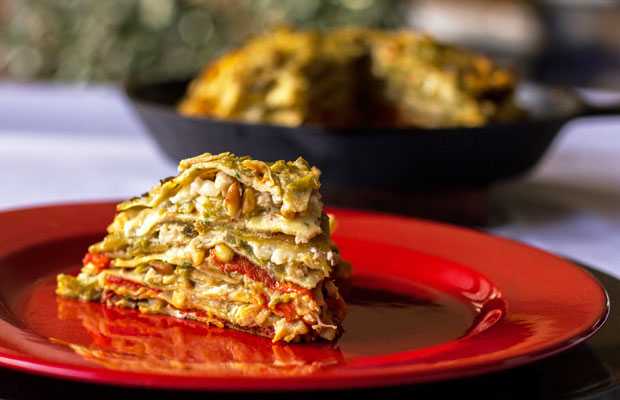 If you've ever been to New Mexico or have been following my website for a couple of years, you are probably familiar with the question "Red or Green?".  If not, then let me briefly explain. When you place an order in a New Mexican restaurant you will most likely be asked "Red or Green?"… red chile or green chile.  Of course your answer could be either one of these, but there is actually a third answer … "Christmas". When you order Christmas you get both red and green chile.  Therefore, in the spirit of the holiday season, I thought I would make a Christmas Pathiri (stacked crepes with red and green chile).
Last spring I shared my vegetarian Green Chile Pathiri with Pinon and Queso Fresco.  This Christmas Pathiri is similar, but different. The crepes are dipped in green chile sauce then layered with whole, roasted red and green chiles, chicken (or turkey), toasted pinon (pine nuts), and cheese. In taste it's a little like green chile chicken enchiladas, but with a greater depth of flavors. It's texture is lighter and, because of the reduction in cheese, it's probably a little healthier.
One very important ingredient that I don't show in the pictures, is the fried egg.  The first night we had these crepes with chile and chicken, we didn't add the egg.  But when I served the leftovers a couple of days later, on a whim, I topped each serving with an over easy egg.  Bobby and I both agreed that the egg took this dish from very goooooood to GREAT.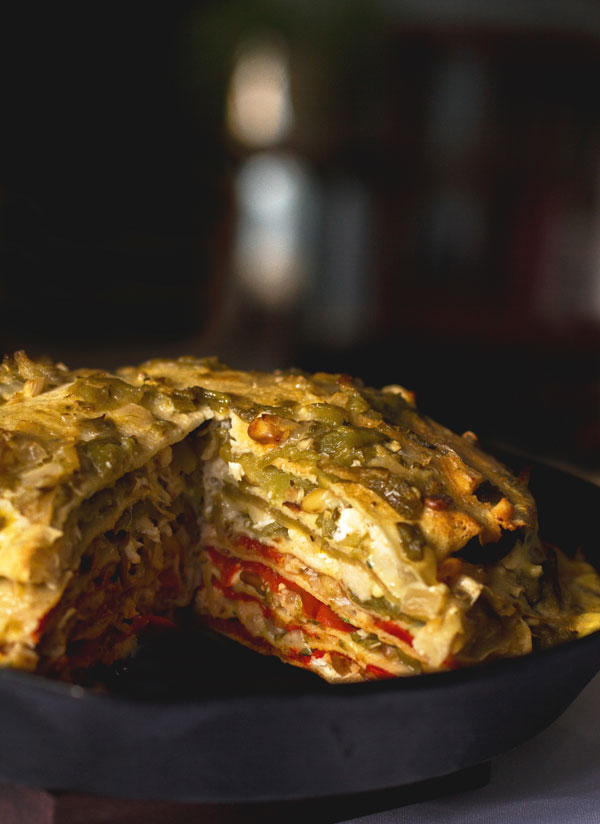 [print_this]
Stacked Crepes with Chile and Chicken Recipe
Recipe Author: MJ of MJ's Kitchen
Serves 4 – 6 as a meal
Crepes – Prep and Cook time 1 hour
Dish assembly – 30 minutes
Bake time – 40 minutes
Rest for 5 to 10 minutes
Ingredients
8 – 10 crepes (See crepe recipe below)
2 cup green chile sauce (homemade or canned)
10 whole, roasted chiles, a mix of red and green – roasted, stems and seeds removed*
6 Tbsp. toasted pinon (pine nuts)
½ cup diced onion
2 cups diced cooked chicken or turkey
1 cup feta cheese, crumbled
1 cup grated cheddar or Monterey Jack cheese
*See Kitchen Notes.
Instructions
Preheat the oven to 325° F.
Toasting the pinon nuts – Heat a small heavy skillet over medium-low heat.  Add pinon nuts.  Slowly toast, stirring occasionally until lightly toasted. (Pinons do tend to stick to the pan more than other nuts so flipping them for an even toasting doesn't always work. You'll need to use a heat proof spatula of some type.)  Once toasted, transfer to a small bowl.
Prepping the red and green chile – Cut each chile open to make a flat chile. Depending on the size of the chile, you might need to cut each chile crosswise into 2/3 and 1/3 pieces. You don't want the chile to extend past the edges of the crepes.
In a bowl, mix together the diced onion and cooked chicken.
In another bowl, mix together the feta and cheddar cheese.
Using a spray cooking oil, lightly coat a cast iron skillet large enough for the crepes to lie flat but as close to the sides of the skillet as possible. Move the skillet to the assembly area.
Dip a crepe into the green chile sauce coating both sides.
Place the crepe in the skillet. Top with a layer of chile (equivalent to 1 to 1 ½ chile pods), a few pinon nuts, about ¼ cup chicken/onion mixture, and some cheese.
Dip another crepe in the chile sauce and top with more of the same ingredients.
Continue to stack the crepes and the ingredients until you've used up the whole chiles and cheese.
Top the last layer of ingredients with another crepe dipped generously in green chile sauce.
Pour half of the remaining green chile sauce over the top of the assembled crepes.
Bake @ 325° F for 20 minutes.
Remove from the oven and increase the temperature to 350° F. Pour the rest of the green chile sauce over the top and return the skillet to the oven for another 20 minutes.
Remove from the oven and let rest 5 minutes.
Slice carefully with a very sharp knife into 4 or 6 servings.
Top each serving with a fried egg if desired (sunny-side up or overeasy).
Serve with a simple side salad of lettuce and tomato.
Crepes Recipe
Makes about 15 crepes
Prep and Cook Time – about 1 hour
Ingredients
3 eggs
1 cup flour, sifted
1/8 tsp. salt
1 ½ cups milk
1 Tbsp. minced chives (optional)
Butter or margarine (to coat the crepe pan before adding the crepes)
Instructions
Whisk the eggs in a large bowl.
Sift the flour and salt into a cup or small bowl. Whisk to combine.
Add about 1/3 of the flour mixture to the eggs and whisk.
Add some of the milk, whisk, more flour, whisk, more milk, whisk. Continue until all of the flour and milk have been incorporated into the eggs.
Let rest for at least 30 minutes.**
To make the crepes, slowly heat a crepe pan or 8 to 10 inch, nonstick skillet over medium low heat. When hot, coat with a touch of butter.
Add ¼ – 1/3  cup crepe mixture to the pan and gently swirl to coat the pan with batter. (If the pan is too hot, the crepe mixture with splatter. Turn the heat down a bit.)
Cook for 45 to 60 seconds until light brown. Flip and cook about 30 seconds or until crepe starts to puff and becomes light brown on the other side.
Place on a paper towel and cover to keep warm. I use a tortilla warmer with a paper towel inside.
**If you are going to make this dish on the same day that you make the crepes, then prep the other ingredients while the crepe batter rests.  The crepes can also be made up to 3 days in advance and refrigerated until ready to use.  You'll only need 8 to 10 crepes for this dish; therefore, you should have 5 to 6 extra crepes for another meal.
[/print_this]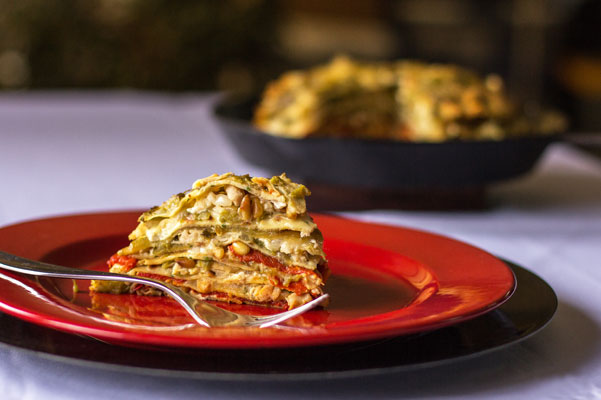 Kitchen Notes
Roasted Red and Green Chile -You can use all red chile with green chile sauce or do what I did and use both red and chile as well as the green chile sauce.  This dish would have been picture perfect if I had alternated the red and green layers but sometimes my brain isn't thinking "picture" when I'm cooking. 🙂  It really doesn't matter how you layer it, the taste is the same.
Now that we're in the off season for New Mexico chile we have to rely on frozen chile or canned.  My preference has always been frozen, but if you can't find it, then you might be able to find cans of whole chile.  I still have lots of red and green chile in my freezer but for those of you who don't, check out this list of New Mexico chile suppliers.  Many of these suppliers still have plenty of frozen green chile that they would gladly ship your way.  I've never seen frozen red chile, so if you can't find it, do not fear.  You can still make this with just green chile.
Green Chile Sauce – You can make your green chile sauce from scratch or you can buy it.  Check out your local markets for jars of New Mexico Green Chile Sauce or buy it through one of the New Mexico suppliers.  You could also substitute your favorite salsa or enchiladas sauce as the dipping sauce. You could also forgo the green chile sauce altogether and use the egg dip batter that I used in the Green Chile Pathiri.
Crepes –  The crepe recipe makes about 15 to 16 crepes, more than needed for this recipe. Therefore, save the extras for another meal.  When I made this dish a couple weeks ago, I actually used leftover chives crepes that I had made for Swiss chard and feta wraps. There are so many things you can do with crepes, that having leftovers is never a problem.
Cheese – We really like the combination of white cheddar and feta in this dish.  However, you could also use a Monterey Jack, Parrano, or Fontina.  What you want is a rather salty, fresh cheese and a milder, creamier cheese to help hold the layers together.
If you like these Stacked Crepes with Chile and Chicken, then you'll also enjoy my other stack crepes and green chile recipe.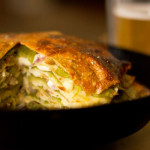 Green Chile Pathiri with Pinon Nuts and Queso Fresco