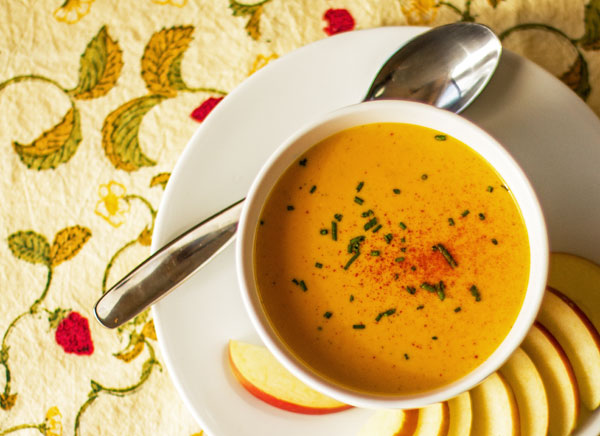 This Pumpkin Beer Cheese Soup was inspired by my Conversation with a Cheesemonger (Derrick Sanders).  During this conversation I asked Derrick for a cheese that could be used as a topping on my Roasted Pumpkin and Red Chile Soup, a sweet and savory, spicy soup.  After looking at the recipe, he recommended a "hard, salty grating cheese: Piave, Parrano, Podda, Capra sarda, and Zamorano."  All of these cheeses sounded so good, and gave me the inspiration to start from scratch and come up with another pumpkin soup that was still sweet, savory and spicy, but also, deliciously cheesy.
This first time I made this soup, I roasted a small pumpkin and used Zamorano and Double Gloucester cheese because that's what I had on hand.  The soup was good, but the Double Gloucester didn't really work. It actually added a bit of a bitterness to the soup.  The next time I made it, all I could find was a Japanese Pumpkin (Kabocha) which was just as good if not better than using a regular pumpkin.  Parrano was used in place of the Double Gloucester yielding the soup I was going for.
This Pumpkin Beer Cheese Soup is rich, super creamy, cheesy, spicy and utterly delicious.  Serve as a starter using small cups, or as a meal in small bowls with a side of apple slices (my favorite), buttermilk cornbread (Bobby's favorite) or a crusty baguette or pieces of garlic toast.
Pumpkin Beer Cheese Soup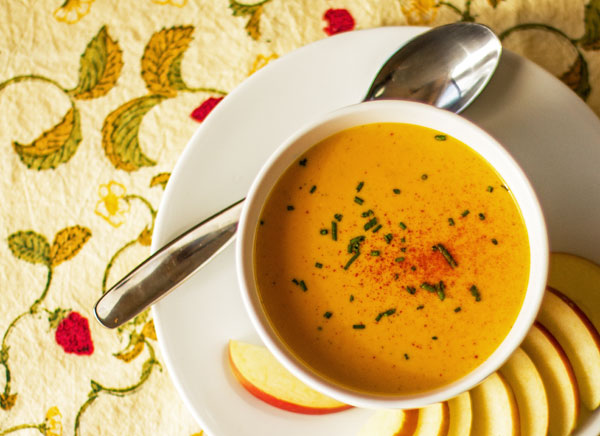 Pumpkin Beer Cheese Soup Recipe
A rich, super creamy, cheesy, spicy and utterly delicious soup. Serve as a starter or as a meal.
The recipe assumes that you already have the pumpkin puree'. If not, allow at least an hour to roast and puree' a pumpkin.
"*" See Kitchen Notes for more information or links to special ingredients.
Ingredients
2

Tbsp.

butter

½

onion,

diced

2

cups

roasted pumpkin puree*

1

cup

milk

½

cup

half and half

1 - 12

ounce

bottle of beer

(I use Shiner Bock)*

1

cup

Parrano Originale cheese*,

grated

1

cup

Zamorano cheese*,

grated

½

tsp.

red chile powder*

¼

tsp.

smoked paprika

Generous pinch or 2 of murupi amerela chile powder*

½

tsp.

dried thyme,

crushed

Salt to taste

Top with chives and a sprinkle of smoked paprika
Instructions
Melt the butter over medium low heat in a soup pot.

Add the onion and sauté for 3 minutes. Add the 3 chile powers (red, paprika, murupi) and cook, stirring for 30 seconds.

Add the pumpkin puree and stir to combine.

Add the milk and cream, stirring constantly to thoroughly incorporate into the puree.

Stir in the beer and the thyme.

Increase heat to medium and stir constantly until soup is hot, but not simmering or boiling.

Stir in the cheeses and continue to stir until melted.

Remove from the heat and blend using an immersion blender. If you don't have an immersion blender, then you need to get one. 🙂 Or you could pour the soup into a blender and blend. (This step is for texture. By blending, the texture of the soup is smoother and creamier.)

Let cool for about 30 minutes if you have time; however, this step is optional.

Slowly reheat, stirring constantly. Do not let it boil!


Scoop into cups or small soup bowls. Top with chopped chives and a sprinkle of smoked paprika.

Serve with a side of sliced apples, cornbread, baguette, or lightly toasted garlic bread.
Kitchen Notes
Pumpkin Puree – Homemade roasted pumpkin puree is always the best; however, you could easily use canned pumpkin puree.
To roasted a pumpkin, cut in half, brush with your choice of oil on the cut surfaces, and sprinkle with salt and pepper. Roast, cut side up in a 400°F for 40 minutes or until fork tender. Remove from the oven and let cool. Using a spoon, scoop out the seeds and fibrous pulp. Scoop the roasted flesh into a large bowl (for an immersion blender) or blender. Blend until smooth.
The Beer – Shiner Bock (a dark American style lager) works great, but you could substitute just about any kind of dark lager. I personally think Negro Modelo or Bohemia would work nicely.
Cheese - The cheese you use is really to satisfy your own personal taste buds and to complement the beer.  The combination I use in this recipe works great! Here are links to the cheeses I use:
Chile Powders – Please be sure to use "chile" powders, not "chili" powder blends. For this recipe, I used a medium hot New Mexico red chile powder, a Spanish smoked paprika, and a little bit of the extra spicy murupi amerela chile powder from Fords Fiery Foods and Plants. The murupi amerela provided a very subtle but nice spicy kick at the end of each bite.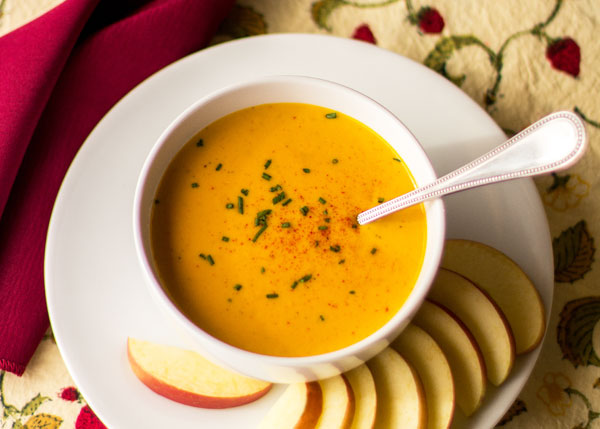 This Pumpkin Beer Cheese soup is a great soup for a special occasion or when you just want to throw caution to the wind and eat something really delicious and decadent.
Here are a couple of other pumpkin soups that are as rich and tasty of this cheese soup.
Roasted Pumpkin Red Chile Soup
Pumpkin and Chestnut Soup with Red Chile Crackers
Save