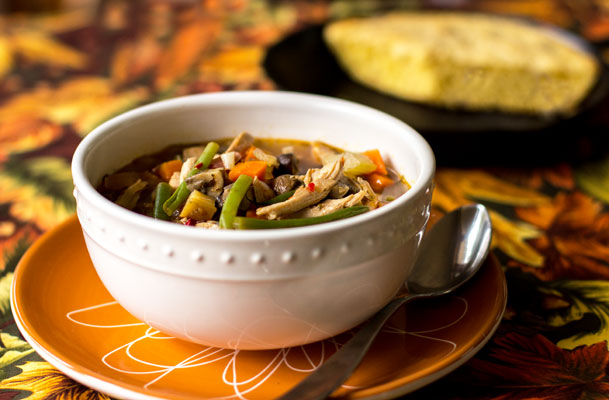 Do you ever find a refrigerator full of a little of this and a little of that?  Well, this happens to me 2 to 3 times a month.  Once the refrigerator gets to this point, it's time to make a pasta or soup.  This week the ingredients screamed SOUP.  This Chicken and Vegetable Soup was made using the last of a roasted chicken from which we had already had two meals, some leftover green beans, and fingerling potatoes, and few other fresh vegetables I had in the fridge.
When making a soup from leftovers, there are a few things to think about in the planning stage that can help improve the outcome.
Select two to three aromatic vegetables like onion, shallots, garlic, celery, or bell pepper to start the soup, by sauteing them slowly in oil, bacon drippings, or butter.
Use a flavorful stock or broth. If you're using a leftover roast chicken, you can make the stock from the carcass.
Select herbs and spices that complement, or that are the same as, the seasoning used in the leftovers.
If using uncooked meat, brown the meat prior to sauteing the aromatics. You can brown large pieces or bite size pieces. Remove the meat and set aside.  Use a little bit of liquid to deglaze the pot. Cut up any large pieces of meat and return to the pot when you start adding the uncooked vegetables or right after the stock has been added and brought to a boil.
If using uncooked vegetables, add to the soup pot once the stock has been brought to a boil.  However, add in order of slow cookers to fast cookers.  For example, carrots and potatoes should be added and cooked for a few minutes before you add fresh green beans or mushrooms, and then greens, like Swiss chard and kale, should be added after that.
If using cooked vegetables or cooked meat, add last and only cook about 10 to 15 minutes, just long enough to heat through and allow some of the flavors from the cooked ingredients to be added to the soup.
Don't add any salt until the end.  Once all of the ingredients have been added, taste the soup and add salt only if needed.
Chicken and Vegetable Soup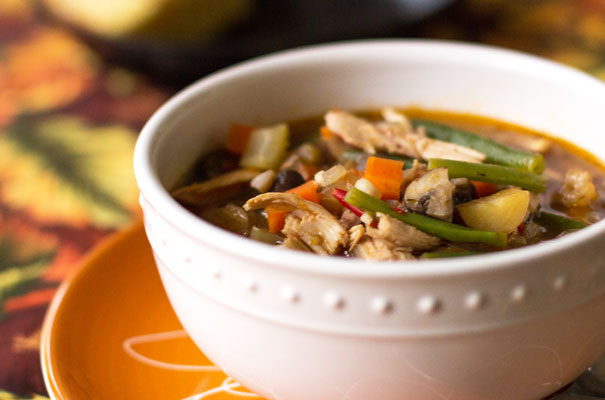 Chicken and Vegetable Soup Recipe
A soup you can pretty much throw together from ingredients you already have in the pantry, refrigerator and freezer.
"*" See Kitchen Notes for more information or links to special ingredients.
Course:
Chicken, Main Course, Soup
Yields
:
5
serving (about)
Ingredients
The amounts below are not exact (~). *See Kitchen Notes for more ideas for vegetables and seasonings.
2

Tbsp.

fat

(oil, bacon drippings, butter or combination)

½

onion,

diced

1

large garlic clove,

minced

1

stalk celery,

diced

~1 quart chicken stock*

1

large carrot,

diced

~1 cup chopped green beans

~1 cup chopped mushrooms

~2 cups cooked chicken,

cut or torn into small pieces

1

small chile,

minced

~2 medium fresh tomatoes,

chopped

~1 cup diced, potatoes*

(cooked or uncooked)

1

bay leaf

1

tsp.

dried oregano

1/2

tsp.

dried thyme

1

tsp.

red chile powder*

Parmesan cheese,

grated (optional)
Instructions
Heat the fat in a large soup pot over medium low heat. When hot add the onion, garlic, and celery and slowly sauté for about 3 minutes.

Add the bay leaf, oregano, thyme and chile powder and cook, stirring for about 30 seconds.

Add the chicken stock. Bring to a boil.

Start adding the uncooked vegetables according to what needs to cook the longest. Simmer, allowing 2 to 3 minutes between each addition. Cook until vegetables are firm tender.

Add the tomatoes, cooked vegetables and cooked chicken. Simmer for another 10 minutes.

Taste. Add salt and pepper and other seasoning only if needed.

Serve, topping each serving with a little cheese if desired.
If you have time, let the soup cool for 2 hours or overnight, reheat and serve.
Kitchen Notes
For this chicken and vegetable soup I used fresh carrots, mushrooms, a cherry bomb chile pepper, and tomatoes. The cooked ingredients were potatoes, green beans and chicken.  However, any of these could be uncooked.  Just add them sooner.
Other vegetables that could be used – corn, broccoli, squash (both summer or winter), beans, or greens (e.g., Swiss chard, spinach, or kale). Most vegetables are subtle enough to be used together in a soup creating a taste that is the combined flavor of the ingredients.  However, there are some vegetables that can dominate, overpowering the other ingredients and thus changing a mixed vegetable soup to a single flavored soup.  I personally find cabbage, turnips, parsnips and some greens, like collard greens, to be such vegetables; therefore, I usually avoid using these vegetables in a mixed vegetable soup.
Additional this and that – Potatoes, rice, pasta, beans (pinto, black, red), olives, capers, roasted green chile or other peppers, raw chiles.
Seasoning – The herbs and spices used in this soup were determined primarily by the seasoning that I used in the chicken and on the potatoes.  The chicken was an herb roasted chicken, while the potatoes had been roasted with smoked paprika.  Therefore, think about the seasoning that you used in the soup's ingredients, and use more of those herbs and spices, or complementary ones.  Blends work well, especially curries or herb blends.
Cornbread – Because of the smoked paprika and red chile powder in the soup, I added 1 tsp. urfa chili flakes to my no fail buttermilk cornbread recipe.  It made a great finishing touch to the meal.
For more idea on how to stretch out a roasted chicken, check out this post over at Spicie Foodie.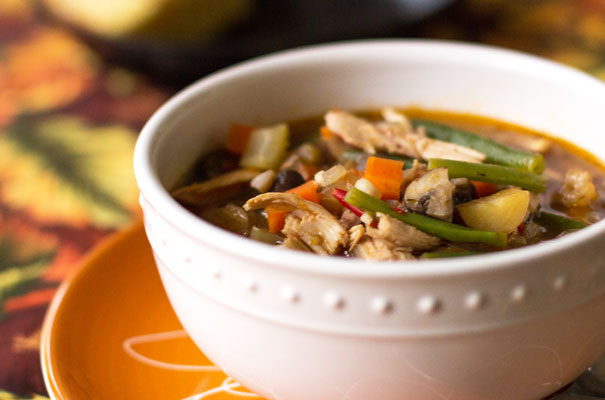 If you are looking for more soups to enjoy this fall and winter, here are few of my favorites.
Fenugreek Fish and Clam Bisque
Butternut Squash with Apples and Red Chile
Spicy Pumpkin and Red Chile Soup
And if you're still looking for more ideas, check out this list:
A Tantalizing Collection of Soups and Stews
Save