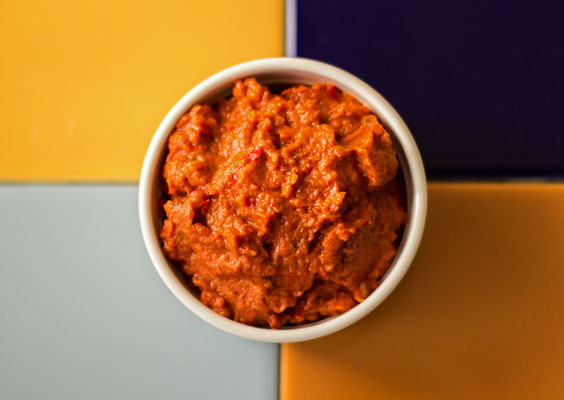 It's October which brings about the last of the green chile season but the beginning of the short, and oh so sweet, fresh red chile season.  Toward the end of chile season, farmers let some of the green chile stay on the bushes allowing them to turn red.  When the red chile is picked, it is either strung into ristras or sold just like green chile. Here in my area of New Mexico, the amount of fresh red chile sold at the market is limited, so one needs to keep a careful eye out for its arrival and buy it quickly. It will be gone within a couple of weeks.  Normally, mild, medium, and hot chile are all available, but this year I could only find hot and mild. The mild was quite mild, but was still meaty with that amazing roasted red chile flavor; and the hot…same sweet flavor, but HOT.  If you haven't tried roasted red chile, then it's something you need to try.  There's really nothing like it.
This year I've already roasted and frozen several pounds of New Mexico green chile and the batch you see below of red chile (that's about 6 pounds) from Sichler's local market. A few weeks back I roasted some urfa biber chile peppers and aleppo peppers that I got  from my buddies over at Ford's Fiery Foods and Plants.  My initial plan was to make this Roasted Red Chile Spread using just the Aleppo peppers, but when I tasted it, the burn in my mouth told me I needed to turn down the heat a bit. So I added some of the mild red chile and loved the results.
This red chile spread can be used on sandwiches, spread on a cracker, tossed with pasta, or added to soups, a pot of beans, stir fries, or just about any dish in which you want that spicy, sweet flavor of red chile.  It also works with a variety of egg preparations, as a replacement for the green chile in grits, or whisked with a little vinegar and oil for a red chile vinaigrette.  I'm sure that once you taste it, you'll come up with many more uses for it.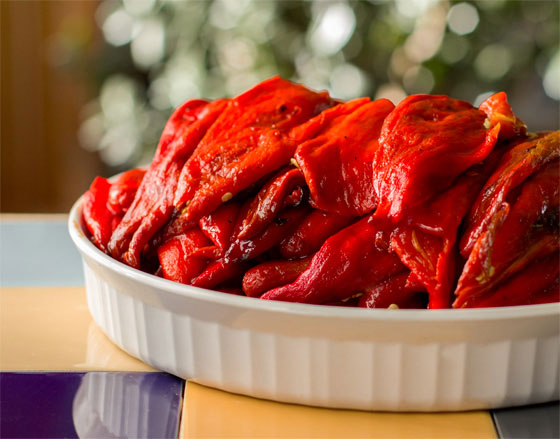 [print_this]
Roasted Red Chile Spread Recipe
Recipe Author:  MJ of MJ's Kitchen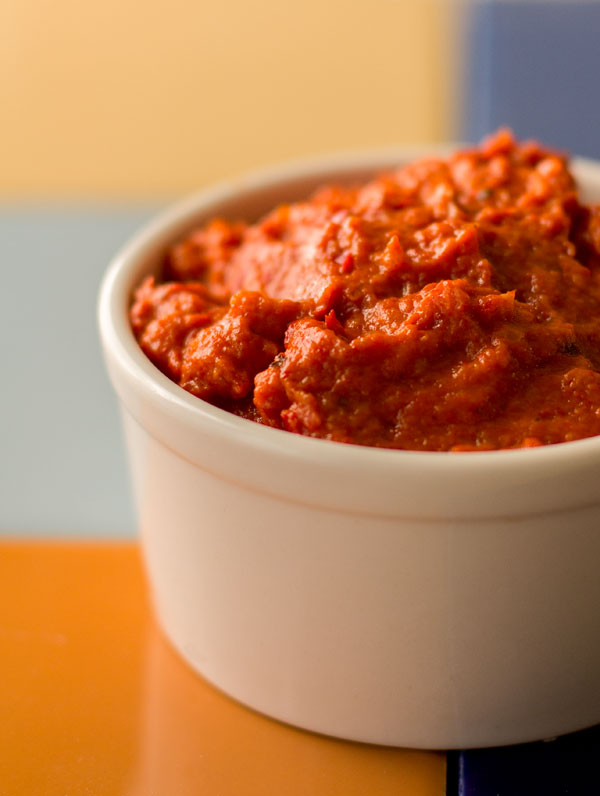 Makes about 1 cup
Prep Time: 15 minutes if chiles are already roasted, add 1 hour to roasted and peel chiles
Ingredients
1/2 cup roasted medium to hot red chile peppers, coarsely chopped*
1/2 cup roasted mild red chile peppers, coarsely chopped*
1 tbsp. minced sweet onion
1 medium garlic clove
3 tbsp. good quality olive oil
1/8 tsp salt
Juice from 1/2 lime
Instructions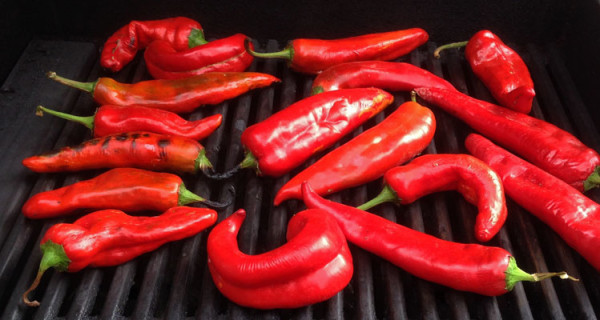 If you need to roast your chiles, then follow these instructions for roasting peppers on the grill or roast then under the broiler (about 6″ below heat source) using the same instructions.   Once roasted, remove the stems and peel, and scrap out most or all of the seeds.
Place all ingredients in a blender and blend to desired texture.*
Taste and adjust salt if needed
*See Kitchen Notes
[/print_this]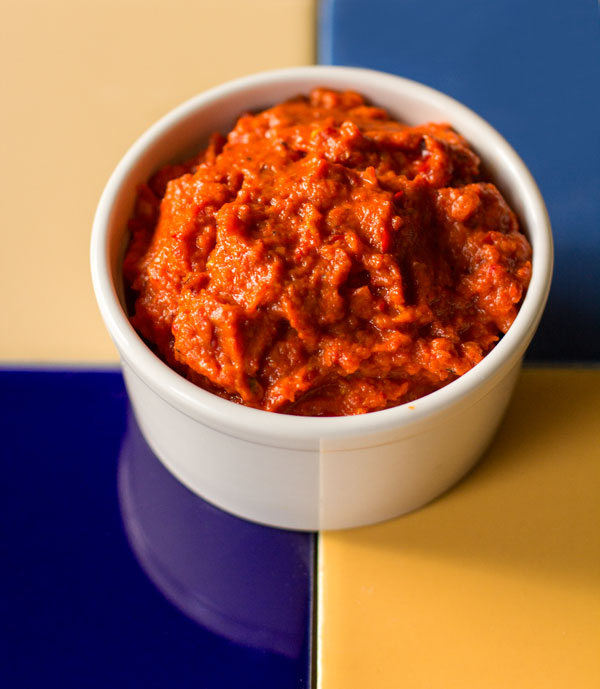 Kitchen Notes
Medium to Hot Chile – Thus far I've used two different types of chiles for this spread.  In one batch I used Aleppo peppers (medium to hot) and in other batches, New Mexico red chile (hot).  Both chiles provided a very flavorful spread, but the main difference was in the roasting. The skin of the Aleppo is relatively thin; therefore, roasting was difficult and peeling was impossible.  I ended up removing the stems and seeds and then using both the flesh and the roasted peel in the spread. It worked quite well and gave the spread an even richer roasted chile flavor.  Because the skin of New Mexico chile is so thick, they peeled quite easily and peeling is necessary.
Mild Chile – For the mild chile you can use pretty much any mild red pepper:  red bell pepper, pimento, a mild New Mexico red chile, urfa biber – any mild, sweet red pepper with a thick, meaty flesh.  Of course, if you don't want to turn down the heat level, then double up on the amount of medium to hot chile and omit the mild chile.
Blending texture – To blend you can use an upright blender that will yield a nice puree or do what I did and use the chopper/blender attachment for an immersion blender.  It does a fine job and is much easier to clean (which is always a nice thing).
This spread will keep for about 7 to 10 days in the refrigerator.  If you don't plan to use it all up, then freeze in small batches.
How would you use this Roasted Red Chile Spread?