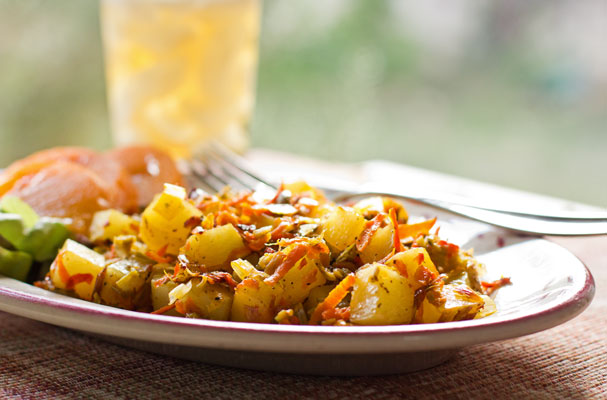 It is personally a challenge for me to make a potato dish without adding green chile especially during green chile season, and a challenge for which I gladly accept failure.  Potatoes and green chile are two ingredients that are just meant for each other and that's all there is to it.

This time of year, our Sunday brunch hash browns and home fries always get piled with green chile.  One of my favorite versions of home fries is this Green Chile Home Fries with Leeks and Carrots dish.  This dish makes a hardy brunch and is a great way to get your vegetables, carbs and protein.  It is similar to the Southwestern Pileup, but the leeks and carrots provide a different flavor profile than the onion and bell pepper in the pileup, and still match up nicely with the chile.  Once it's ready to serve, top each serving with a fried egg and squeeze a little lime juice on top. And, if you still have some fresh, homegrown tomatoes, slice one up as a side or chop it up as another topping.
It may not be the prettiest dish, but it sure is good.  I hope you enjoy!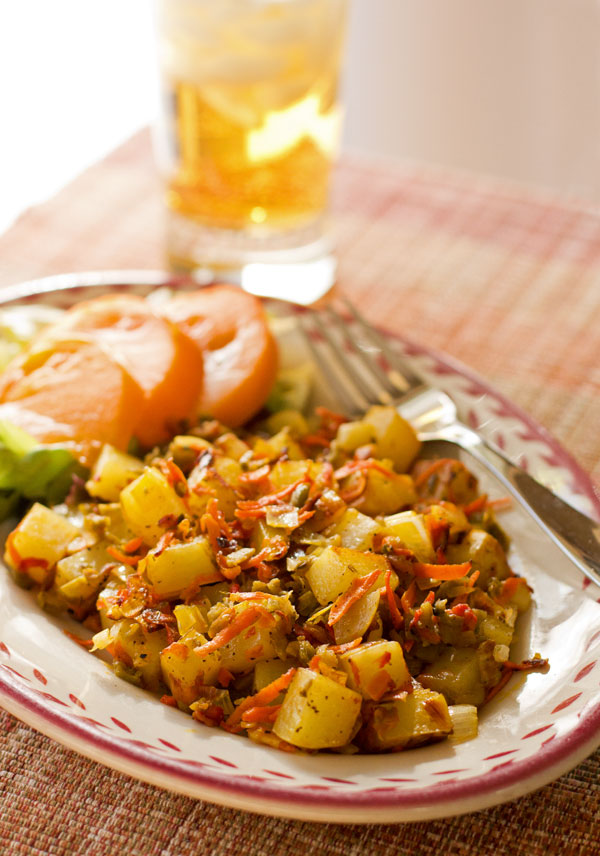 [print_this]
Green Chile Home Fries with Leeks and Carrots Recipe

Serves: 2 – 3 servings as a main meal
Prep and Cook time: 45 minutes
Ingredients
1 pound potatoes, cut into 1/2″ cubes*
1 Tbsp. olive oil
1 Tbsp. butter
1 large leek, chopped
6 garlic cloves, minced
1 large carrot, grated
1 tsp. Mexican oregano, crumbled
zest from 1 lime
1/4 – 1/2 cup roasted, chopped green chile*
Salt and pepper to taste
wedge of lime
1 to 2 eggs per serving
Fresh tomatoes, chopped or sliced
grated Fontina cheese (optional)
Instructions
Heat the oil and butter in a large non-stick skillet over medium-low heat. Add the leeks and garlic. Simmer for 4 minutes stirring occassionally.
Add the potatoes and carrots.  Sprinkle with salt and pepper.  Toss to combine.
Spread the potatoes and ingredients evenly in the skillet. Cover. Reduce heat to low and cook for 6 minutes.
Remove the cover. Turn the heat up to medium. Cook another 4 – 5 minutes until the potatoes brown on the skillet side.
Add the oregano and lime zest.  Toss to combine.
Continue cooking for another 4 – 6 minutes or until the potatoes are cooked and evenly brown.
Add the green chile. Toss and cook another minute.
Taste and adjust the salt and pepper if needed.
Reduce heat to warm while you fry the eggs.  If you are adding cheese, add it now by distributing it evenly across the top of the potato mixture.
Fry 1 to 2 eggs – sunny side up or over easy – per serving.
Serve the potatoes onto plates.  Squeeze a wedge of lime over each serving and top with an egg.
[/print_this]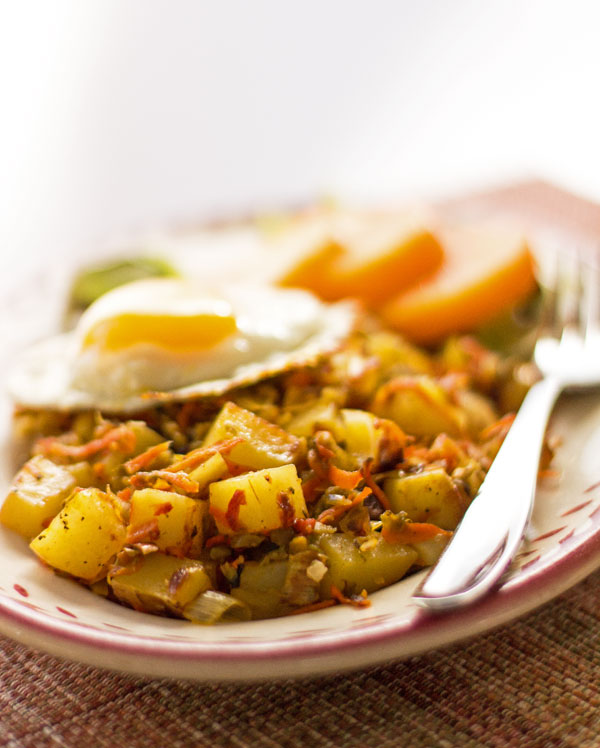 Kitchen Notes
The Potatoes – I'm a sucker for organic yellow potatoes, so that is what I usually buy. They are so creamy and cook faster than most other potatoes; therefore, if you use red or russet potatoes the cook times may be a little longer.
The Amount of Green Chile – How much you use depends on the heat of the chile and how hot you want the dish to be.  With mild to medium chile,  1/2 cup or even more is good. Hot chile might need to be reduced depending on your heat tolerance.
Substitutes for Green Chile – If you don't have New Mexico green chile handy, then you can substitute roasted fresh red chile, poblano, serrano, urfa biber, murupi amerela or any of your favorite freshly roasted chiles.  If you happen to have some Green Chile and Lime Zest Relish on hand you could also substitute the green chile and lime with 1/2 cup of this relish.  If you don't have any roasted chiles, then just chop up a jalapeno or two, or add a chipotle pepper from a jar of chipotle in adobo sauce.  As usual the type of chile you use contributes quite a bit to the flavor, so use what you like, but be careful not to overpower the wonderful flavor of the leeks. 🙂
For more recipes using New Mexico green or red chile, please see my Chile Recipes Index page.
A Parting Shot
For the 25 years I taught at the local community college the summer break was always the last two to three weeks in August, the perfect time to head to the mountains of northern New Mexico. Invariably, Bobby and I would pack up the backpacks and head out. One year, along with two of Bobby's brothers, we packed the Santa Barbara Divide loop in the Pecos Wilderness. I thought I would share this beautiful view from the top of the northern most peak of the Truchas Peaks in the Sangre de Cristo Mountains, one of the mountains we climbed during this trip. No matter how easy or how hard the climb, getting to the top of a mountain is always worth the view.
A few of the ingredients that I carried on these trips were a potato or two, some grits, a can of spam and a few small cans of green chile.  Do you see a couple of meals here? Invariably we had at least one or two mornings of grits and green chile. For supper, I would cook up some country fries with cubes of spam, chopped onion (which I always carried), and green chile.  Not a dish I normally make at home, but a  great dish after a long day of hiking.
For all of you backpackers out there, what's your favorite backpacking dish?