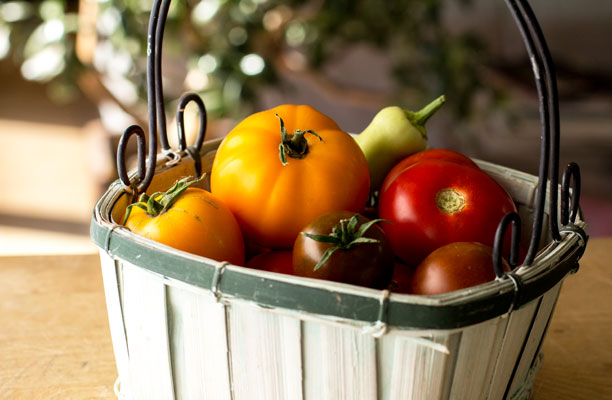 I can't believe I'm actually writing about my garden.  Up until 10 years ago I had always had a very prolific garden, but then whoops – life got in the way.  Well, now my garden is back – thanks to Bobby.  Last year he built me two 4′ x 10′ raised beds and spent last fall and winter making the soil for one of the beds.  By April it was ready to plant.
As you can see below, I may have gotten a little carried away in my plantings. In this one bed, I have four heirloom tomatoes, four bell peppers, one cherry bomb pepper, two eggplants and four "bush" cucumbers plants which, I have discovered, that there is no such thing as "bush" cucumbers.  The peppers plants aren't producing yet, because I had to replace them when the neighborhood racoons found my garden and used it as a playpen.  Several plants got broken, and even though I tried desperately to save them – the attempt was a no go.  But in spite of the racoons, the June heat, and the heavy thunderstorms, my little garden has survived and to date, has provided us with several tomatoes and cucumbers.  Eggplant and peppers are well on there way.
In the left side of the picture below, you can see the corner of the second bed.  I planted it this week with a variety of greens and carrots.  Hopefully, we'll have a nice fall garden and will be picking greens throughout the winter.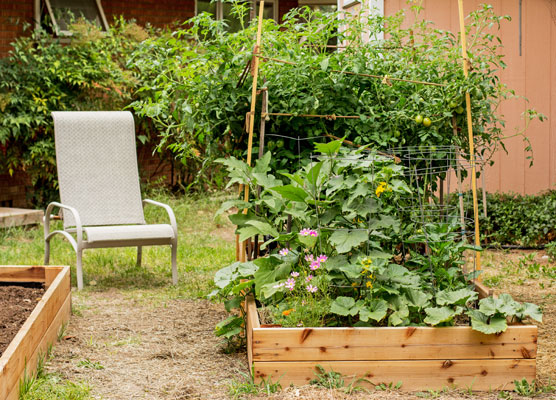 As with any garden, tomatoes are a "must grow"!  In fact, homegrown tomatoes are the only tomatoes that I'll eat.  If they don't come from my own garden or from that of a local farmer's, then I'm not interested.   I'll just find something else to put in my salad.  This year we grew heirloom tomatoes, something I've never grown before.  Ten to thirty years ago, heirlooms were hard to find and back then, ordering online wasn't an option.  So this year, when we saw a nice selection of heirlooms at the nursery, that's what we decided to grow.  We chose three types:  Homesteads (2 plants),  a Black Prince, and a Golden Jubilee.  Below is a little review of these tomatoes – from growing to eating.
Homestead Heirloom Tomatoes
Click any picture to enlarge.

Homesteads are determinates, meaning that they pretty much all come at once. We bought them because they were said to be a good choice for hot, dry climates.  Well, that has proved to be true.  The plants are loaded and still setting fruit. They were the only plants that  actually set fruit in June when our temperatures were in the high 90s.
The plants have already reached about 6 feet and still growing.  I keep pruning because they are out of control.  We do have cages around them and have had to use stakes and pantyhose (which work great!), to continue to hold them up.
The size of the fruit ranges from about 1″ to 2.5″ in diameter.  I think as we pick them, they'll get bigger.  Right now, we're getting a lot of 1 – 1.5″ ones with a few larger ones mixed in.
The fruit is firm but not as meaty as I prefer in a tomato.  They have a relatively high content of liquid and seeds.
Flavor – Traditional tomato flavor – sweet and tomato-y, with a touch of acid.  The flavor might make them a good tomato for tomato and pizza sauce, but as small as they are, they'd be a pain to peel. Plus they would have to be cooked down for quite a while because of the high liquid content.
Will we grow them again?  Probably not.  They were our least favorite in flavor and are yielding too many small tomatoes and not enough of the 2 to 2.5″ ones.  They are determinates which is another strike against them, but since they are ripening late, they might just continue to produce until the first frost.  We'll see.
Black Prince Heirloom Tomato
The Black Prince originated in Siberia which makes it ideal for cooler climates, not the high desert.  They really suffered here with our hot June weather, but now that the days and nights are cooling off, they are doing much better.  The plant is loaded and, because they are indeterminates, they are still setting and should continue to set until the first frost, making them quite prolific – we hope. The fruit is slow to turn, so we've only gotten a few of these thus far, but it looks like we'll have plenty in a couple of weeks.
The plants are as tall as the Homesteads, so we've been doing lots of staking to help support them.  They seem to be more sensitive to the amount of water they receive versus the other tomatoes.  During the monsoons, the lower leaves were staying green, but curling upwards, which, from what I've read, indicates too much water. The leaf curling has stopped now that I'm more in control of how much water they get.
The size of the Black Prince is only about 1.5 – 2 inches in diameter.  They have a distinctive plum shape and turn from the bottom up to a beautiful purplish color.  When cut, the insides range from a maroon to almost black.
Flavor – These tomato are so good, that we've just been picking them and eating them.  They are very juicy which makes them messy if you just bite into them rather than cutting them.  However, they do have enough meat for their size to make me happy.  They are quite sweet, not the least bit acidic, and just melt in your mouth.  The only draw back IMO, is that the skin is a bit thick, especially for the size of the tomato.
Will we grown them again?  Yes!
Golden Jubilee Heirloom Tomatoes
I have to say right off the bat, that these are our favorites!  In 1943 they won the All American Selection bronze medal and I can see why.
Like the Black Prince, the Golden Jubilee is an indeterminate; therefore, they have been relatively slow (like everything else in the garden), but the plant is now loaded and is still blooming and setting.  I hope we continue to get these until the frost. I might even have Bobby cover them in the late fall to try to make them last as long into winter as possible.
Like most tomatoes, they require caging and support; however, they aren't near as tall as the Homesteads and Black Prince, making them a little easier to deal with.  In fact, I keep having to move the Homesteads off of them, so they'll get enough sun and have room to grow.
The fruit is very firm and any where from 2.5 to 3.5″ inches in diameter which is smaller than, say Brandywines, but larger than the other varieties that we have. They are heavy for their size and this is because they are a very meaty tomato – not a lot of liquid and seeds. Perfect for burgers and BLTs.
Flavor – Sweet and juicy with a touch of tartness, but not acidic. Some people may say that they don't have enough of that "tomato" flavor, but they taste great to me. I can't wait to get enough to make a gazpacho! They are a low acid tomato making them a good tomato for people like me who have problems with the acidity of tomatoes.
Will we grown them again?  Absolutely!  Next year, I'll plant at least two!
Here you can get a better idea of the size of each tomato. The Golden Jubilee is about 3″ in diameter.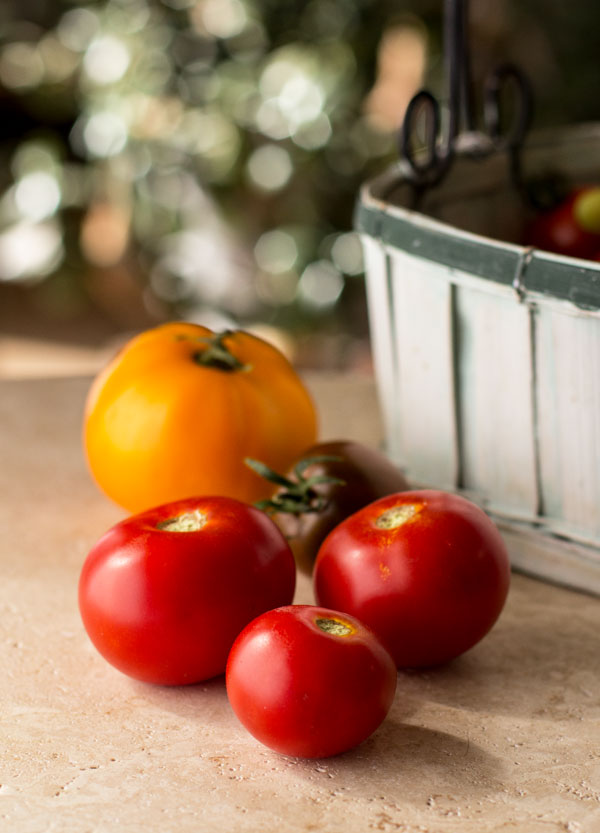 Below are some recipes that love heirloom tomatoes.
Rustic Tomato Marinara @Feral Kitchen
Summer Tomato Tart @That Skinny Chick Can Bake
Tomato Tart with Comte' and Cracked Black Pepper @Food and Style
Pasta Caprese' @Kitchen Riffs
Heirloom Tomato and Bacon Summer Salad @In Sock Monkey Slippers
Heirloom Tomato Salad with Green Zebra Vinaigrette @Feral Kitchen
Steak and Heirloom Tomato Salad @Magnolia Days
Avocado Toasts with Heirloom Tomatoes, Bacon, and Egg @Southern Boy Dishes
An Awesome Egg BLT @ Family Spice
Bourbon Caramelized Bacon and Heirloom Tomato BLT, Fried Egg, and Smoked Gouda @Half Baked Harvest
Garlic Roasted Cherry Tomatoes @The Novice Chef
Pasta with Fresh Tomatoes and Basil
Strawberry and Tomato Salad with Mint
What is your favorite heirloom tomato to eat and to grow?