It's a great weekend for a Green Chile Cheeseburger don't you think?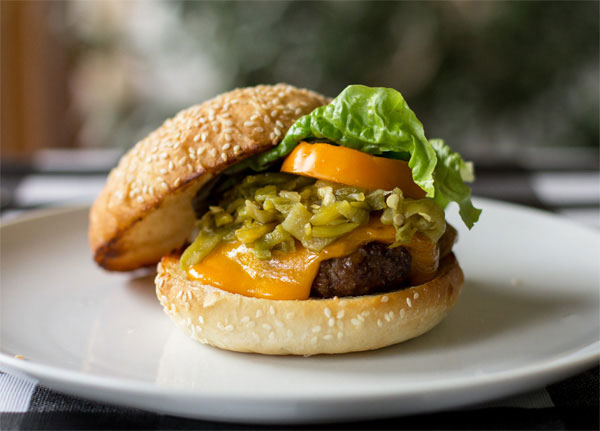 New Mexico's chile season is upon us!  Yesterday I went over to one of my favorite local suppliers, Sichler Farms, and bought my first 10 pounds of chile for 2014 – 5 pounds of medium and 5 pounds of hot.  When I got home I couldn't wait to try it, so I lit up the grill and started roasting and peeling.  For supper we made the Quintessential Green Chile Cheeseburger.  Both of us agreed that, even though we've eaten A LOT of green chile cheeseburgers in our lifetime, this was the best hamburger we had ever made and possibly ever eaten.  Every bite was a burst of spicy, meaty chile complemented with the sweetness of Golden Jubilees picked fresh from our garden.  A burger can't get much better than this.
The main thing that people must know about the Green Chile Cheeseburger is that it's all about the chile. As long as you have some meaty and spicy, roasted New Mexico green chile, you can make this burger.  I don't mean to offend anyone, but there is no substitute.  This particular green chile cheeseburger was made with almost all local ingredients, including the cheddar cheese; and yes, we do made cheddar cheese in New Mexico.  See my Kitchen Notes for the ingredient suppliers as well as suppliers of New Mexico FRESH green chile that can be shipped right to your door.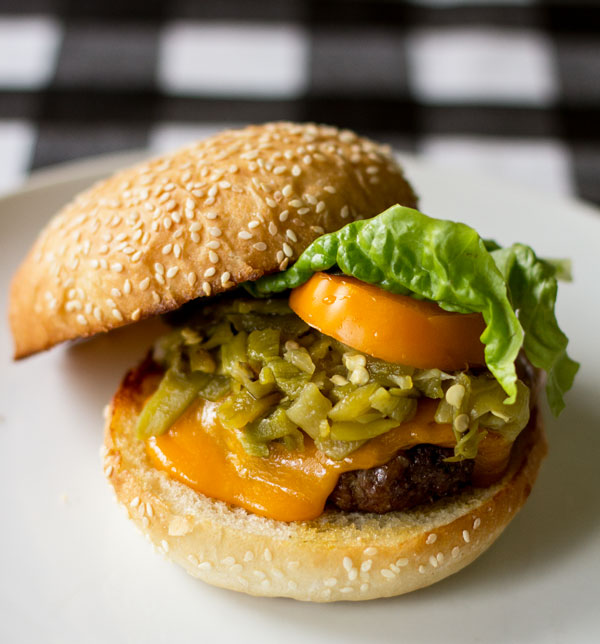 [print_this]
The Quintessential Green Chile Cheeseburger Recipe
Recipe Author: I have no idea, but I would love to give him or her a big kiss for creating such an awesome burger!
Makes 3 to 4 burgers
Prep and Cook Time (if the chile is already roasted and peeled): less than 30 minutes
Ingredients
The following measurements are not exact, but close.
1 pound ground beef
1/4 tsp. garlic powder
1 tsp. dried oregano, crumbled
1/4 tsp. cumin-coriander mix
1/8 tsp. salt
1/4 tsp. black pepper
Burger Topping Options: (See Kitchen Notes for more information on the toppings)
Several slices of Cheddar Cheese
Roasted and peeled New Mexico green chile, left whole or chopped
Slices of homegrown tomatoes
Onion, finely chopped (optional)
Lettuce
Mayonnaise or Dijon mustard
Good hamburger buns
Instructions
Combine the ground beef with the garlic powder, oregano, cumin-coriander mix, salt and pepper.
Divide the beef into quarter pound burgers. You can make 3 – 1/3 pound burgers if you want.
Heat up a grill or a griddle and cook the burgers to your liking.  About 1 minute before removing them, top each burger with some cheese.
Remove when the cheese has melted and the burgers are done.
Place the buns on the grill or griddle, cut side down and lightly toast.
Assemble the burgers with your desired toppings, grab a napkin and dive in.
[/print_this]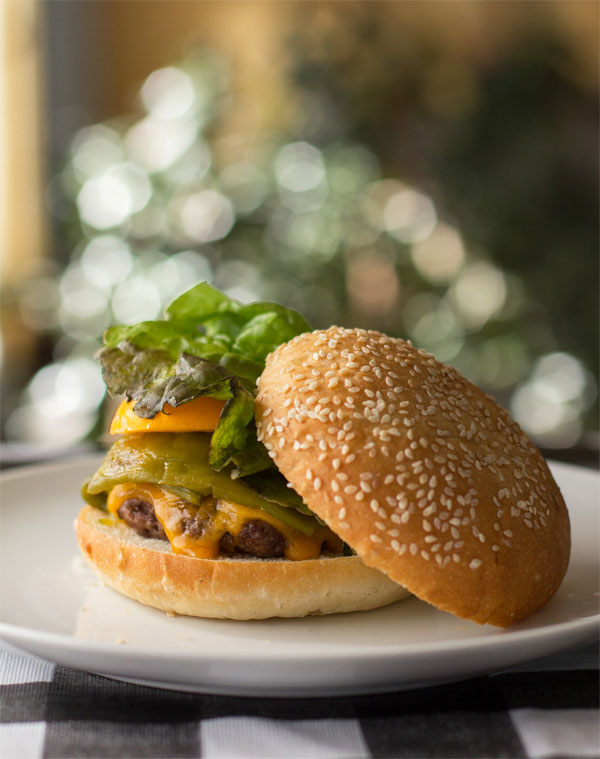 Kitchen Notes
Green chile – Whole or chopped?  Sometimes people leave the chile whole, but we like it chopped. Whole chiles can be pulled out of the burger on the first bite. The chopped chile stays put so that you get some in every bite.  As far as the spiciness of the chile, for these burgers – we go for hot! However, if you can't handle the heat, then mild and medium are just as good.
Tomatoes – You need to use good tomatoes.  The yellow tomatoes in the pictures are heirloom Golden Jubilees from our garden.  They are so sweet which is a wonderful complement to the spicy, spicy chile.  Some people chop their tomatoes, but we like to use slices.
Cheddar Cheese – The cheddar is from the Tucumcari Mountain Cheese Factory in Tucumcari, New Mexico, our favorite cheddar cheese.  You can slice it or grate it. Your preference.
Hamburger Buns – Our favorite hamburger buns are these Brioche Buns from the Fano Bread Company in Albuquerque.  When the weather cools off and I start baking bread again, I'm going to give these hamburger buns from Alterkitchen a try.  They look quite delicious!
Mayo or mustard – Well, that is definitely a personal preference.  I am not a mustard fan, so I prefer mayo.  However, Bobby is just the opposite and prefers Dijon.  Some people like yellow mustard and some even like ketchup; therefore, this particular condiment is your choice.
Suppliers of Fresh New Mexico Green Chile
Growers in the southern part of the state are already picking green chile and will start shipping around the middle of August.  Growers in the northern part of the state will start shipping around the first of September. If you live in New Mexico, there is no reason to have it shipped because this time of year, you can find fresh green chile just about every where. However, if you live outside of New Mexico and love good food, the cost of having fresh green chile shipped right to your door is worth it.
I usually buy my fresh chile at the growers market from a couple of small, local farmers or from Sichler Farms, a farm near San Antonio, New Mexico, about an hour south of Albuquerque. Sichler has a market place set up in Albuquerque, which makes it very convenient.   All of these farmers and the ones in the southern part of the state (including the farmers in Hatch, New Mexico) grow a variety of New Mexico chile – Big Jim, Sandias, Rio Grandes, Joe E. Parkers, and others.  These chiles range from mild to very hot. To learn more about New Mexico chile, please click on over to my Red or Green? post.
Below is a list of suppliers (that I know of) that ship FRESH New Mexico Chile.
NOTE:  No one asked me to do this post, no one paid me, and no one gave me any product. I just love Green Chile Cheeseburgers and feel that everyone should try at least one in their lifetime. You're going to love these burgers!