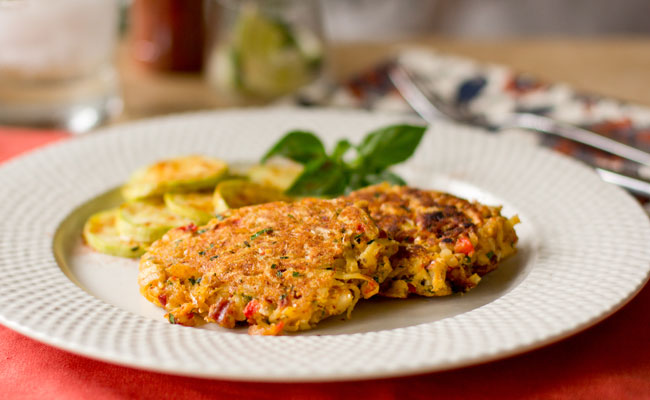 There are potato cakes and then there are hash brown cakes.  Hash brown cakes are made with grated, uncooked potatoes, where as potato cakes are made with mashed potatoes.  My preference – hash brown cakes – any day of the week.  The Hash Brown Cakes that I'm dishing up today have it all.  They have andouille sausage, some diced vegetables, Pecorino Romano, and last, but not least, a very special red chile flake all the way from Turkey.  Serve these cakes with a vegetable side, some pinto beans or top with a fried egg for a complete meal.  See the Kitchen Notes for more side suggestions.
Before we get to the recipe, I'd like to introduce you to yet another chile pepper  – maras biber, a chile pepper from Kahramanmaraş, Turkey.  My friends @ Fiery Foods and Plants sent me some maras biber chile flakes this spring.  As I was opening the package, Bobby was pouring freshly popped popcorn into a bowl.  I immediately sprinkled some of the chile flakes on the popcorn (a great way to really appreciate the flavor of chile – BTW).  What a very unique chile – slightly sweet and fruity with a medium to medium hot smokey heat.  In these  hash brown cakes, this chile greatly complements the smokiness and spiciness of the andouille and adds yet another layer of flavor. It also jazzes up a simple pasta dish, some sauteed vegetables and just about any salad.
Fiery Foods and Plants is planning to have fresh maras biber peppers at harvest time this summer, seeds available in the fall and starter plants in Spring of 2015. So if you are interested in giving these peppers a try, contact Fords.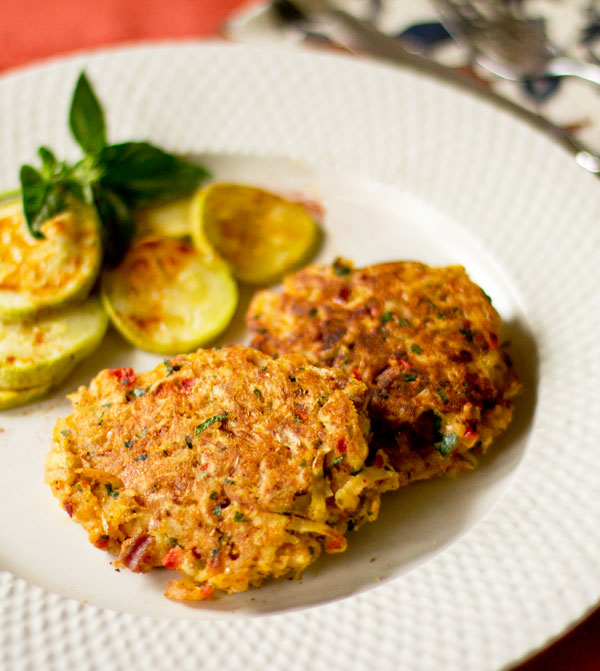 [print_this]
Hash Brown Cakes with Andouille Sausage Recipes

Makes 4 to 5 – 4" patties, or 8 – 9 – 2″ patties
Prep and Cook time: 30 minutes
Ingredients
1 pound yellow potatoes, scrubbed and grated
1 andouille sausage, diced small*
¼ cup minced sweet pepper
¼ cup minced onion
½ cup finely grated Pecorino Romano or Parmesan
4 roasted garlic cloves, smashed, then minced or 1/2 tsp. garlic powder
1 generous tsp. maras biber chile pepper flakes*
1/4 heaping tsp. smoked paprika*
¼ cup fine ground cornmeal (cornmeal flour)
1/8 tsp. salt
2 Tbsp. chopped fresh parsley or cilantro
1 egg, beaten
Several cut pieces of lime
Instructions
A quick note – Once the ingredients have been mixed together, don't let the mixture sit too long before making the cakes. It can become runny as more and more moisture leaks out of the grated potatoes. 
Grate the potatoes and, in small handfuls, squeeze to remove some of the starchy liquid. Transfer to a strainer while you finish chopping the other ingredients.
To a large bowl, add the potatoes and the remaining ingredients, except for the egg. Using a fork, mix up all of the ingredients to evenly distribute.
Add the beaten egg and stir to combine well. Mixture will be relatively loose.
Heat a griddle over medium low heat.
Melt a little butter or oil on the griddle.
Scoop about ½ cup of potato mixer into your palm, press into a ball, and place on the griddle. Using a spatula, press down on the ball to flatten it into a cake.
Continue to make more cakes and place on the griddle.
Cook each cake for about 3 minutes until it has browned nicely on the griddle side.  Turn and cook the other side. If cake starts to fall apart as you try to turn it, cook on the current side for another minute or more, then turn.
Press gently and cook another 3 to 4 minutes until crispy brown.
When serving, squeeze a wedge of lime on top of each cakes.
*See Kitchen Notes
[/print_this]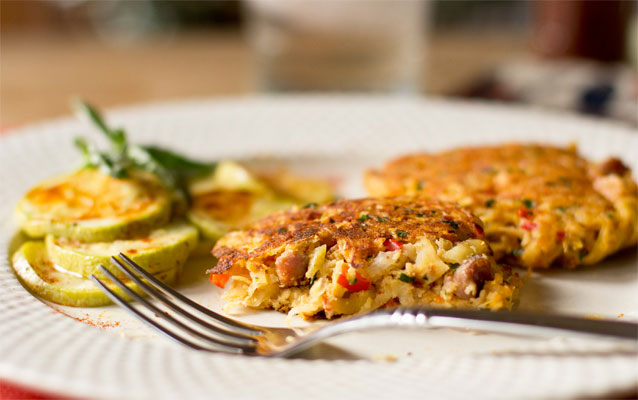 Kitchen Notes
Andouille – If you don't have andouille, then substitute with another smoked sausage.  You could also cook up some sausage, like Italian or Mexican chorizo, crumble and add to the potato mixture.  Just don't add uncooked sausage. It will make the cakes too greasy and they'll fall apart.
Red chile flakes – As I mentioned, the maras biber is great with this cakes; however, you could use just about any red chile flakes or red chile powder for that matter.  Just think about the sausage you choose to use and what might go with it.  Personally, I would stay away from chipotle flakes (even though I do love them), because they could overpower the other flavors in these cakes.
Smoked Paprika – Now here is where you can use the chipotle. 🙂  Any smoked chile powder would work in place of the smoked paprika.
Suggested Sides
A fried egg on top
Squash sauteed in a little garlic infused oil or butter with some salt and pepper (That's what I'm serving in the photos.)
Your favorite side salad
These Hash Brown Cakes with Andouille make a great weekend brunch or dinner any day of the week.  I hope you enjoy!