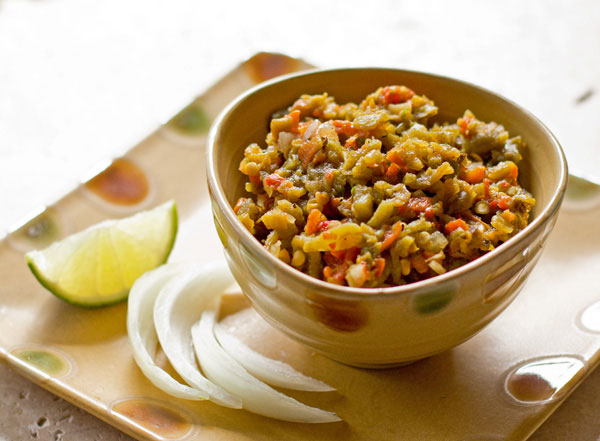 This Green Chile and Lime Zest Relish was HUGELY inspired by a recipe from my spicy Switzerland counterpart – Sissi @ With a Glass.  Earlier this year Sissi posted a Chilli and Lime Zest Paste (Raimu Kosho), a simple paste made with fresh chilli (chile) peppers, lime zest and salt.  The moment I saw it I thought – "this would be great with some of my roasted green chile" – and I was right!  What a refreshing and deliciously simplistic way to serve green chile!
Since I used frozen, roasted green and red chile rather than crispy fresh chiles, I decided to make a relish rather than a paste.  Instead of running the chiles through a blender, I just minced them along with a little bit of onion.  To this were added the remaining two ingredients – lime zest and salt. WOW!  This relish took definitely takes Sweet Potato Hash Browns up a notch and adds a real zing to our Migas. We can't stop eating it!  Thanks Sissi!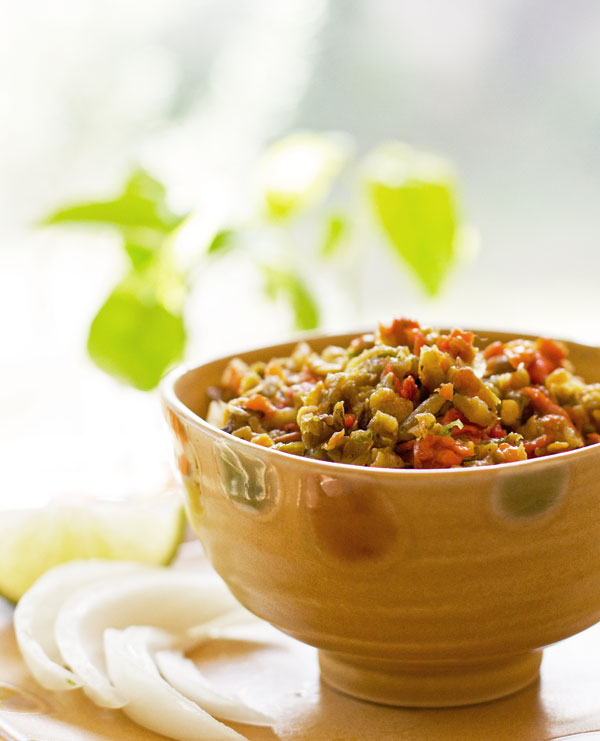 [print_this]
Green Chile and Lime Zest Relish Recipe
Adapted from Chilli and Lime Zest Paste @ With a Glass
Makes 1 cup
Prep Time:  10 minutes
Best if left to rest overnight in the refrigerator.
Ingredients
1 cup roasted, peeled New Mexico green chile, minced
1 Tbsp. minced onion
¼ tsp. salt
Zest from 1 lime
Instructions
Combine all of the ingredients in a bowl.
Cover and let rest in the refrigerator overnight.
Serve with any dish in which you normally use chopped green chile.
Relish will keep in the refrigerator for at least 1 week.  Freeze if by chance you have any remaining after a week, but I bet you don't. 🙂
[/print_this]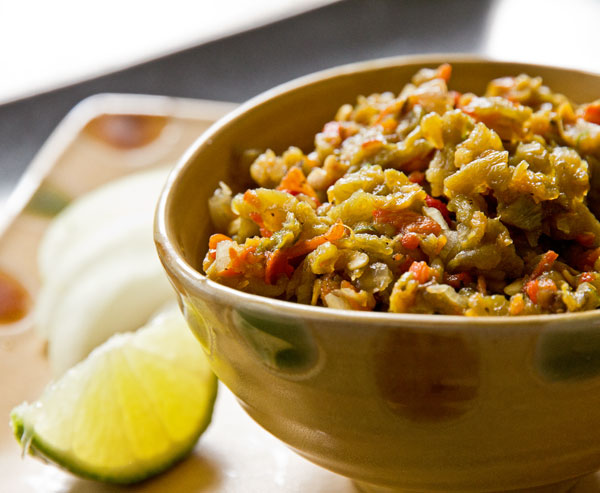 Kitchen Notes
Green Chile – During the fall I roast as much green and red chile as possible.  The relish you see in the picture is a mix of both red and green New Mexico chile. You can use all green, all red, or just about any roasted chile you have available.  As you'll see when you visit Sissi's recipe, this recipe also works great with just about any fresh chile peppers.
Onion – The onion is added for a little bit of a crispy texture that is missing when using roasted chiles.
Salt – I greatly reduced the amount of salt from Sissi's because I wasn't really pickling the chile like she was.  The ¼ teaspoon was plenty for us and can easily be increased or decreased to your taste.
Suggested Uses – Substitute this relish for the chopped green chile in most any of the recipes found in the Green Chile Recipe Index. And of course, it would make a great topping for a green chile cheeseburger! YUM!
More suggestions for using this green chile and lime zest chile coming soon!