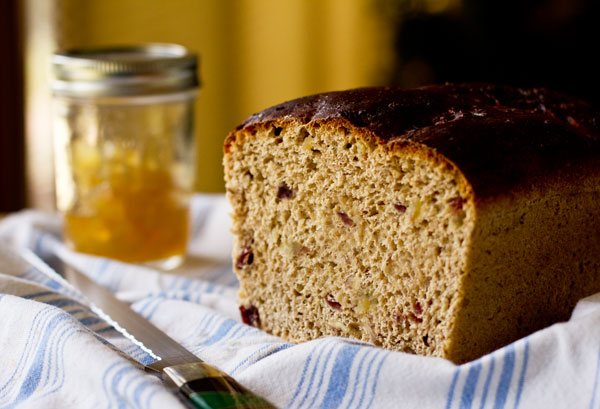 Fruit and Nut Yeast Bread is a slightly sweet bread made with your choice of dried/candied fruits and nuts.  If you've had the Italian bread, Panettone, then you have an idea as to what I was going for when I started developing the recipe for this fruit and nut bread. I wanted something with a little more "grain" than Panettone, less fat, about the same sweetness, and a bread that worked with a variety of fruits and nuts.  This bread meets all of those requirements.  It's so easy to make and is quite tasty.  It makes a wonderful breakfast bread.  Just cut a thick slice, pop it in the toaster and top with a touch butter.  Enjoy!
So far, I've made this bread with a mix of candied watermelon rind, preserved figs that had sugared in the refrigerator, and some dried cranberries.  In another loaf I used dried cherries with the watermelon rind, dates, and pecans.  My friend Su Anne, who graciously tested my recipe for me, used cranberries, dried apricots, and a bit of prunes.  Both of us used pecans for the nuts.  So far each loaf has come out very lovely and has been enjoyed by all.
Fruit and Nut Yeast Bread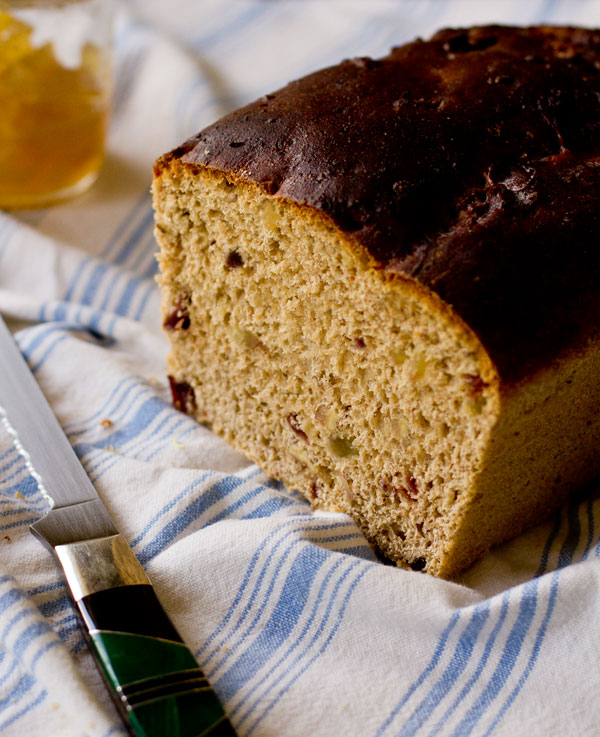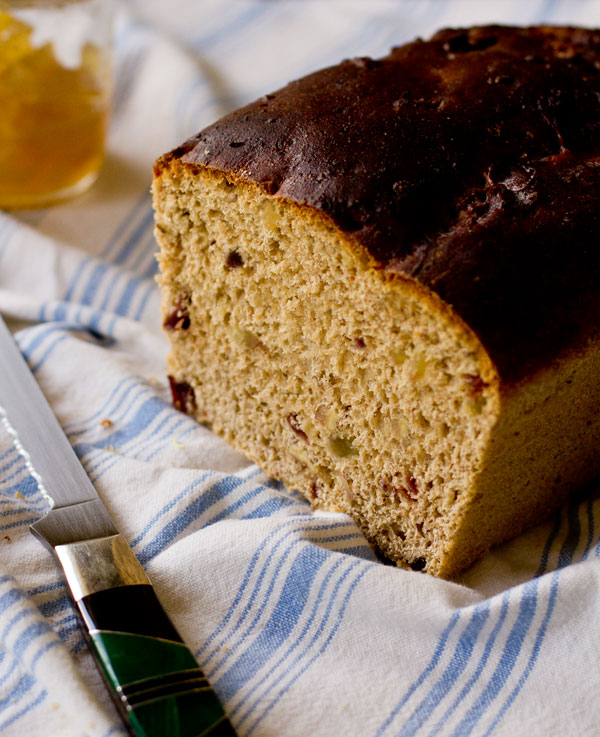 Fruit and Nut Yeast Bread Recipe
A slightly sweet bread made with fruits and nuts that can be changed with each batch of bread. Very versatile in that is allows you to use what you have on hand. A great use of any preserves that have "sugared".

"*" See Kitchen Notes for more information or links to special ingredients.
Ingredients
Because of all of the fruit and nuts, it's wish to use a stand mixer if you have one.
½

cup

milk,

warmed in microwave for 1 minute

1

Tbsp.

butter

1/2

cup

lukewarm water,

about 110° F

1

Tbsp.

honey*

2 1/4

tsp.

active dry yeast

1

egg,

slightly beaten

1

tsp.

salt

1 ½

cup

unbleached bread flour

1

cup

spelt flour

¾

cup

whole wheat flour

Generous ½ cup coarsely chopped pecans or your favorite nut*

Generous ½ cup coarsely chopped dried and/or candied fruit*
Instructions
Heat the milk and add the butter. Set aside.

Combine water and honey in a small bowl. Stir to dissolve the honey.

Sprinkle the yeast on top and let sit for about 10 minutes or until the yeast starts to activate (gets foamy).


Chop your fruit and nuts. Set aside.

To the bowl of a stand mixer add the warm milk with butter, salt, slightly beaten egg and yeast mixture. Using the paddle attachment, combine ingredients.

Add the nuts and the fruit. Incorporate into bread mixture for about 3 minutes.

Replace the paddle attachment with the dough hook. (Coat a rubber spatula with butter and use it to clean the dough off of the paddle.)

Add the remaining ½ cup unbleached flour. Knead for 5 minutes. The dough should pull away from the sides of the bowl, but still be a little sticky. Add a little more flour if needed.

Butter the sides and bottom of a bread pan or spray with a cooking oil.


Dump the bread dough into the bread pan.

Cover with a damp, lightweight cloth or wet paper towel and set in a warm location to rise.

Preheat the oven to 375° F. (For high altitude baking). At sea level, preheat at 350° F.

When the dough rises high enough to touch the cloth, remove it and let the bread continue to rise until it is about 1" above the edge of the pan. This could take 1 to 2 hours.

At high altitude, bake for 15 minutes then turn the oven temperature down to 350° F. Bake another 30 minutes or until the internal temperature is 190° F or a toothpick comes out clean when inserted into the middle of the bread. At sea level, bake for 45 minutes at 350° F or until the internal temperature is 190° F.

Remove from the oven and let cool 5 minutes. Run a knife around the bread pan to loosen the bread from the sides. Turn upside down (it's still hot so use pot holders), and remove from the bread pan. Set on a rack to cool. Let cool before cutting!

Kitchen Notes
Honey – If you use candied fruits like I did, then 1 Tbsp. honey is probably all you need.  However, with dried fruit or if you want the bread a little sweeter, you might want to increase the honey to 2 Tbsp.
Dried or Candied Fruit – One of the nice things about this fruit and nut bread is you can use pretty much whatever you have.  A mix of three different flavors is quite nice, so just open up the pantry and refrigerator and use what you have on hand. 
Nuts – Again, use what you have on hand and whatever complements the fruit.  For breads, you can't beat pecans and walnuts, but I wouldn't hesitate to use pinon or almond either, or possibly even a few sunflower seeds.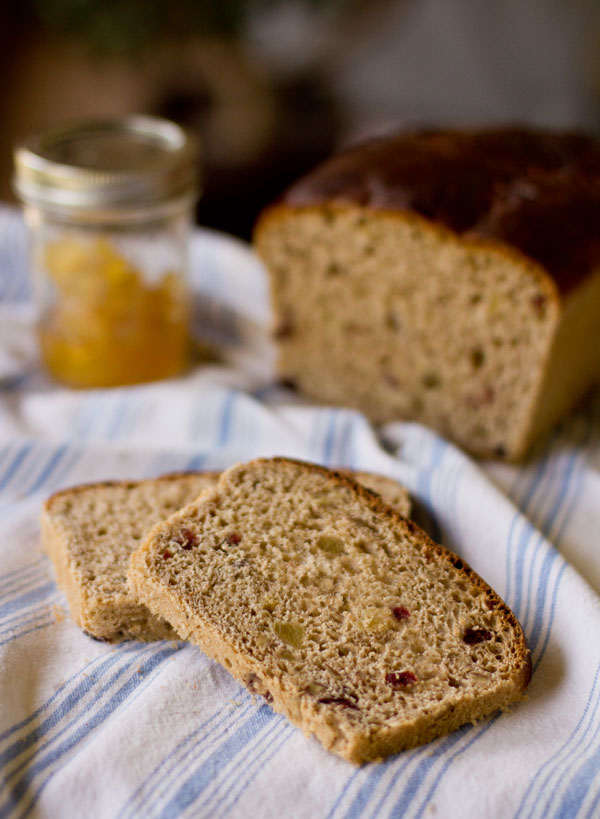 French Toast with Fruit and Nut Bread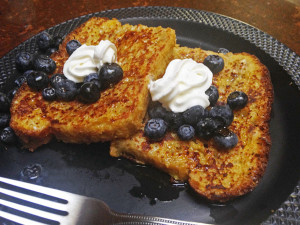 We love making French toast with this bread for a Sunday Brunch.
French Toast with Fruit and Nut Bread Recipe
Ingredients
4

slices

of fruit and nut yeast bread,

about ¼ - ½ inch thick

2

medium to large eggs

½

cup

milk

1

Tbsp.

maple syrup

2

generous dashes of cardamom powder

fresh fruit and warm maple syrup
Instructions
Whisk together the eggs, milk, syrup and cardamom.

Pour into a wide shallow bowl, large enough for the 4 pieces of bread (if possible).

Add the bread. Let sit in the egg mixture for a few seconds, then flip over.

Heat up a griddle over medium heat.

When the griddle is hot, coat with a little butter and place the egg soaked bread on the griddle.

Let cook about 2 minutes per side or until nicely browned on both side and the egg cooked through.

Top with fruit, warm maple syrup and whipped cream (if desired).
If you like this Fruit and Nut Yeast Bread, then you might also enjoy some of these breads: