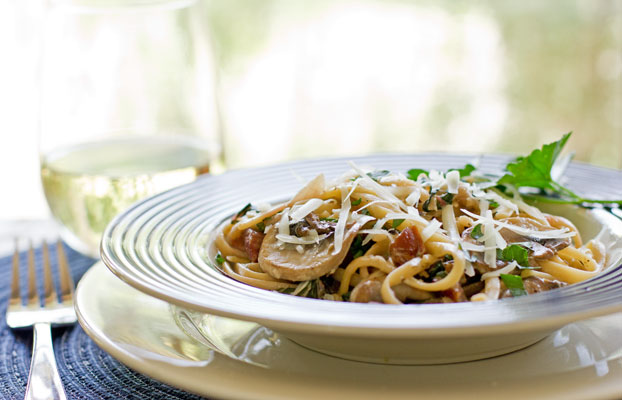 Let's talk pasta….About once every two weeks I'll make a pasta dish.  At times it's my fallback dish Capellini with Lemon, Garlic and an Egg (quick, easy and delicious), but most of the time I just throw a pasta together using a "little bit of this and little bit of that" from the fridge and pantry.  This fennel spiced pasta with ham and mushrooms was the result of last week's throw together.
When I made it, I didn't measure anything because I wasn't expecting to post it.  However, since it turned out SO good, I thought I would post it as a lead in to how to make a delicious pasta dish without a recipe, using what you have and needs to be used.
All it really takes for a great pasta meal is a little of two to three different types of vegetables, a bit of meat if you want, and some oil and seasoning.  Voila – dinner's served!  For example, the ham used in this dish was what I cut off the Easter ham bone.  I used up the little bit of cream that I had left in the fridge and a couple of Swiss chard leaves left in the crisper that didn't get used in another dish.  I had a ton of mushrooms from a Costco run, so those were a no brainer.
For my method of how to make a great pasta when "there's nothing in the fridge", please check out the Kitchen Notes at the end of this post.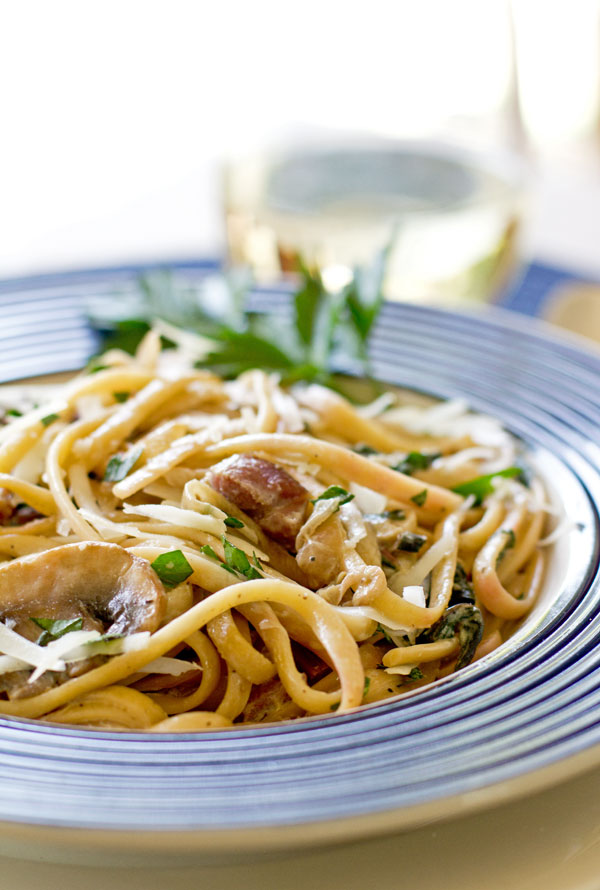 [print_this]
Linguine with Mushrooms, Swiss Chard and Ham Recipe
Serves: 3 – 4
Prep and Cook time: less than 30 minutes
Recipe Author:  MJ of MJ's Kitchen
Ingredients
All ingredient amounts are estimates
8 ounces linguine, cooked al dente
1 Tbsp. olive oil
1 Tbsp. butter
½ onion, sliced lengthwise
6 cloves garlic, slivered
~2 cups sliced mushrooms
2 large leaves Swiss Chard, chop the stems and leaves separately
1 cup diced smoked ham
1 tsp. mustard powder
¼ tsp. fennel seeds, crushed
½ cup half and half
Chopped fresh parsley
Generous amount of cracked pepper
Salt to taste
½ cup Pecorino Romano, grated
Instructions
Cook the pasta al dente.
Heat the olive oil and butter in a large skillet over medium heat. When hot add the onion and sauté for a couple of minutes.
Add the garlic, chard stems, and mushrooms.  Sauté until the mushrooms start to release their moisture.
Add the Swiss Chard leaves, ham, mustard powder, crushed fennel seeds and about 2 Tbsps water from the cooking pasta.  Sauté on medium low heat until the leaves have wilted.
Pour in the half and half and heat for about 1 minutes.
Add the cooked pasta, a generous amount of cracked pepper, and some chopped parsley.  Toss to coat.
Taste.  Salt is needed.  However, remember that you'll be adding a little cheese to each serving if desired.
Serve into pasta bowls, scooping up vegetables for each serving. Top with a little bit of grated cheese and enjoy!
[/print_this]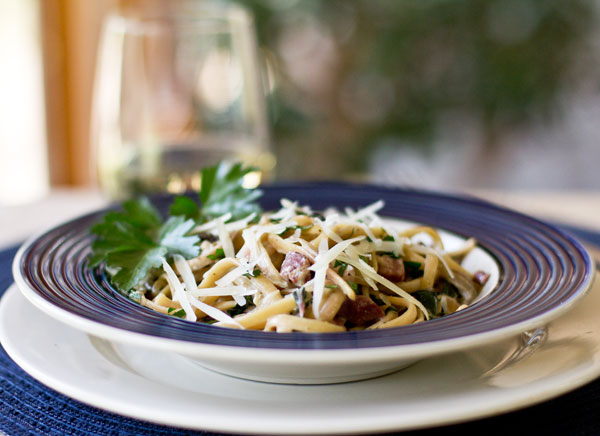 Kitchen Notes
Things that I consider when creating a pasta dish for Bobby and me. 
Amount of pasta – For the 2 of us, 8 ounces of pasta provides a nice dinner and enough leftovers for a lighter lunch.
Type of pasta – The more delicate the ingredients or the smaller the pieces, the lighter the pasta used.  For example, for this dish and the Leek Confit and Mushroom dish, I used linquine.  However, I could have also used spaghetti or even farfalle.  Penne or ziti would have been too heavy (in my opinion).  I usually save heavy tubular pasta for meat sauces or chunks of meat and vegetables, like my Thia Chicken and Vegetables.
Vegetables – Of course most every pasta dish I make starts with garlic and onion sauteed in olive oil. After that I look for one, two or even three more vegetables that will provide color and texture.  Mushrooms, broccoli, asparagus, peas, artichoke hearts, and red/yellow/orange bell peppers are great veggies for pasta. If I have some chard, kale or spinach, I'll thrown in a few leaves for flavor, a little green, and vitamins.
Proteins – For vegetarian dishes, the proteins I usually choose are cheese, a touch of cream or a sunny-side up egg, letting the yolk become part of the sauce.  A sausage (sliced or crumbled), leftover chicken or steak, and shrimp or smoked salmon make great proteins for a variety of pasta dishes.  It doesn't take much. Usually 1 sausage link, 1 to 2 cups chopped meat or 1/2 pound of seafood is all the two of us need.
Sauces – I like to keep my sauces simple.  Sometimes it's just olive oil with a few tablespoons of water reserved from the cooked pasta.  Other times I might add a little butter, cream, or a touch of Dijon mustard.  Cutting up a fresh tomato and adding it near the end of the cooking time can also create a little sauce for you.  I have to admit that I'm not a big fan of tomato-based sauces and rarely make them.  About once a year I'll make a bolognese, our favorite of all tomato-based sauces, but other than that, we prefer the lighter, oil and cream type sauces.
Seasonings – This is where you can really get creative and have fun. There are SO many herbs and spices to choose from.  Sometimes I'll just stand over the skillet with an open jar of seasoning using my nose to determine how that herb or spice would work with what's cooking in the skillet.  For the recipe in this post, once I got a whiff of the mushrooms and ham sauteing in the oil and butter, I decided to complement those flavors with a little crushed fennel and mustard powder rather than using any herbs. However, some fresh parsley or basil thrown in at the end makes a great finish for just about any pasta dish.
Other ingredients – Here are a few other ingredients that can add a lot of flavor with just a small amount.
preserved lemons and preserved lemon juice
olives or olive brine
capers or caper brine
pickled peppers
chile peppers – pickled or roasted
toasted seeds or nuts
seasoned sea salts
drizzle of an infused oil
So do you have a new pasta dish in mind?  What are you thinking?
What are your favorite ingredients to add to pasta?
For other pasta dishes created using the same method as this Ham and Mushroom Pasta, check out my Pasta Category.