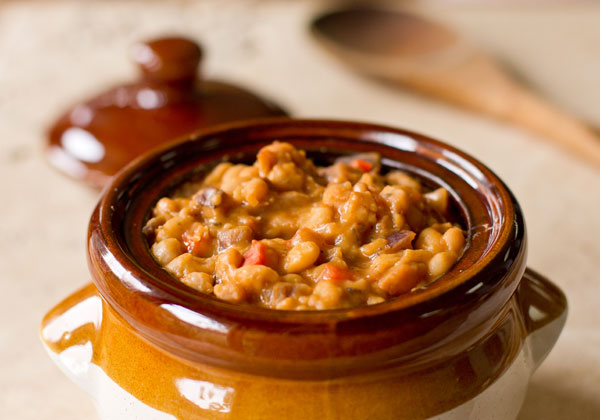 If you like baked beans, then you're going to love these Beans, Bacon, and Chipotle!  They are somewhat similar in flavor to baked bean, but not near as sweet and with a smoky, spicy kick in every bite.  And if you already have some cooked navy beans or any white beans, this recipe takes less than 30 minutes to make.
Earlier this year I shared these beans with my friend, Judy, over at Savoring Today, a tasty blog filled with healthy and delicious food.  I love browsing through Judy's recipes and drooling over her pictures and ingredients. Like Judy, I love making healthy food that tastes good and, even though this recipe has a little bit of bacon which is good for the soul, and a secret ingredient that feeds the spirit, it's packed with all of the healthy nutrients found in a great pot of beans.  So please head on over the Savoring Today and check out some of her recipes.

Beans, Bacon and Chipotle is a relative simple dish with flavors similar to those of baked beans, but better in my opinion. It's not near as sweet as baked beans and if you have the beans cooked already, it takes less than 30 minutes to make. Chipotle powder gives the dish the "spicy" as well as provides a nice smoky complement to the bacon. Maple syrup is added to provide the "sweet". Serve a bowl of these beans with a nice salad or piece of cornbread for a complete meal, or as a side to baked ham, grilled chicken or your favorite sandwich.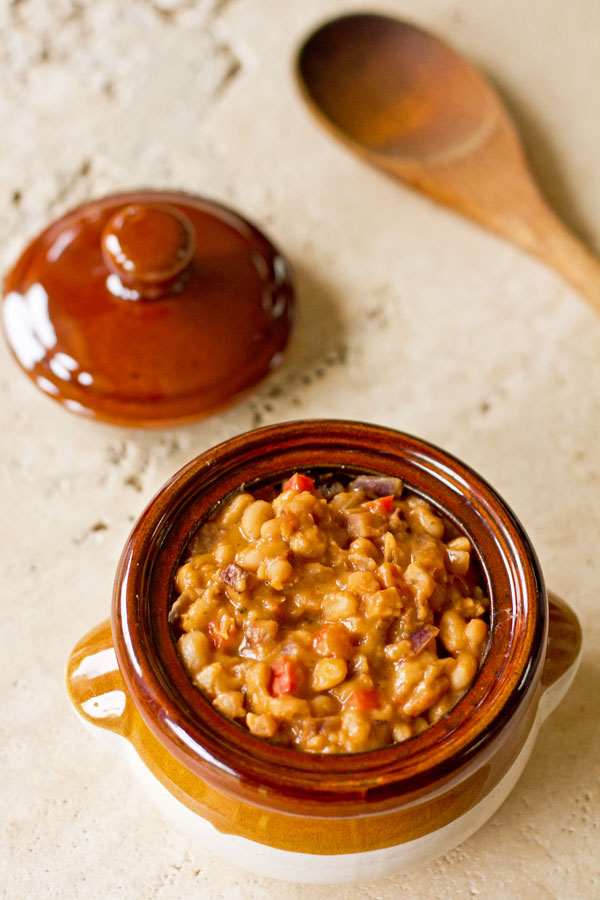 [print_this]
Beans, Bacon and Chipotle Recipe
Author: MJ of MJ's Kitchen
Serves / Yields: 4 to 6 as a side
Prep and Cook time: 30 minutes
Ingredients
4 ounces slab bacon*, diced
2 to 3 cups cooked navy (or any white) bean, drained (reserve the liquid)
1 cup minced onion
½ cup minced red bell pepper
¼ tsp. crushed dried thyme
½ tsp. crushed dried oregano
2 Tbsp. bourbon or Apple cider
2 Tbsp. ketchup
2 Tbsp. maple syrup
½ tsp. chipotle powder*
Salt to taste
*See Kitchen Notes
Instructions
Add the diced bacon to a hot skillet over medium heat. Cook, stirring occasionally until the bacon starts to turn brown and gets somewhat crispy on the edges.
Carefully drain all but about 1-2 Tbsp. of the drippings from the skillet.
Return the skillet to the heat, reduce heat to medium low, and add the onion and bell pepper. Sauté for about 6 to 8 minutes or until the onion is translucent.
Stir in the thyme and oregano.
Add the bourbon and stir quickly to incorporate it with the bacon and vegetables. (Most of the bourbon will burn off.)
Add the ketchup, maple syrup and chipotle powder. Stir to combine well.
Add the beans and stir to coat with the sauce. Reduce heat to low.
Add ½ cup of the reserved liquid (or ½ cup water). Stir and continue to heat through.
Let the beans heat through for about 3 to 5 minutes. If they start to get too thick, add a little more water.
Taste. Add salt if needed.
Serve immediately.
[/print_this]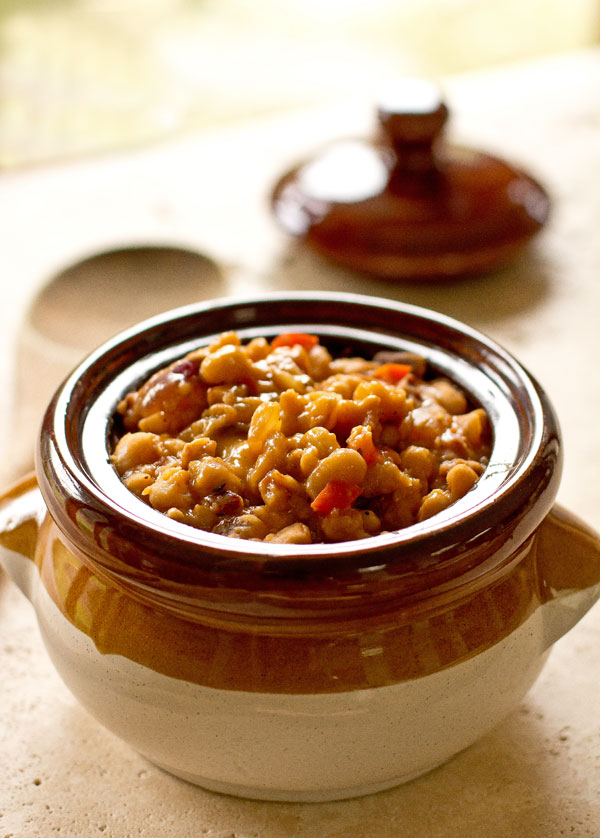 Kitchen Notes
Bacon – Slab bacon may be hard to find, but it's well worth the hunt.  The little diced pieces give you something to bite into.  If you can't find slab bacon then use a thick, sliced bacon and cut into small pieces.  Don't worry about trimming the fat.  You'll be rendering it and then pouring off most of the fat once cooked.  Diced smoked ham can also be used in placed of bacon.  However, if you use ham, you don't need to render the fat, just add the ham about a minute before you add the beans.
Chipotle Powder – Chipotle powder is quite common in my area but I understand that in some places, it's hard to find.  As a substitute you could use one to two chipotle peppers in adobo sauce. (Two peppers yield a very spicy bean dish!)  If you can't find chipotle of any kind, then any smoked chile pepper would work.  Smoked paprika would provide the smokiness of the chipotle but without the heat.  Smoked serrano or ancho powder would provide both heat and smoky flavor.
The Liquid – If the beans are too thick for your preference, add a little more liquid.  I usually end up adding about ½ cup of the liquid from the beans. Hope you enjoy these Sweet and Spicy Beans!
Bean, Bacon and Chipotle make an excellent side for any backyard barbeque, baked ham or just any time you want a spicy bowl of beans.