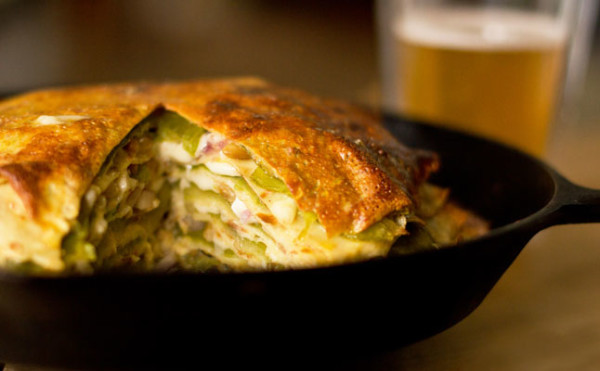 This Green Chile Pathiri (aka green chile crepes) is a dish that I have had in my head and have been wanting to make for a very long time, so I was thrilled when I saw that April's Daring Cook's Challenge was to make a savory Pathiri.
What is Pathiri?  Pathiri is an Indian dish that is made by alternating crepes with a sweet or savory filling.  The crepes are normally made with rice flour and dipped in coconut milk or brushed with ghee during assembly.  This process is very similar to the one I use for stacked enchiladas, just different ingredients.  For enchiladas instead of rice flour crepes, corn tortillas are dipped in green or red chile sauce and alternated with a savory filling and cheese.

Joanna from What's On The List introduced the Daring Cooks to the Pathiri and the process for making it.  She then challenged us to create our own version of this inspirational Indian dish.  What a perfect challenge!  So for this Green Chile Pathiri, instead of rice flour crepes dipped in coconut milk, I made unbleached flour crepes then dipped them in egg when assembling.  For the filling – roasted, whole New Mexico green chiles from my friends at the Hatch Chile Store, toasted pinon nuts, olives, and queso fresco.  The result was such a wonderful fusion of cultures and flavors. And although it was time consuming, but not at all difficult, this is definitely a dish that I will be making again.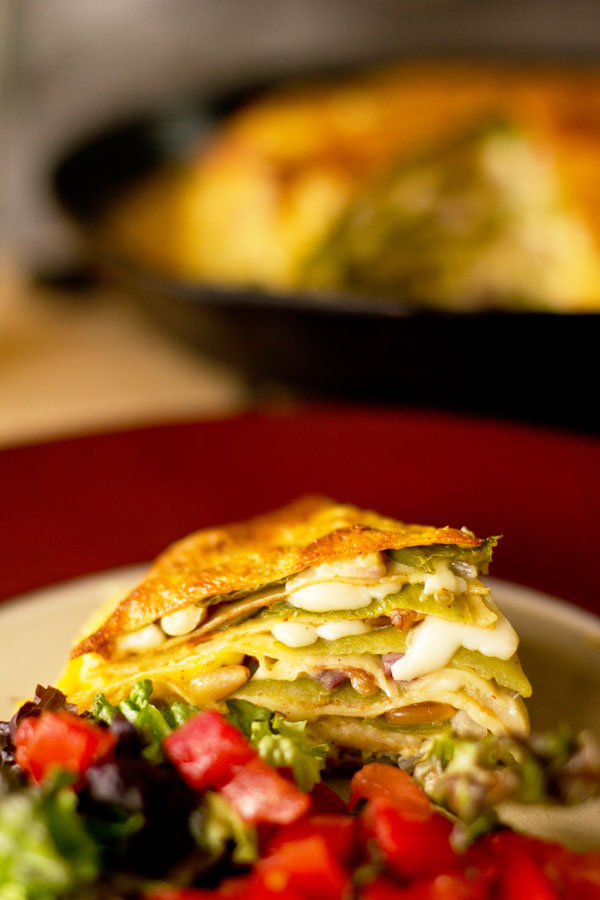 [print_this]
Green Chile Pathiri with Pinon Nuts and Queso Fresco Recipe
Serves 4 as a meal
Crepes – Prep and Cook time 1 hour
Pathiri assembly – 30 minutes
Bake time – 40 minutes
Rest for 5 to 10 minutes
Recipe Author: MJ of MJ's Kitchen
Making the Green Chile Crepes
Makes 14 – 15 crepes
Prep and Cook time: 1 hour
Crepe Ingredients
3 eggs
1 cup flour, sifted
1/8 tsp. salt
1 ½ cups milk
1 tsp. green chile powder (optional)
Butter or margarine (to coat the crepe pan before adding the crepes)
Crepe Directions
Whisk the eggs in a large bowl.
Sift the flour, salt and green chile powder into a cup or small bowl. Whisk to combine.
Add about 1/3 of the flour mixture to the eggs and whisk.
Add some of the milk, whisk, more flour, whisk, more milk, whisk. Continue until all of the flour and milk have been incorporated into the eggs.
Let rest for at least 30 minutes.*
To make the crepes, slowly heat a crepe pan or 8 to 10 inch, nonstick skillet over medium low heat. When hot, coat with a touch of butter.
Add ¼ cup crepe mixture to the pan and gently swirl to coat the pan with batter. (If the pan is too hot, the crepe mixture with splatter.)
Cook for 45 to 60 seconds until light brown. Flip and cook about 30 seconds or until crepe starts to puff and becomes light brown on the other side.
Place on a paper towel and cover to keep warm. I use a tortilla warmer with a paper towel inside.
*If you are going to make the pathiri on the same day that you make the crepes, then prep the pathiri ingredients while the crepe batter rests.  The crepes can also be made up to 3 days in advance and refrigerated until ready to use.
Pathiri
Pathiri Ingredients
10 whole green chile pods – roasted, stems and seeds removed, chile cut open and laid flat*
8 – 10 crepes (see above recipe for making crepes)
6 Tbsp. toasted pinon (pine nuts)
6 ounces queso fresco, crumbled*
3 ounces Monterey Jack cheese, grated (optional)*
½ cup, finely chopped red onion
½ cup, chopped Kalamata or other black olive
*See Kitchen Notes.
Egg Dip Mixture
3 large eggs
¼ cup milk
1/8 tsp. salt
¼ tsp. red chile powder (optional)
Pathiri Instructions
Preheat the oven to 325° F.
Toasting the pinon nuts – Heat a small heavy skillet over medium-low heat.  Add pinon nuts.  Slowly toast, stirring occasionally until lightly toasted. (Pinons do tend to stick to the pan more than other nuts so flipping them for an even toasting doesn't always work. You'll need to use a heat proof spatula of some type.)
For the egg dip, whisk together the eggs, milk, salt and chile powder. Pour into a pie pan.
Prepping the green chile – Depending on the size of the green chile, you might need to cut each chile crosswise into 2/3 and 1/3 pieces. You don't want the chile to extend past the crepes.
Put the ingredients in separate bowls or separated on a plate for ease of assembly.
Melt a little bit of butter in a cast iron skillet large enough to for the crepes to lie flat but as close to the size of the crepes as possible.
Move the skillet to the assembly area.
Dip a crepe into the egg mixture and let the excess run off.
Place the crepe in the skillet. Top with a layer of chile (equivalent to one chile pod), a few pinon nuts, a few olive pieces, and some cheese.
Dip another crepe in the egg mixture and top with more of the same ingredients. Continue to stack the crepes and the ingredients until you've used up the green chile. You'll use about 10 crepes and all of the nuts, olives and cheese.
Top the last layer with another egg dipped crepe.
Pour half of the remaining egg mixture over the top of the assembled pathiri.
Bake @ 325° F for 20 minutes. Remove from the oven and increase the temperature to 350° F. Pour the rest of the egg mixture over the top and return the skillet to the oven for another 20 minutes.
Remove from the oven and let rest 5 minutes.
Slice carefully with a very sharp knife.
Serve with a simple side salad of lettuce and tomato.
[/print_this]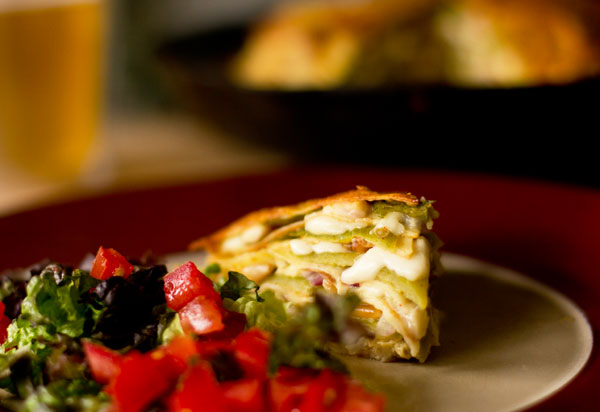 Kitchen Notes
Crepes – This is pretty much the same crepe recipe that I used for my Apple Pecan Crepes. However, in order to get thinner and lighter crepes, I decreased the amount of flour and increased the amount of milk.  It's important that the crepes are as thin as possible to keep this dish from being heavy with thick crepes.
Green Chiles – As with any dish that uses a lot of green chile, the chile is the star of the show; therefore, I'd like to thank the Hatch Chile Store in southern New Mexico for the wonderful Hatch green chile that went into this dish.  The chile was meaty, spicy, and extremely tasty.  Even though it came frozen, it tasted like freshly roasted green chile.  Because this dish uses SO much chile, it's important that the chile be flavorful and not too hot.  Therefore,  mild to medium green chile is best.  You could also use poblano chile in place of New Mexico green if that's what you have available.
Queso Fresco – The queso fresco was a really nice cheese for this pathiri, however, it didn't melt like I expected it to.  The flavor was awesome, but I would have liked it to have softened more.  If you can't find queso fresco, then substitute a mild feta or feta-like cheese.
Other notes and things I might do differently next time:
I didn't use the Kalamata olives in this pathiri, but I did add them to the recipe because it needed them.  Originally, I used them as a side but Bobby and I both thought they would be incorporated into the dish.
Don't be tempted to chop the green chile.  It was great getting pieces of chile in each bite.  However, this does make it challenging to cut, so be sure to use a very sharp knife so you can cut through the chile rather than pull it out from between the crepes as you cut.
As I mentioned before, the queso fresco didn't melt much, so next time I'll add just a touch of grated Monterey Jack to each layer to help hold the layers together.
Some pathiri recipes say to flip, but by baking it in the oven in a cast iron skillet, it browned up nicely and there was no need to flip it.
The standard New Mexico salad of tomatoes and lettuce was a great accompaniment to this pathiri.  It definitely didn't anything more.
This Green Chile Pathiri would be great for Sunday brunch, Meatless Mondays, or for any meatless meal.
If you are looking something a little more New Mexican, you might try my Christmas Pathiri or Stacked Crepes with Red and Green Chile.  It's a "lighter enchilada".
For more recipe that use New Mexico green chiles, check out my green chile category.
This Green chile pathiri has been shared with Weekend Bites   .