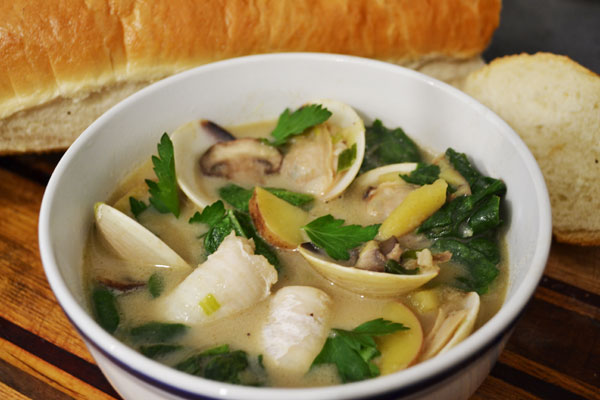 She's back! My sister Nadalyn is sharing another one of her mouth-watering recipes with us today – a Fish and Clam Bisque with Fenugreek.  To see all of Nadalyn's recipes here in MJ's Kitchen, check out the links at the end of this post.
Nadalyn
You may remember that MJ introduced us to the amazing spice shop, Season With Spice, last fall. One of the spices there that intrigued me was fenugreek. Not only had I never used it, I had never heard of it. It seems that fenugreek, besides in cooking, is used in folk medicine for a little bit of everything, including but not limited to stomach and digestive ailments both constipation and IBS, cardiac conditions of all kinds, lowering cholesterol, increasing the production of milk during breast-feeding and even ED. If you don't know what ED is then you don't watch TV ads. 🙂
MJ told me that she had dared to experiment with fenugreek, in cooking of course, so I decided to give it a go as well. This Indian inspired dish is a result of that daring do. If you like curry dishes, this should appeal to you.
Oh, and you may want to grab a loaf of French bread to sop up the yummy broth.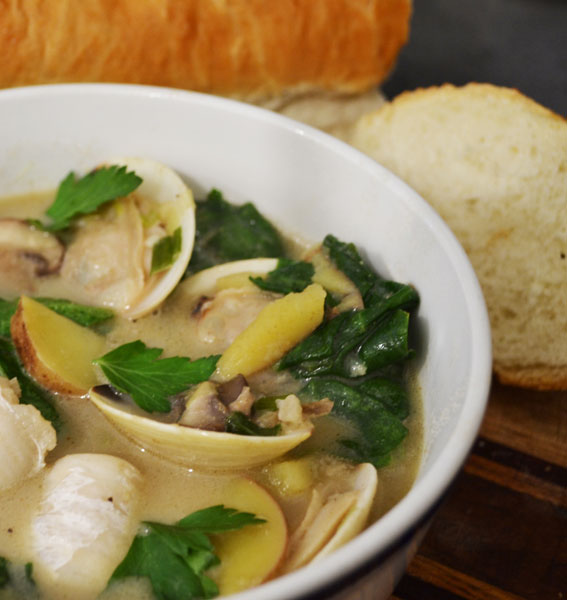 [print_this]
Fenugreek Fish and Clam Bisque Recipe
Serves 4
Cook and Prep Time:  less than 1 hour
Recipe Author:  Nadalyn

I recommend having all your veggies chopped and ready to go before you start cooking because the cooking times for each phase of the process are so short.
Ingredients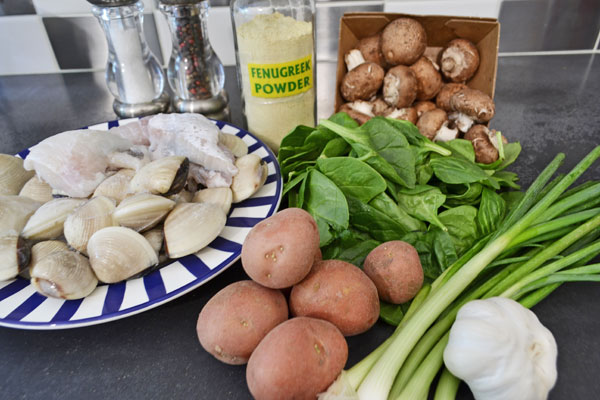 2 lbs of fresh clams
1 lb of fish (see Kitchen Notes), cut in 1 inch pieces
1 bunch of scallions, chopped white and green parts
3 large cloves of garlic, crushed and chopped
8-10 crimini mushrooms, sliced
6-8 small red potatoes, sliced in 1/8 inch thick slices
Spinach – about 2 large handfuls of fresh spinach
3 cups chicken broth
1 cup half and half (see Kitchen Notes)
1 ½ tbsps. fenugreek powder
1 tbsp. garam masala
½ tbsp. cumin powder
1 tbsp. olive oil
4 tbsps.butter, divided in half
Salt and pepper
Instructions
In a large skillet or Dutch oven heat the olive oil and half the butter on medium heat.
Add the scallions, garlic, and mushrooms. Sprinkle with about ½ tsp of salt.
When the mushrooms start to turn color and emit their liquid add the chicken broth, the potatoes, fenugreek, garam masala, cumin, and salt and pepper. Simmer over medium heat for about 5 minutes.
Add the half and half and remainder of the butter.
Adjust salt to taste. A little extra doesn't hurt because the fish will absorb it.
When the liquid returns to a simmer add the fish and clams. Cook until the clams open and the fish turns opaque.
Reduce the heat and add the spinach. Stir gently just until the spinach wilts.
Remove from heat to avoid over cooking. Serve into bowls and enjoy with some crusty bread.
[/print_this]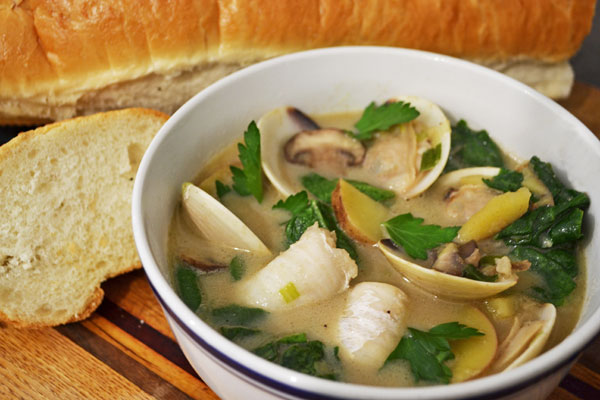 Kitchen Notes
Fish: In the dish shown, I used catfish. I find that you need a thick meaty fish for this bisque. A thin delicate fish like tilapia or swai falls apart. In addition to catfish, cod or halibut would probably work well.
Mushrooms: You can use almost any kind of mushroom. I prefer the crimini, but white button mushroom or shiitake would work fine. Even if you wanted to get fancy and use two or three different kinds like adding oyster mushrooms or similar would be great.
Potatoes: I like the small red potatoes but any kind would work. The thing is to cut them into bite size pieces that are small enough to cook thoroughly in this short amount of time.
Cream: I recommended half and half, but in actuality I used Lactaid and it was fine. Whatever you use, even heavy cream if you like, should have a rich, creamy consistency.
Seasonings: The fenugreek smells like a mild curry mixed with some other herb. In use, it can have a very bitter after taste if used alone. The garam masala and cumin alleviate this aftertaste and add richness to the dish. Regarding the salt and pepper, I recommend tasting throughout the cooking and adjusting the salt as needed. The black pepper you only need to add once.
More recipes by Nadalyn:
Grilled Meat and Late Summer Vegetable Salad
Stewed Cushaw and Yummy Deliciousness Cushaw Coffee Cake
Thank you Nadalyn for sensing that I was having a very busy April and sending me this deliciously beautiful Fish and Clam Bisque to share with my readers!