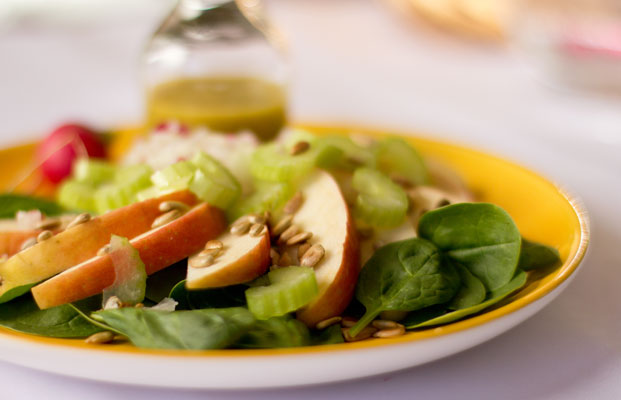 [Jump to Green Chile Dressing recipe]
Before we talk about this Green Chile Salad Dressing and the Apple Salad, let's talk about homemade salad dressing.  Salad dressings are the easiest things to make from scratch and dressings made at home are so much better than what you pay $5 a bottle for at the grocer, plus you can control what goes in them.  All you need in your pantry are a few different types of vinegars, a couple of good oils, some herbs and spices.  Other possible ingredients include mustard, mayonnaise, horseradish, buttermilk, yogurt, and my favorites – lemon and lime juice.  In Kitchen Notes you'll find the "rules" I follow for making salad dressings.

Now for the recipe – Last summer I started making a green chile salad dressing using green chile powder.  It has been a great dressing for simple salads like this apple and celery salad.  I've been wanting to post it for a while now but the right moment never came…until now.  For the March 2014 Daring Cook's Challenge the challengers, Ruth, Shelley and Sawsan, asked cooks to totally veg out! Cooks were challenged to make a salad and salad dressing, creating new flavors and combinations that reflect our own unique tastes.  "Let the sky be the limit!"  This was the moment I had been waiting for.  So I hope you enjoy this green chile salad dressing as much as we do.  And I think you are really going to be surprised to discover that apple and green chile is a very nice combination.

Green Chile Salad Dressing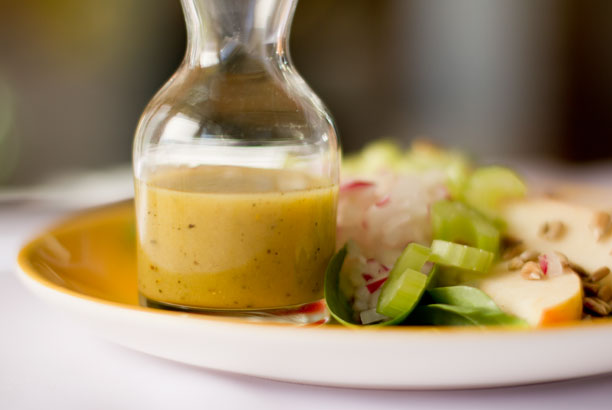 Green Chile Salad Dressing Recipe
A spicy salad dressing made with green chile powder. Great for a variety of salads, but really good on the apple celery salad below.
For general instructions on how to make your own salad dressings, see the instructions at the end of this post.
Course:
Salad, Sauces & Dressings
Ingredients
1

tsp.

honey or maple syrup

1/2

tsp.

yellow mustard

juice from half a lime

1

tsp.

water

1/2

tsp.

mild green chile powder

1/8

tsp.

crushed dried oregano

3

Tbsp.

canola oil

or to taste

1

tsp.

minced cilantro

(optional)

pinch

of salt
Instructions
In a small bowl, whisk together the honey (or maple syrup), lime juice, mustard and water.

Add the green chile powder and oregano. Whisk.

Add the canola oil, and whisk, creating an emulsion.

Taste for acidity level. If the dressing is too acidic for you, add a touch more oil.

Add a pinch of salt and the minced cilantro. Whisk.

Use immediately. If the dressing sits too long, it becomes too thick because the chile powder starts to rehydrate. If this happens, whisk in water 1 tsp. at a time until the right consistency is reached.
Apple and Celery Salad with Green Chile Dressing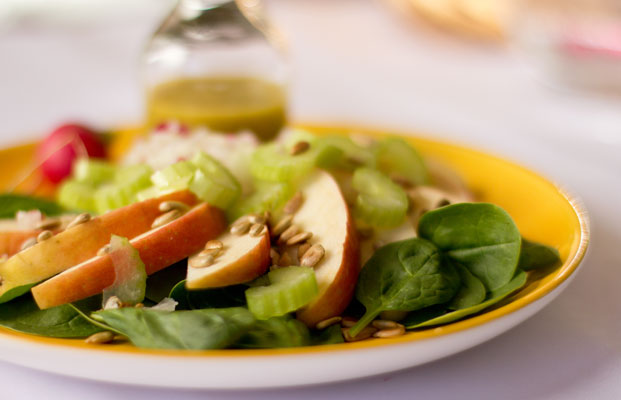 Apple and Celery Salad with Green Chile Salad Dressing
The salad ingredient amounts are not exact and neither are the ingredients themselves for that matter. Other ingredients can be added or substituted. Start with a salad base of apple, greens, and toasted seeds and go from there.

"*" See Kitchen Notes for more information or links to special ingredients.
Ingredients
1

large, sweet, crisp apple,

cored and sliced

1

celery stalk,

sliced

½

cup

cucumber,

chopped

1

large slice sweet onion,

diced

1

large radish,

thinly sliced

2 - 3

cups

baby spinach or spring greens

2

Tbsp.

sunflower seeds,

toasted

~¼ cup Green Chile Salad Dressing
Instructions
In a small skillet over a medium heat, lightly toast the seeds. Transfer to a saucer and set aside.

Mix together the onion and radish.

Add all of the salad ingredients (minus the salad dressing) to a bowl or divide and arrange between two plates.

Make the Green Chile Salad Dressing (recipe above).

Pour over salad and toss. Serve immediately.
How to Make Your Own Salad Dressing
Here are some of the general rules for making salad dressings that work for me.
Use a 3 to 1 ratio of oil to vinegar.  If you like a more acidic dressing, use an oil to vinegar ratio of 2.5:1.
Add a teaspoon of a mustard/mayonnaise for flavor and to achieve a better emulsion. From what I've read the mustard attaches to the oil and helps to suspend it in the vinegar for a longer period of time.  A little bit of mustard/mayonnaise allows you to cut back on the oil a bit.
A little water in an oil and vinegar dressing also helps to suspend the emulsion for a little bit longer period of time than without the water.
Lemon or lime juice can be used in place of or as part of the vinegar.
Mayonnaise, yogurts, buttermilk or combinations of can be used in place of all or some of the oil.
A little bit of honey or maple syrup goes a long way.  Start with 1 tsp. and go from there.
Whisk together the vinegar, mustard, sweeteners before adding the oil.
After whisking in the oil, always taste for acidity and adjust if needed.
A small bowl and a whisk work best (IMO).
Because a salad dressing is so easy to make, only make what you need at the time. Homemade salad dressings get "old" after a couple of days in the fridge.
Oil and Vinegars for salad dressings
White wine vinegar
Red wine Vinegar
Homemade Peppered Cucumber Vinegar
Rice Vinegar
Apple cider vinegar
Balsamic vinegar
Champagne vinegar
Infused vinegars
Extra-Virgin Olive Oil
Canola Oil
Walnut Oil
Infused Olive Oil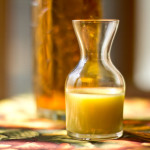 Links to Other Salad Dressings
Peppered Cucumber Salad Dressing
Dress it up! Homemade Salad Dressing @ Chef in Disguise
Chipotle Ranch Dressing @ Pinch My Salt
50+ Homemade Salad Dressings @ Tipnut
7 Healthy Salad Dressings @ Fit Not Fad