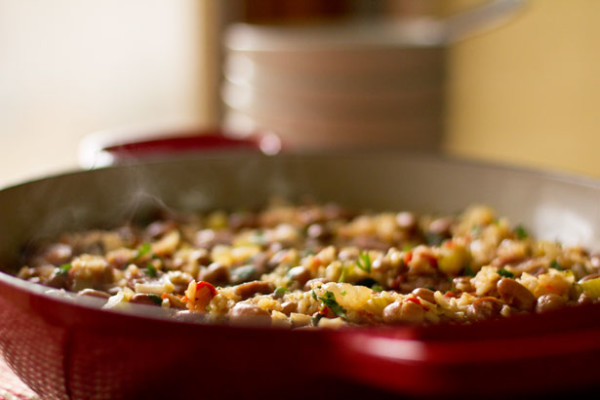 Beans and Rice is one of those meals that can be time-consuming and dirty up a lot of dishes, or it can be quick and easy.  This Beans and Rice recipe made with pinto beans and sausage is quick and easy to make, delicious and a quick cleanup.  You can change it up every time you make it, switching out the type of beans or sausage, or even making it meatless.  Or you can hit on that one combination that you love and make it over and over again.  Either way – it makes a very easy and delicious meal when it's one of those nights that you don't want to spend a lot of time in the kitchen but you want something hearty to eat.  Start to service, this dish is less than 45 minutes!

In this particular beans and rice dish, I combined pinto beans and andouille sausage.  I had made a pot of pinto beans a couple days before and had some leftover in the refrigerator.  However, you could also used canned beans.  I was planning on using chorizo, but didn't have any (or just couldn't find it in the freezer) so I added 2 links of andouille instead.  It was quite good, and appropriate for this time of year (being Mardi Gras time and all), but honestly, my preference is Mexican chorizo with pintos.
The main thing about the recipe, is its versatility.  The vegetable base is the Louisiana trinity – onion, celery and bell pepper; however, you can substitute your favorite chile for the bell pepper (imagine that).  For the rest of the dish use your favorite beans with a complementary meat or meat substitute and some rice.  Voila – supper's ready!  Be sure to check out the Kitchen Notes for few variations that you can play with.
Beans and Rice with Sausage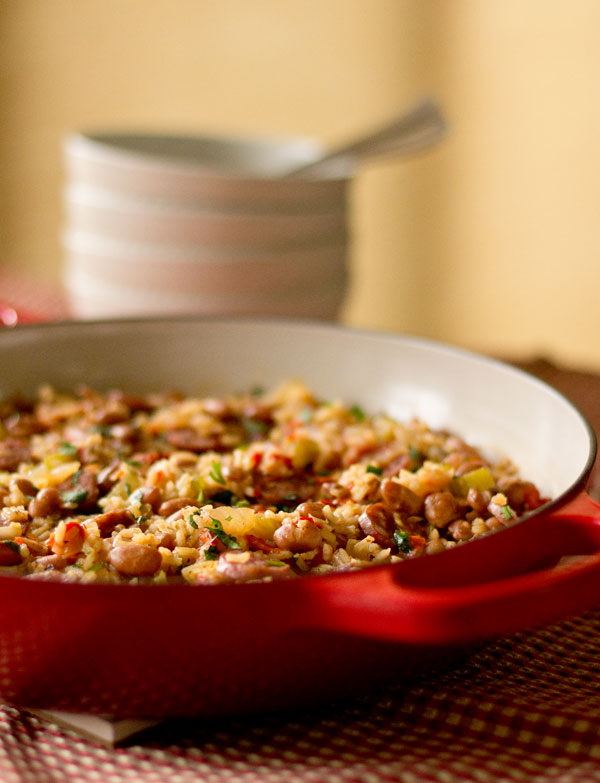 Easy Beans and Rice with Sausage Recipe
Beans and Rice is one of the most versatile and hearty dishes one could make. Use this recipe as a guide and create your own dish.

"*" See Kitchen Notes for more information or links to special ingredients.
Course:
Dry Beans, Main Course
Ingredients
1

Tbsp.

vegetable or canola oil or bacon drippings

1

medium onion,

finely chopped

2

stalks celery,

finely chopped

2

Andouille sausage, sliced or 1/2 pound Mexican chorizo, crumbled*

4

garlic cloves,

minced

2 ¼

cup

stock, broth or water

1 ½ - 2

cups

cooked pinto beans,

drained*

½

cup

roasted, chopped red or green chile pepper*

1

Tbsp.

red chile paste or red chile sauce*

(optional)

1

tsp.

oregano*

¼

tsp.

salt,

or to taste

1

cup

white rice

1

Tbsp.

fresh cilantro or parsley,

chopped

Black pepper to taste
Instructions
Heat the oil in a large braiser or Dutch oven over medium-low heat. Add the onion and celery. Cook stirring occasionally for 4 minutes. (If you are using a non-roasted pepper, add with the onion and celery).

Add sausage and garlic. Cook for about 2 minutes for andouille, 4 minutes for chorizo (or until cooked).

Add the chile peppers, beans, liquid, oregano, and chile paste. Bring to a boil.

Add the rice and stir just enough to mix the rice up with the other ingredients.

Reduce the heat to low, cover and cook for 20 minutes or until liquid is absorbed. Taste. If the rice isn't quite done, add 1/4 cup hot water, cover and cook another 2 minutes. Let set for 5 minutes.

Stir in the cilantro/parsley and season to taste with salt and pepper.

Serve hot with garlic bread or a side salad.
Kitchen Notes
Variations of Beans and Sausage:
Pinto Beans and Mexican chorizo
Red Beans and Andouille
White Beans and Smoked Ham or Italian Sausage
(vegan) Black Beans and Mushrooms
The sausage can also be chicken or turkey, vegetarian or vegan
For smoked sausage, saute for only 2 minutes after sauteing the vegetables.  It's already cooked and if you saute it too long, it can dry it out and make it tough.  For raw sausage or mushrooms, saute for about 4 to 5 minutes after sauteing the vegetables.
Roasted Chile Pepper – You can use just about any pepper you want in this recipe – bell pepper, roasted New Mexico chile pepper, poblano or whatever you have in your region of the world.  Just remember that the pepper you use might require a little spice adjustment to add more heat or reduce it.
Red Chile Paste – This red chile paste, and red chile sauce are condiments I keep in the freezer, so it's readily available.  If you don't have a red chile sauce or paste, then you can substitute 1 – 3 tsp. red chile powder or a chile powder blend or leave it out altogether.  The amount, of course, depends on how hot it is and how hot you want to make the dish.  For example, if you're using cayenne, chile de arbol, murupi amerela, or chile pequin, then ½ tsp. might be plenty or for some, even too much.
Herbs – Beans and oregano is always a good match, but play around with other herbs as well.  For a vegetarian version with mushrooms, thyme, tarragon or sage would be nice additions.  If you're using Italian Sausage, then sage would be great.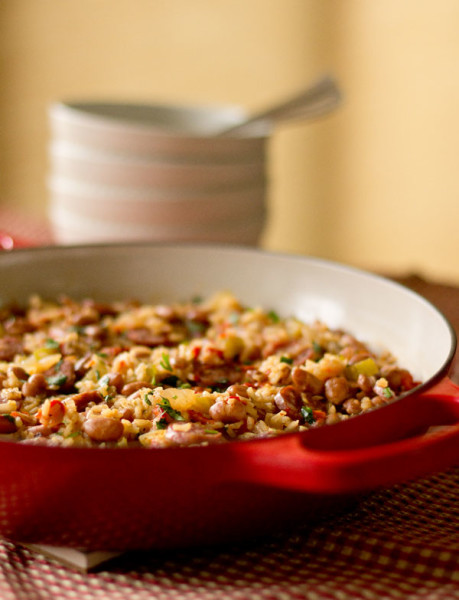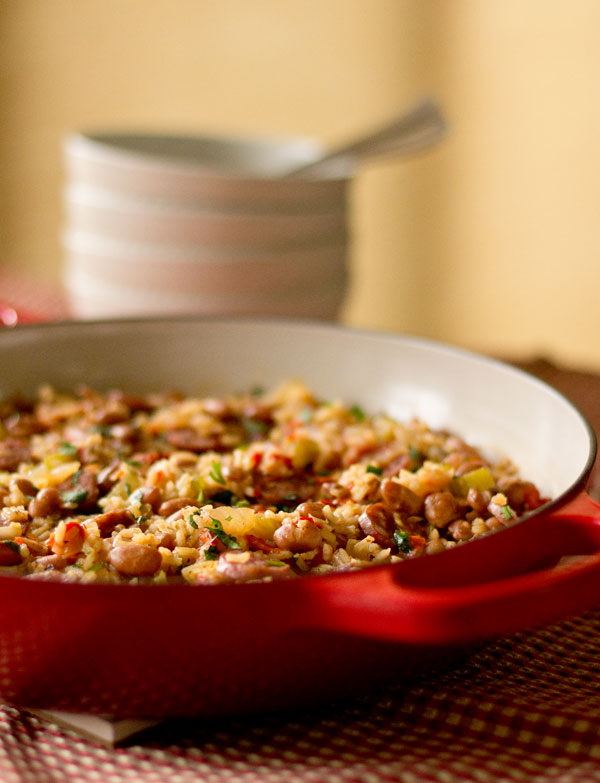 There are so many variations that you can create with this beans and rice dish.  I hope you play around with this recipe and if you find a variation that you love that isn't listed here, please come back and add it to the comments.  Hope you have fun and enjoy!
Here are some more beans dishes you might enjoy:
Savory Navy Beans with a Touch of Heat