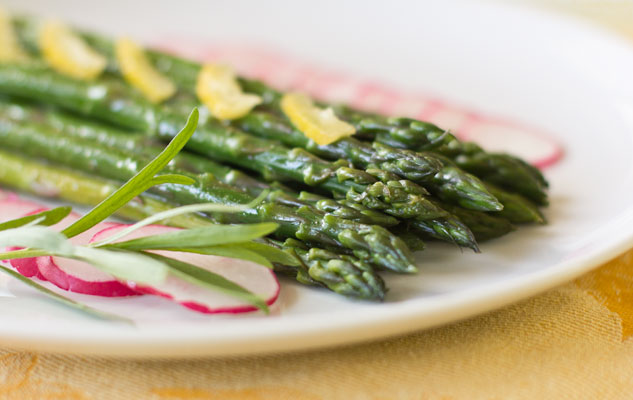 Asparagus – what a glorious vegetable!!  Of all the spring vegetables, I have to say it's my favorite.  Last year, I shared Simply Asparagus,  which is just that – steamed asparagus tossed with a touch of fat and seasoned with salt, pepper and an herb.  This year, I'm sharing my Lemon Garlic Asparagus which makes a delicious cold salad, hot side, or party platter.  As with many asparagus recipes, you can whip this one up in less than 20 minutes.

Lemon Garlic Asparagus is simply steamed asparagus tossed with a simple dressing of preserved lemon juice, garlic-infused olive oil and an herb, my favorite being tarragon.  Thinly sliced radishes are added for texture, color and, for those of us who actually like radishes, their spicy bite.  If you don't have any preserved lemons or garlic-infused oil, be sure to check out the Kitchen Notes for substitutions.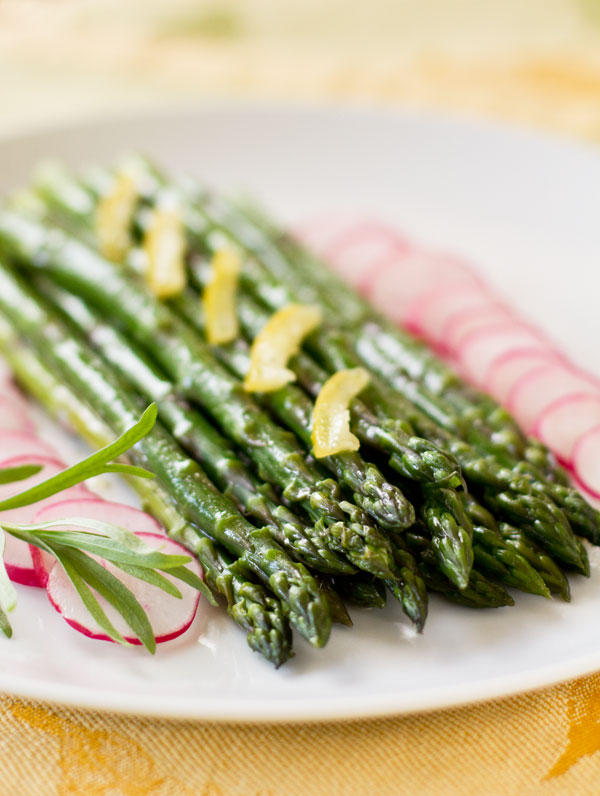 [print_this]
Lemon Garlic Asparagus Recipe
Serves 4
Prep and Cook Time:  less than 20 minutes
Recipe Author:  MJ of MJ's Kitchen
Ingredients
1 – 2 pounds asparagus, cut ends trimmed*
3 -4 radishes, sliced thin
cracked fresh pepper
sea salt (optional)
Dressing Ingredients

1 Tbsp. preserved lemon juice*
1 ½ tsp. Dijon mustard or spicy mustard
1 Tbsp. water
1 Tbsp. garlic-infused olive oil*
1 Tbsp. extra virgin olive oil
½ tsp. crushed dried tarragon, oregano, savory, OR thyme
Instructions
In a skillet wide enough for the asparagus to be spread out in 1 to 2 layers, add about ¼" water.  Add a dash of salt and bring water to a boil over medium heat.*
Once the water reaches a boil, add the asparagus and cover.  Lower heat to medium low.  Let steam for 2 to 3 minutes or until the asparagus is firm but a touch tender.  If 2 layers, about halfway through the steaming, move the asparagus on the bottom to the top.
Drain the asparagus and rinse immediately to stop the cooking process.  Set aside to cool.
In a small bowl whisk together the preserved lemon juice, mustard and water.  Add the oils and herb, and whisk to an emulsion.
Pour about half of the dressing over the asparagus and toss.
Pour a little of the remaining dressing over the radish slices and toss.
Taste the asparagus and add more dressing or sea salt if desired. (I usually have a little dressing left over.)
Arrange on a plate with radish slices.  Top with fresh cracked pepper.
Chill and serve as a cold salad or appetizer, or serve immediately as a hot side dish.
Enjoy!
[/print_this]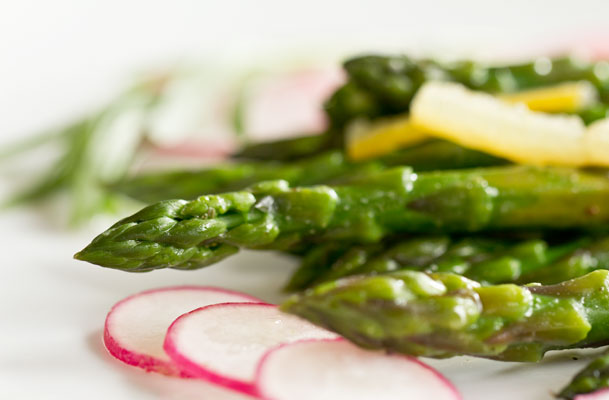 Kitchen Notes
Preserved Lemon Juice – Some recipes have you rinse the preserved lemon juice off the preserved lemons; however, I love the juice.  It makes a great "vinegar" for salad dressing and sometimes I'll scoop a teaspoon or two into sparkling water.  Like preserved lemons, the juice is quite salty, so no additional salt is needed for this recipe.  However, always taste first because some preserved lemons are saltier than others and you may need to add a light sprinkle of sea salt at the end.
If you don't have preserved lemons there are two options.  The first option requires thinking a day ahead and making Quick Preserved Lemons.  For the second option, dissolve 1/8 teaspoon sea salt in 1 Tbsp. lemon juice, then whisk with the other ingredients.
Garlic-Infused Olive Oil – If you don't have any garlic-infused oil, again, there are some options.  One option is to make some by following the recipe for Stovetop Roasted Garlic and Infused Oil. Another option is to increase the olive oil to 2 tablespoons and add 1/4 teaspoon garlic powder or 1 smashed, minced roasted garlic clove.  You could use raw garlic but if you do, use 1 small clove and be sure to mince it well to prevent that overpowering raw garlic flavor.
Steaming the asparagus – I don't have an asparagus steamer or a vegetable steamer of any kind, so the method described in the recipe is the closest I can get to steaming asparagus.  If you have a steamer, then use it.  Just be careful not to over steam the asparagus.  For this dish, the asparagus is best if still "a touch" crispy.
The ingredients for the dressing actually make enough dressing for 2 pounds of asparagus; therefore, if you need a large platter of vegetables for a dinner party or potluck, this recipe is a jewel!
If you like this asparagus recipe then you might also enjoy these other recipes:
This Lemon Garlic Asparagus has been linked up to Foodie Friday  .