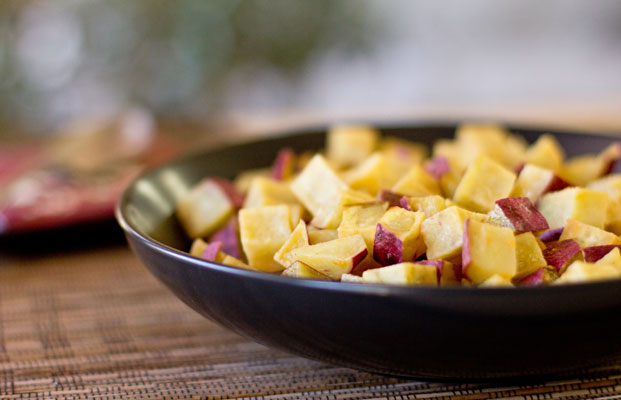 Who doesn't like roasted sweet potatoes?  There are probably a few people that don't, but I'd bet the majority of you do.  We certainly love them and have them quite often.   During the colder months, I roast them in the oven, and during the warmer months, on the stovetop.  My usual preparation is pretty much the same as what I use for Roasted Fingerling Potatoes – an infused oil, salt and pepper, and some type of chile powder. However, I changed it up a bit with this Spicy Orange Sweet Potato dish.  Ghee (a type of clarified butter) is used in place of olive oil, and after roasting, the potatoes are tossed with orange juice and then sprinkled with chile powder.  For this batch I used a new chile pepper from my friends at Ford's Fiery Foods and Plants – murupi amerela.  This is a completely different pepper than the urfa biber I introduced in the Fiery Chocolate Shots – quite a bit hotter and more of a citrus flavor than that of dates. To learn more about murupi amerela or to see alternative chile powders you could use, be sure read my Kitchen Notes.
As you can see in the pictures, the potatoes are Japanese sweet potatoes (my favorite) which have purple skin and whitish flesh.  These sweet potatoes are a bit sweeter than other sweet potatoes and they are harder to slice, so be sure to use a large, sharp knife to cut them or get someone else to do it.
If you already have some ghee, then the prep time for these Spicy Orange Sweet Potatoes is about 15 minutes with an oven roasting time of 30 to 40 minutes. If you don't have ghee, then tact on another 30 minutes OR read Kitchen Notes for alternatives. This dish is extremely easy to make and the flavors – citrus, spicy, buttery, and sweet – will make your taste buds happy.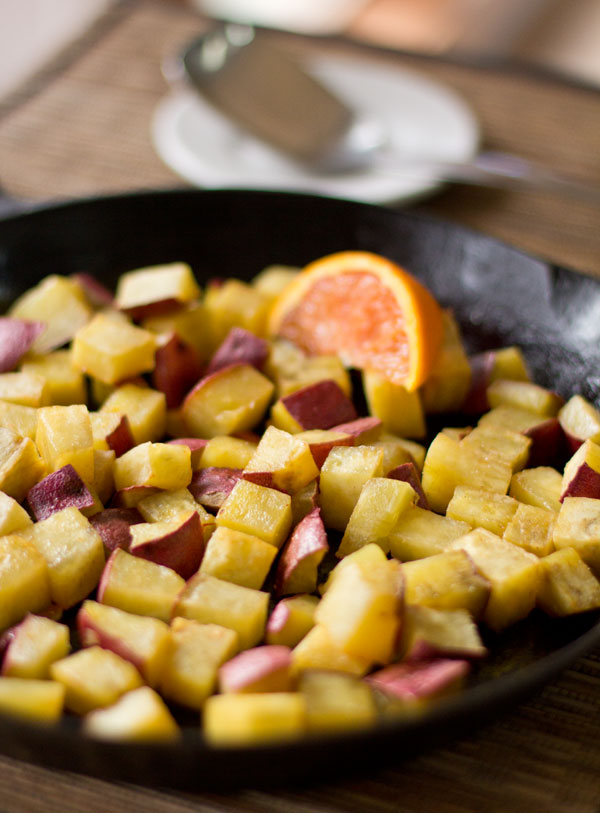 [print_this]
Spicy Orange Roasted Sweet Potatoes Recipe
Recipe Author:  MJ of MJ's Kitchen
Serves 4 to 6
Prep time:  15 minutes
Cook time: 30 to 40 minutes
Ingredients
2 pounds sweet potatoes*, cut into 1/2″ (~1 cm) cubes
2 Tbsp. ghee*
Juice from 1 orange
1/8 tsp. (or to taste) murupi amerela powder*
salt to taste
*See Kitchen Notes for substitutes

Instructions
Preheat the oven to 375° F (190° C).
Toss the cubed sweet potato with 2 tablespoons melted ghee and about 1/4 tsp. salt.
Transfer to an ovenproof skillet or roasting dish and bake in the oven for 30 minutes.  After 15 minutes of baking, remove from the oven and stir, turning pieces over.  Return to the oven.
After a total of 30 minutes in the oven, taste to see if the potatoes are done.  If they aren't done, return them to the oven for another 10 minutes.
When done, transfer to a serving dish and toss with the orange juice and the chile powder.
Taste.  Add more salt if needed. Let sit for a couple of minutes for the orange juice to be absorbed into the potatoes, then serve.
[/print_this]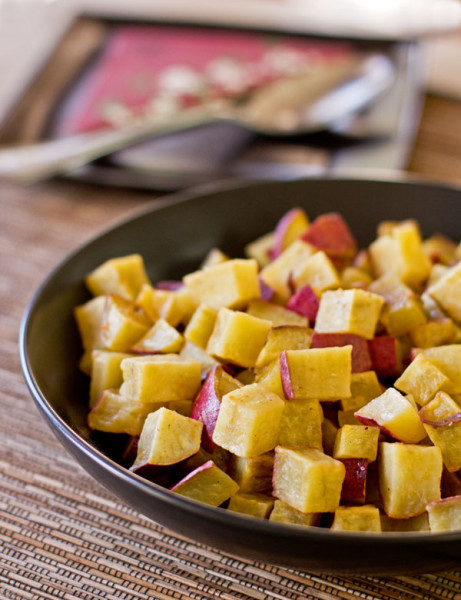 Kitchen Notes
Sweet Potatoes – The potatoes you see in the photos are Japanese sweet potatoes. However, any type of sweet potato or yam would work in this recipe.  The Japanese sweet potatoes might actually be a little too sweet for some people's taste, so just use your favorite. For another delicious recipe using Japanese sweet potatoes, check out the Candied Sweet Potatoes at Just One Cookbook.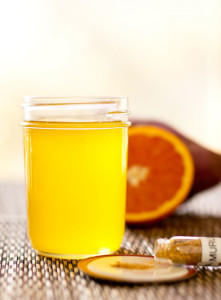 Ghee – For some reason I have avoided making ghee for years thinking it was too much trouble for the outcome.  Oh how wrong was I?!  Not only is it EASY to make (I used the method at EasyFoodSmith), the outcome is uniquely delicious.  A completely different taste from just butter. Because the milk solids are removed from the butter, ghee can handle temperatures up to 400° F, whereas butter burns around 250° F.  By roasting the potatoes with ghee, the flavor of the ghee is incorporated into the sweet potatoes.
If you don't have ghee, then roast the potatoes in 1 tablespoon mild olive oil and 1 Tbsp. butter.  If vegan, the use 2 Tbsp. olive oil.
To learn more about ghee, what it is, its nutritional value, and how to make it, check out EasyFoodSmith's post "Home Made DESI GHEE (Indian Clarified Butter)".
Orange Juice – I chose to add the freshly squeezed orange juice after the potatoes had roasted to prevent the sugars in the juice from burning.  By letting the cooked potatoes rest for a couple of minutes after tossing with the orange juice, it allows the juice to be absorbed into the potatoes.

Murupi Amerela – This pepper has a very unique flavor and the burn, it's there, but it doesn't last but a few seconds and it's not a scorching burn.  It's just enough to wake you up and make sure that those taste buds are working properly, then it goes away leaving a sweet citrus flavor in the mouth.  If you don't have this particular chile powder, then use your favorite spicy sweet chile powder or a mild sweet chile powder like a Spanish sweet paprika, or one of the many red chile powders available.  As far as how much of the murupi amerela to use, if you don't like "heat", then start with about 1/16 tsp (2 generous pinches) and work your way up. For us, 1/8 tsp was just right to provide a introduction of heat and flavor.
Murupi Amerela is a Chinese pepper from the northern jungles of Brazil with a fruity flavor and hot.  I tasted a  hint of citrus so this is the chile pepper I use in this recipe.  It is a nice complement to the orange juice and the heat provides balance for the sweetness of the sweet potatoes. This pepper is also nice sprinkled over any type of citrus salad or any salad for that matter.  It can be added to soups, especially winter squash soups like my Butternut with Apples or Kabocha Squash with Fennel.  Below is what the fresh peppers look like as well as the dried and ground pepper.  For more information on the murupi amerela pepper and other peppers found at John's Fiery Foods, click on over the Spicie Foodie's post Chiles of the World: 6 Chiles You Gotta Try!  Click on an image to enlarge.  I like to thank Ford's Fiery Foods and Plants for the wonderful chile powders that they sent me!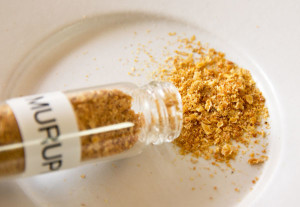 For more sweet potato dishes, check out these recipes:
Mashed Sweet Potatoes with Brown Butter and Bourbon
Green Chile Sweet Potato Hash Browns
Massaged Kale and Sweet Potato Salad
Sweet Potato, Fennel and Andouille
Photo of the murupi amerela courtesy of Ford's Fiery Foods and Plants.
Disclaimer:  I received no monetary compensation for this post, just a few vials of chile powder. The recipe – Spicy Orange Sweet Potatoes – and the opinions expressed here are my own.
These Spicy Orange Sweet Potatoes have been shared with Made With Love Monday.