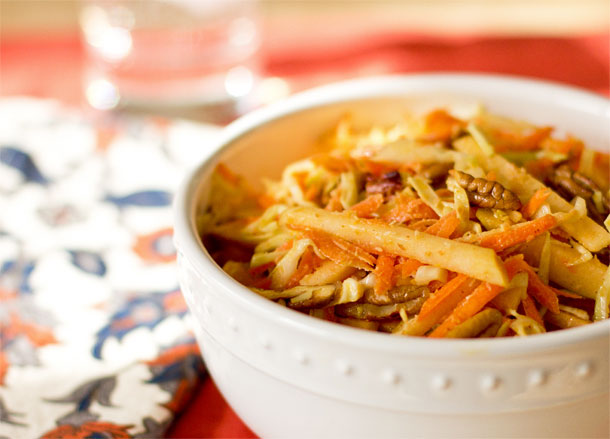 Whenever I buy a head a cabbage, I can usually get 2 to 3 meals from it, making a head of cabbage a very economical little vegetable.  Last week's cabbage was used for my Sausage with Cabbage and Onion and two different side salads, one of the salads being this Apple Slaw with Carrots and Pecans and a light dressing seasoned with a curry spice blend.  It's a nice side for a pork or chicken entree or alone as a light lunch.  It has just a few ingredients and comes together in less than 20 minutes.
Normally, I would have seasoned this apple slaw with sage and dill.  However, the first time I made it we were having a pork dish that had sage and thyme, and I didn't want to duplicate the seasoning.  That's how it ended up with a curry dressing which turned out to be a great complement to the seasoning in the pork. The curry dressing was delicious on this apple slaw but I can also see it being used on a variety of other salads.  As far as the curry goes, just use your favorite blend.  I talk a little more about the curry in the Kitchen Notes.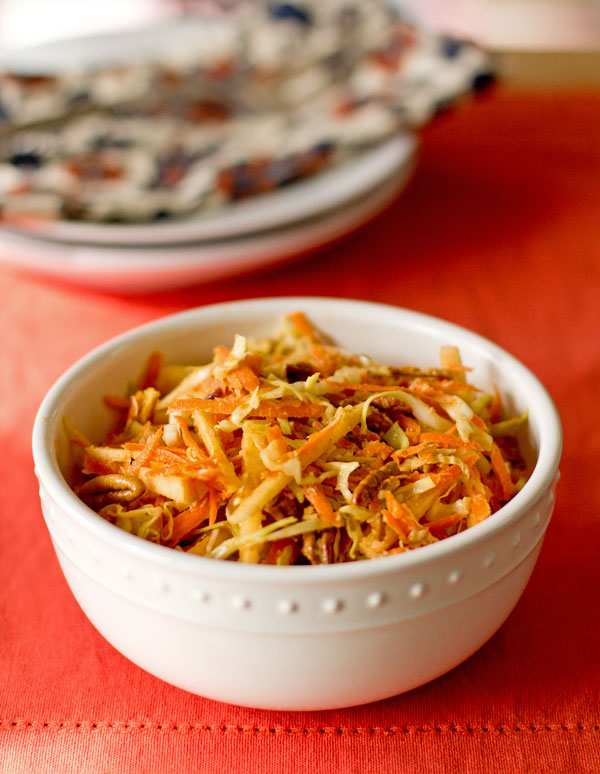 [print_this]
Apple, Carrot and Pecan Slaw with Curry Dressing Recipe
Side salad for 4
Prep Time:  less than 20 minutes
Recipe author:  MJ of MJ's Kitchen
Ingredients
1 medium apple, cored and julienned
1 cup thinly shredded green or savoy cabbage
1 large carrot, grated
1/2 cup pecan
2 Tbsp. shredded unsweetened coconut*
¼ tsp. ground or freshly cracked pepper
salt to taste
1 Tbsp. mayonnaise or plain yogurt
1 Tbsp. rice vinegar
2 Tbsp. canola oil or to taste
heaping ¼ tsp. masala curry powder or your favorite curry blend*
pinch of sea salt
*See Kitchen Notes

 Instructions
For the dressing, add all of the ingredients to a small bowl and whisk to an emulsion.
Taste and adjust ingredients to personal taste. Set aside.
Toast the pecans in a skillet over medium heat. Toss and turn several times to keep them from burning.
Once toasted, transfer to cutting board and chop coarsely.
Remove the skillet from the heat, and add the shredded coconut, toss and turn to lightly toast the coconut.  Transfer the toasted coconut and toasted, chopped pecans to a salad bowl.
Add the apple, cabbage and carrot to the salad and toss to combine with the pecans and coconut.
Pour about half of the dressing over the salad.  Toss to coat.  Taste. Add more dressing and salt if needed. (Refrigerate any remaining dressing for later or for another salad.  As the slaw sits, it absorbs some of the dressing, so you might want to add more if you don't serve the salad immediately.)
[/print_this]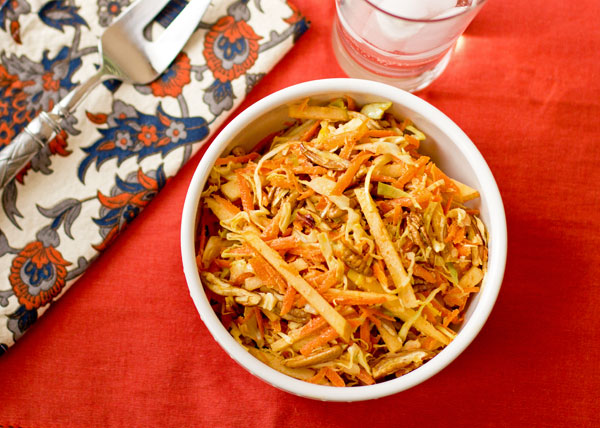 Kitchen Notes
The Apple – A crispy semi-sweet tart apple works best.  I've been using Fuji and Pink Ladies.  I like the Pink Ladies, whereas Bobby prefers the Fuji.
The Pecans – I haven't tried this salad with anything but pecans; however, if you don't have pecans then you could easily substitute almonds or walnuts.  If you use walnuts, cut the amount down to ¼ cup.  Toasted walnuts can be quite strong and too many would overpower the other flavors in this salad.
The Shredded Coconut – The coconut that I had was a finely shredded coconut which toasts very, very fast.  That's why the instructions say to toast the coconut in the hot skillet, removed from the heat.  It only takes about 30 seconds for the coconut to toast, so keep an eye on it.
The Masala curry powder – The curry powder I used is a blend of "coriander, onion & garlic, spicy red chili pepper, and warming spices like cardamom, cinnamon, ginger, and clove".  The cinnamon and clove are very subtle which is how I like my curry powders.  However, if you don't have this particular curry blend, then you can easily substitute garam marsala or any other curry powder, preferably one that does not have cinnamon listed as its first ingredient.  (Forgive me if I am misusing the terms masala and curry. I did some research and found conflicting information as to if they are the same or different.  What was consistent is that they are both blends using very similar ingredients but in different proportions.)
No matter which curry or masala blend you decide to use in the dressing, I'm sure it will be great with this Apple, Carrot, and Pecan Slaw.   Hope you enjoy!
This Apple Slaw with Curry Dressing has been shared with the Hearth & Soul Blog Hop.