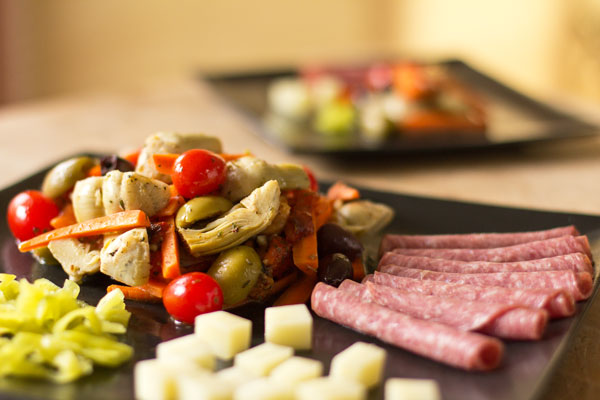 The other day I was going through the first recipe book that I started back in the 80's and found this recipe for an antipasto type hors d'oeuvre.  I remembered making it all of the time for dinner parties and summer backyard parties and it was always a big hit; therefore, I decided to bring it back.  These Antipasto Style Hors d'oeuvres can be served as an antipasto (the first course of a formal meal) or as hors d'oeuvres for a stand-up party.  It has a lot of delicious little bites that can be enjoyed by meat eaters, vegetarians and even vegans.  Just keep the meat and the cheese out of the marinated vegetables and off to the side or even on another plate. That way every one can enjoy them.
What makes this dish special is the dressing. It's pack with herb deliciousness!  If you have tarragon vinegar, this is a great use for it.  At the house that we lived in during the 80's I had an tarragon bed with plants 4 feet tall!  Needless to say, I made A LOT of herb vinegar. Hopefully, I'll be able to make some this summer if my tarragon does well.  If you don't have tarragon vinegar, white wine vinegar is a nice substitute.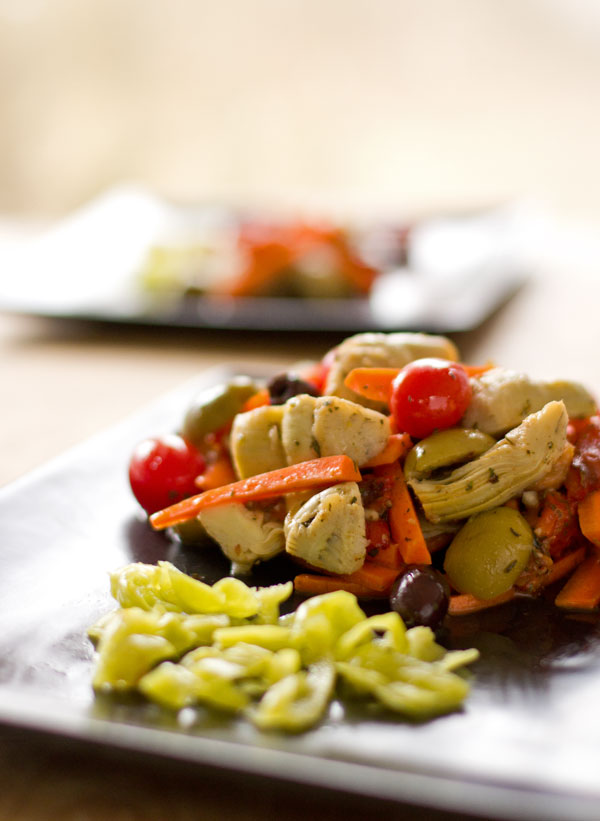 [print_this]
Antipasto Style Hors d'oeuvres Recipe
Recipe Author:  MJ of MJ's Kitchen
Serves: 8 to 10 as an appetizer
Prep Time:  20 minutes
Marinate Time: 30 minutes to overnight
Ingredients
2 large carrots, julienned
~2 cups quartered artichoke hearts, drained
1 cup seedless olives*
1 large roasted bell pepper, sliced or coarsely chopped
1 cup grape tomatoes, whole or halved (optional)
½ pound pepperoni or salami, sliced and rolled
¼ pound provolone, cut into small cubes or sliced and rolled*
Several pickled Peperoncini peppers, whole or sliced*
cracked pepper to taste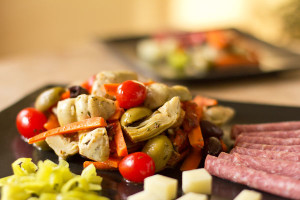 sea salt to taste
Dressing
1 tsp. tarragon or white wine vinegar
Juice of ½ lemon
2 tsp. olive brine (optional)
4 Tbsp. extra-virgin olive oil
1 large garlic clove, minced
¼ tsp. dried thyme, crushed
¼ tsp. dried tarragon, crushed
¼ tsp. dried oregano or savory, crushed
Pinch of marjoram, crushed
¼ tsp. coriander seeds, coarsely crushed
*See Kitchen Notes
Instructions
Place the carrots, artichokes, bell peppers, tomatoes, and olives in flat dish with a lid or a plastic bag.
Whisk together the vinegar, lemon juice, olive brine, and olive oil. Add the rest of the dressing ingredients.  Whisk to combine.
Pour the dressing over the vegetables. Add some cracked pepper and a sprinkle of salt.  Stir to coat the vegetables and olives with the dressing. Cover and refrigerate for at least 30 minutes or overnight.
To serve drain the vegetables and arrange on a plate. Add the rolled pepperoni/salami, cheese and peppers to plate.  If you are planning on serving vegetarian or vegans, you can put the meat and cheese on other plates or arrange so they sit alone on the plate without touching the vegetables.
Serve.
[/print_this]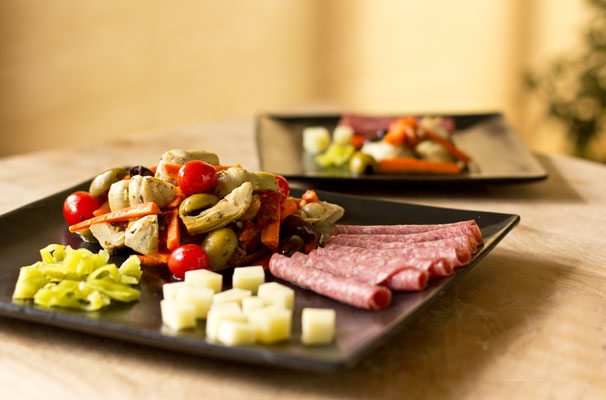 Kitchen Notes
The Vegetables – A variety of vegetables can be used.  The combination used in this recipe works great because it provides different textures, flavors and color to the final dish.  Other vegetables that would work include celery, sweet onion, raw sweet pepper strips, or broccoli stems.  For the artichoke hearts, I used a jar of plain artichokes. However, you could cook up some fresh artichokes if you want or use canned.  Just don't use the marinated artichokes hearts. I've always found those too salty and oily.
The Olives – Be sure to use seedless olives.  You don't want anyone to break a tooth.  For this particular batch, I used Kalamata and seedless green olives from an olive bar.
The Cheese – My preferences are provolone or fresh mozzarella, however other cheese such as regular mozzarella, aged cheddar or Manchego are quite delicious as well.
The Peperoncini Peppers – In the past I have found that most people don't eat a whole pepper, so I started using the sliced peppers. People would top the vegetables with slices of pepper making them much easier to eat and adding a bit of a bite to the vegetables.  The sliced peppers always disappeared along with everything else.
These Antipasto Style Hors d'oeuvres make a great plate of food for a Super Bowl Party, a pot luck, open house, dinner party or any party for that matter.  Hope you enjoy!