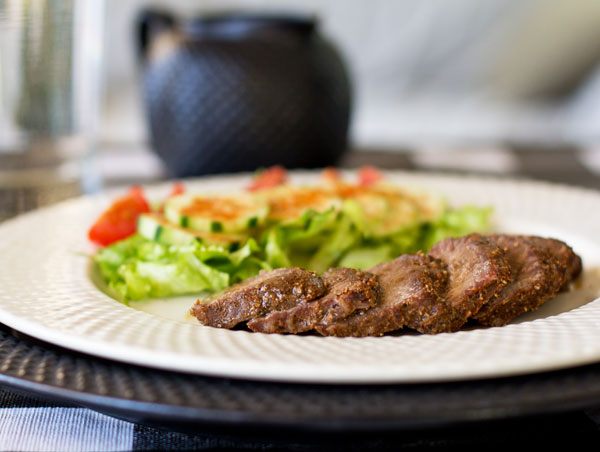 Don't let the word "smoked" scare you away from this recipe.  With the right equipment, beef tri-tip can be smoked on the stovetop in less than 30 minutes!  All you need is a good dry rub and a stovetop smoker with a few mesquite "chips".  The stovetop smoker that we use is the Cameron Smoker. As you can see in the pictures below, ours has had a lot of use over the years.  We've had it for about 30 years and it's been a great little smoker for year round smoking of proteins such as beef, duck, turkey, pork, and fish.  This Smoked Beef Tri-Tip with Bourbon Sauce is my favorite thing to smoke but only just a little ahead of alder smoked wild salmon.

Beef tri-tip (also called a triangle roast) is cut from the hindquarter and is part of the sirloin, specifically the bottom sirloin which is quite flavorful.  For years it's been used for ground beef and is the cut used to make "sirloin burgers".  Because of its flavor and low fat content, tri-tip also makes a great cut for a quick smoke, especially in small smokers.  A whole tri-tip is anywhere from 1.5 to 2.5 pounds so, in comparison to other cuts, it's small.  Depending on where you buy it, it can come as a small roast, or long strips (which is what they sell at Costco). Either of these cuts work in the smoker; however, the smoking times need to be adjusted depending on the cut and the thickness of the cut.  A whole roast and thicker roast or thick strips take about 5 minutes longer smoking time compared with thinner cuts.  (See Kitchen Notes for Smoking Time Adjustments.) It might take a couple of tries to get the timing and the heat level right, but once you do get it right – the outcome is well worth the trial and error!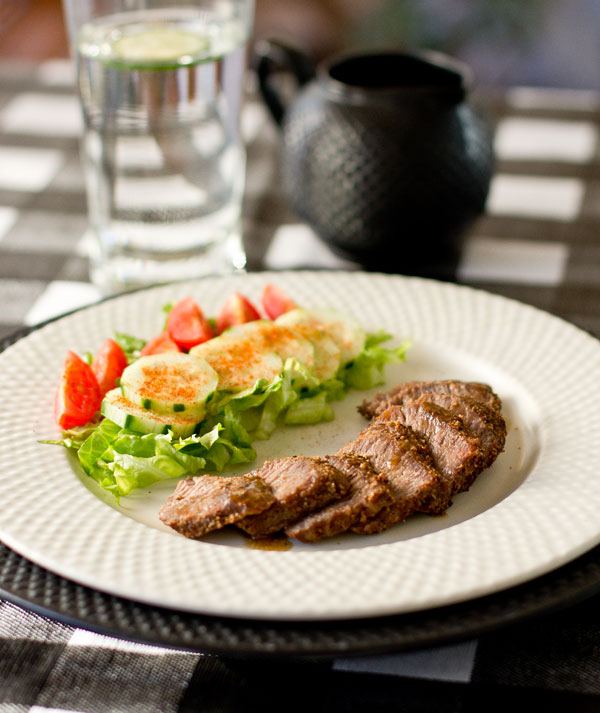 Smoked Tri-Tip with Bourbon Sauce Recipe
Serves 4
Prep Time: less than 10 minutes
Cook Time: about 30 minutes
Recipe author:  MJ of MJ's Kitchen
Special equipment:  Cameron Stovetop smoker with mesquite chips
Ingredients
Dry Rub (adapted from Big Bad Beef Rub @ Amazing Ribs)
2 Tbsp. ground black pepper
1 Tbsp. salt
1 Tbsp. granulated white sugar
1 Tbsp. medium NM chile powder or ancho powder
2 tsp. onion powder
2 tsp. mustard powder
2 tsp. garlic powder
1 tsp. chipotle powder
1 tsp. crushed dried oregano
Additional ingredients
2 to 2.5 pound tri-tip
~1/3 cup beef rub (above)
1 Tbsp. Mesquite chips (for Cameron smoker)
¼ cup bourbon
½ Tbsp. butter
cornstarch (optional)
Instructions
Combine all of the ingredients for the rub in a bowl and whisk well to combine.  Transfer to a spice jar for sprinkling.  (You can rub it on with your hands, but the chile powders could cause you hands to burn a little afterwards.)
Sprinkle all sides of the tri-tip generously with rub. Let set in the refrigerator for 20 minutes to an hour.
Divide 1 Tbsp. Mesquite shavings into 2 piles on the bottom of the smoker (right).
Place the drip pan on top of the chips, then the rack.
Place the tri-tip on the rack.
Slide the cover on the smoker, leaving a very small opening.  Turn the burner on to medium heat.  Keep an eye on the opening and when you see a puff of smoke escape, close the cover and set the timer.  (I also wrap the ends of the smoker with aluminum foil to keep smoke from escaping out of the corners.
For thinner and smaller cuts, smoke for 20 minutes.  Thicker cuts – 25 to 30 minutes.
Once done remove the tri-tip from the smoker. Wrap in aluminum foil and let rest while you make the sauce.
Using a turkey baster, transfer the drippings from the drip pan to a small sauce pan and add the bourbon. Heat over a high heat.  Whisk in ½ Tbsp. butter and boil for about 2 minutes.
For a thinner sauce like an au jus, remove from the heat after a couple of minutes once you've added the butter.  For a little thicker sauce, reduce to a simmer and sift in 1 tsp. cornstarch. Bring back to a boil whisking constantly.  Remove from heat.
Slice the meat into about ¼ inch slices.  Arrange on the plate and top with a little sauce. The sauce is salty, so use it sparingly.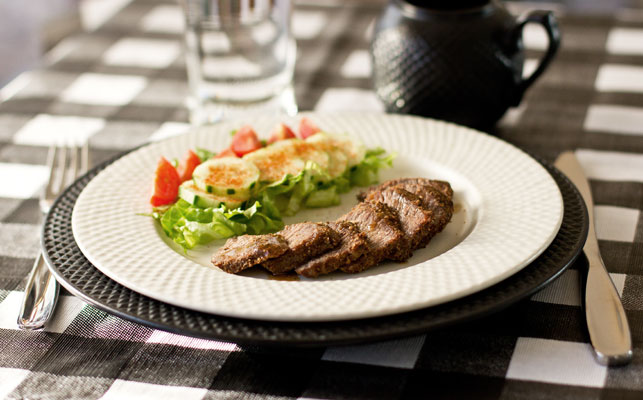 Kitchen Notes
The Seasoning – If you don't want to make this rub or don't have the ingredients, then use another rub or your favorite seasoning mix.  A creole seasoning works great.
The Mesquite – Mesquite is what I prefer for beef tri-tip; however, oak, hickory or pecan would also work quite well. You could also do a mix, like half mesquite and half pecan.  I've done that before and it was delicious!
The Cut of Meat – 90% of the time I use tri-tip, but one time I couldn't find tri-tip so I purchased a couple of flap steaks.  They were just as tasty, but cooked very quickly, so 20 minutes was actually too long.
Rare, Medium or Well-done – To be honest, it's quite hard to get this to rare or even medium rare which is how I normally I like my beef cooked.  The nice thing is that tri-tip is actually quite forgiving up to a point.  Even at medium (20 minutes) and well-done (25 – 30 minutes), it's still tender and quite delicious and with the sauce…it's hard to beat.  However, past well-done, tri-tip becomes tough and dry even with the sauce.
Smoking Time Adjustments – The amount of time that you smoke the meat is based on a few factors, the first being a whole roast or strips as shown above.  The roast requires about 5 minutes longer than the strips.  Also, the thicker the cuts, the longer the smoking time.  Time is also affected by the cooking temperature.  I use a setting of "medium" for the times given above.  Medium on your stovetop may be higher or lower than mine so the first time you make this, I would suggest going for less time rather than more time.  If the meat is undercooked to how you like it, then place it, wrapped in aluminum foil in the oven @ 400° F for 3 to 5 minutes or zap it in the microwave for a very few seconds.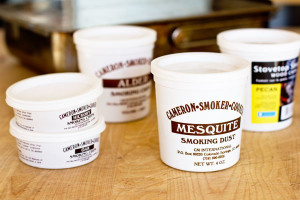 Cameron Smoker – These smokers can be used on the stovetop, in the oven and even on the grill, making them quite versatile.  I use mine mostly in the winter on the stovetop.  However, there are a couple of recipes in which I start out on the stovetop, then move the entire smoker into the oven.  This technique is especially effective for meats that are best "slow-cooked" like country-style pork ribs.  So next time you're trying to think of a gift for your favorite cook, I highly recommend one of these smokers. They're only around 50 bucks (US)!  They come with an assortment of smoking chips, and you can always buy more from Cameron or Amazon if you run out.  Just make sure you're buying the chips for a stovetop smoker, not the grill.
Suggested Sides  – Obviously mashed potatoes and carrots are perfect sides for any smoked meat and this smoked tri-tip is no exception.  Mashed sweet potatoes also are a great complement to spicy beef.  However, if you want to go light, I highly recommend a citrus salad.  For this particular batch I followed my sister's suggestion and combined my Avocado, Orange and Cucumber Salad with shredded raw cabbage and a cucumber dressing.  It was the perfect complement!