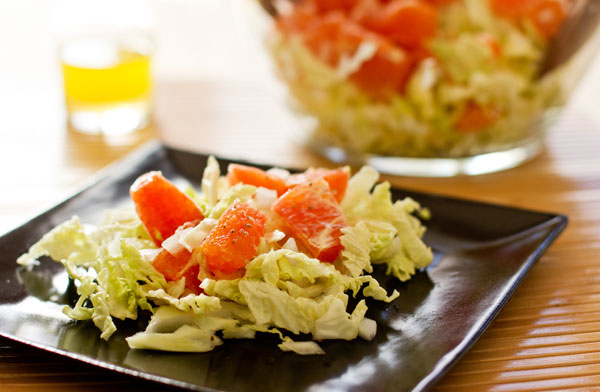 Quality citrus is abundant right now, so time for another delightful citrus salad.  In previous years I have brought you a Sweet and Spicy Citrus Salad and a Citrus Salad with Toasted Seeds and Maple Dressing. This year I'm serving up this Cabbage and Orange Slaw, a easy little salad that can be thrown together in about 15 minutes and served as a side to just about any entree'. It's especially good with spicy dishes.  We've been eating it as a side to Red Chile Chicken Tamales and Red Chile Enchiladas.  The oranges serve as a sweet, cooling mechanism for the spicy chile.  It works much better than the standard New Mexico side of lettuce and tomatoes.

Like my other citrus salads, this slaw is very easy to make and works with a variety of salad dressings.  I prefer a simple dressing of just oil and flavored vinegar with a touch of honey or maple syrup.  However, you could always use a creamy dressing as well, one that is a more traditional dressing for a cabbage slaw.  As far as the citrus goes, you can use any type of a sweet tangerine or orange.  See Kitchen Notes for additional ideas.
Orange and Cabbage Slaw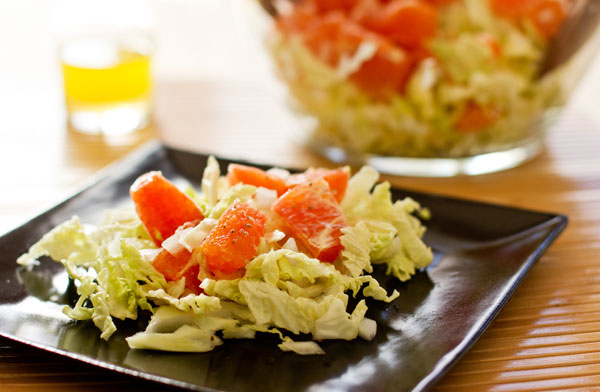 Orange and Cabbage Slaw Recipe
It's light and crunchy and full of flavor.

*See Kitchen Notes for substitutions and further information.
Course:
Salad, Vegan, Vegetarian
Ingredients
3 to 4

cups

savoy cabbage (about 1/4 of a cabbage head),

thinly shredded

2

large oranges or 4 tangerines,

peeled, seeds removed and wedges cut in half

¼

cup

sweet onion,

minced

Sichuan Pepper Sea Salt*
Dressing
1

tsp.

honey or maple syrup

1

Tbsp.

Rice vinegar or Peppered Cucumber Vinegar*

3

Tbsp.

canola oil or lightly flavored olive oil
Instructions
In a salad bowl, combine the cabbage, oranges, and onion.

In a small bowl, whisk the salad dressing ingredients into an emulsion.

Pour the dressing over the salad and toss to coat.

Transfer servings to salad plates and sprinkle each serving with Sichuan pepper sea salt.
Kitchen Notes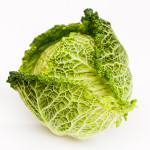 Cabbage – Savoy cabbage is our preferred cabbage for this salad because it's more delicate in texture and less bitter in taste than green or purple cabbage.  Napa cabbage has a totally different flavor and therefore, is not recommended.
Citrus – This salad can be made with a variety of citrus; however, a sweet orange or tangerine works best because it's a nice balance with the slight bitterness of raw cabbage.  Our favorites are Clementines (i.e. Cuties, tangerines) and Cara Cara Oranges. If you choose to use grapefruit, then you might want to make the salad dressing a little sweeter.  A mix of oranges, tangerines and grapefruit would also be nice.
Sichuan Pepper Sea Salt – This is a great sea salt. The sichuan adds a spicy tingle on the tongue with each bite due to the Sichuan pepper.  However, if you don't have this seasoned sea salt, cracked black pepper and unseasoned sea salt work just fine.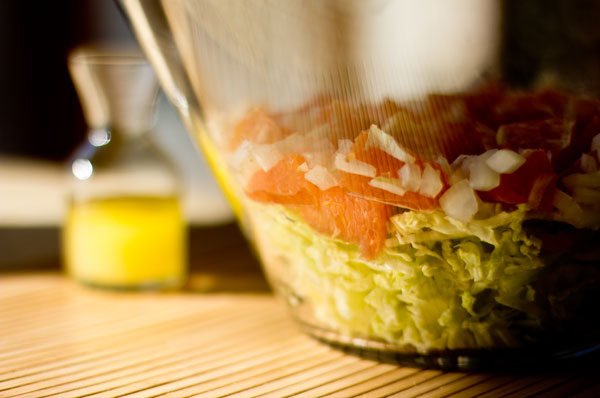 Other citrus salads:
Citrus Salad with Spicy Pepitas
Avocado, Orange, Cucumber Salad