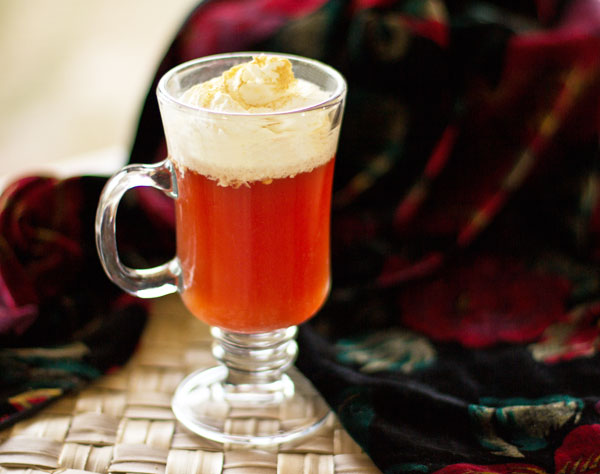 Do you have tea time?  A time during the day to just stop what you're doing, relax, and enjoy the moment? If you work from home or are retired, it's relatively easy to get into a tea time habit. Ours is usually between 3 to 4 in the afternoon. In the warmer months, I usually make us iced chai, and in the colder months – hot chai.  Since it is mid-afternoon, I require a caffeine free chai, otherwise I'm up until 3 a.m.  My favorite caffeine free chai is a Rooibos chai which I normally brew in hot water, but when I have cranberry juice, it's a real treat to use hot cranberry juice in place of water. So for today's tea I'm serving up a Cranberry Rooibos Chai, a tangy sweet delight. It's great with a little honey or sugar, but if you really want to get decadent, top it with some whipped cream and a sprinkle of ground ginger.  YUM!
Rooibos ("red bush" in Afrikaans and pronounced "ROY-bus") is actually not a tea, but a tea-like beverage brewed from the dried leaves and shoots of the rooibos shrub that is native to South Africa.  The dried leaves are red in color and yield a reddish beverage when brewed.  It is a naturally sweet "tea" and is used to make a variety of "rooibos chai" blends.  Because it's not a tea, it is naturally caffeine free making it the perfect "tea" for afternoon consumption.  When brewed in hot cranberry juice it makes a beautifully, rich red "tea".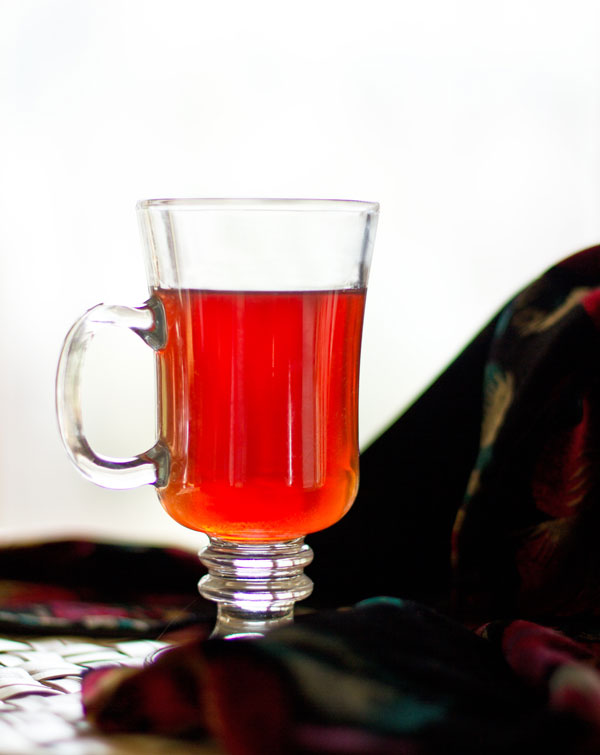 [print_this]
Cranberry Rooibos Chai Recipe
Serves 1
Cook time:  less than 10 minutes
Recipe Author:  MJ of MJ's Kitchen
Ingredients
1 cup cranberry juice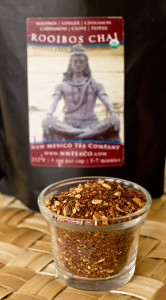 1 tsp. Rooibos Chai or 1 tea bag of Rooibos Chai
Sweetener of choice
Whipped Cream or almond milk (optional)
Ginger Powder
Instructions
Heat the cranberry juice in the microwave or on the stovetop.
Using a tea infuser, steep the tea in the cranberry juice for 5 to 7 minutes.
Sweeten to taste.
Top with whipped cream if desired or add some hot almond milk.
Sprinkle with ginger powder.
Grab a book or a friend and enjoy.
[/print_this]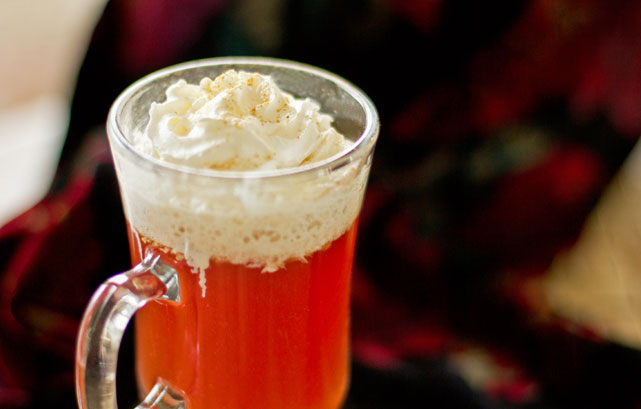 Kitchen Notes
The Chai Tea – I've tried Rooibos chai from several different sources and this fall I found my favorite at a local tea store – New Mexico Tea Company.  This Rooibos Masala Chai is naturally sweet and has the balance of ginger, cardamom, clove and cinnamon that I like.  It's list of ingredients are "Organic rooibos, organic ginger root, organic cardamom, organic pepper, organic clove, organic cinnamon".  Ever since I bought my first bag, it has been the only chai I've been drinking for afternoon tea.
The Ginger Sprinkle – I love ginger and with this particular chai blend, the ginger is quite nice.  With another chai blend, cardamom or cinnamon might work better.  So if you don't have ginger or care for ginger, then substitute the ginger sprinkle with another spice.
Disclaimer – I received no product for this post nor was I asked to review any product.  The drink, the post, and the review of this Rooibos Masala Chai are all my own creations, ideas, and opinions.
This Cranberry Rooibos Chai has been linked to the following blog hops:  Hearth & Soul   .