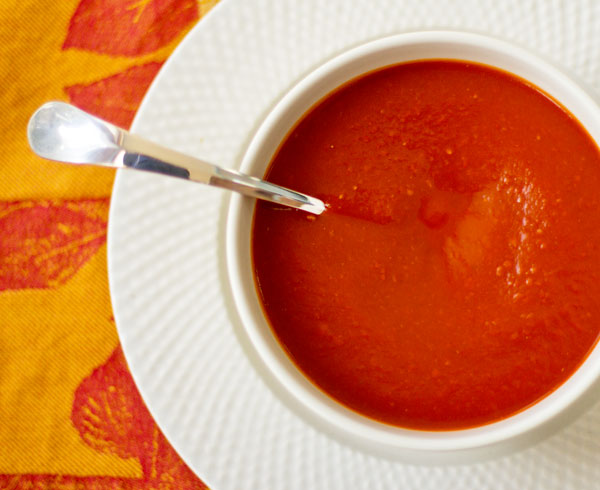 This Red Chile Pumpkin Sauce sauce combines the spicy and unique flavor of dried New Mexico red chiles with the flavor and a little bit of the texture of pumpkin purée.  Not only is this sauce just downright delicious, but it is a great solution to toning down the heat in a red chile sauce.  You get all of the flavor of a traditional New Mexico red chile sauce, but not the mouth-burning heat that can come with it, especially if you are using HOT or Extra HOT chiles.
I've had several inquiries as to how to make a red chile sauce "less hot" and my typical answer is to add honey, 1 tsp. at a time.  But the problem with adding honey is, if you add too much, then you end up with a sweet sauce that can ruin a good batch of enchiladas.  This red chile pumpkin sauce is definitely the solution.
The pumpkin adds a even more earthy flavor (in a good way) to a red chile sauce, but the flavor of red chile is still dominant which is the reverse of my  Spicy Pumpkin and Red Chile soup from last year. I think the biggest change is in the texture.  You can sort of see it in the pictures below.  It's not much, but a red chile aficionado would definitely notice it.  This sauce can be used in the same way that you use a traditional red chile sauce – as an enchilada sauce, over eggs, to smother burritos and for huevos rancheros.  With the pumpkin, it's even more nutritious, has a milder heat level, and the flavor – red chile sauce delicious!
Red Chile Pumpkin Sauce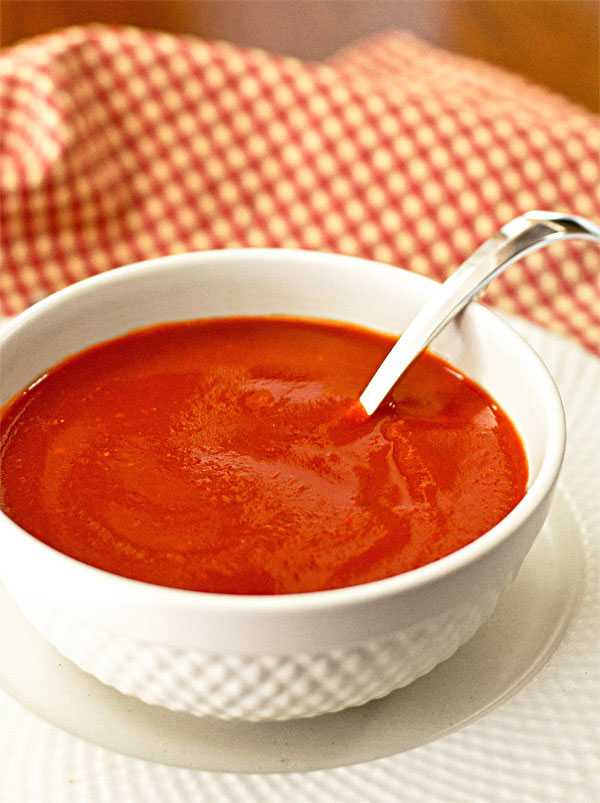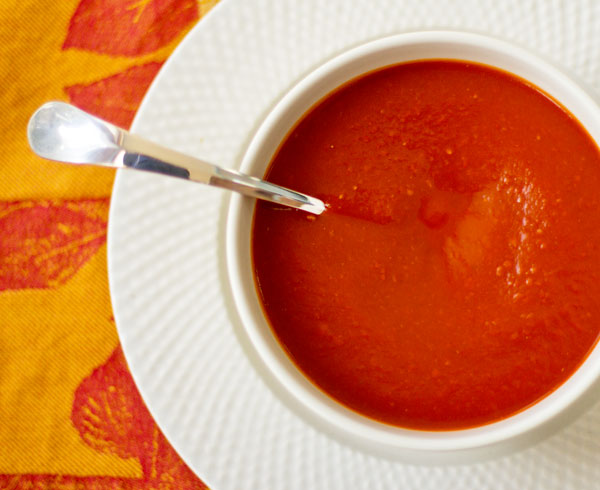 Red Chile Pumpkin Sauce Recipe
A nice twist on the traditional New Mexico red chile sauce.

"*" See Kitchen Notes for more information or links to special ingredients.
Course:
Condiments, Sauces & Dressings
Cuisine:
New Mexico, Southwestern
Ingredients
8 to 15

pods of dried red chile,

washed, stems and seeds removed (amount depends on how you want the heat level of the chile) I use 8 to 10 pods of HOT.

4

heaping cups of pumpkin pieces,

seeded, peeled, cut into large chunks (about a 2 pound pumpkin)

3

cloves

garlic,

smashed

½

small onion (~3 ounces),

coarsely chopped

4

cups

water

(you might need more once you start blending)

½

tsp.

cumin seed

¼

heaping tsp. coriander seeds

½

tsp.

dried oregano

(Mexican oregano if you have it)

1

tsp.

salt or to taste

Juice from 1 lime
Instructions
Rinse the chile pods. Break into pieces discarding stems and seeds. (Use gloves!)

In a large pot, add all of the ingredients, except the lime. Bring the water to a boil and reduce heat for a simmer. Cover and simmer for 20 minutes or until the pumpkin is fully cooked. Remove from heat and let sit, covered, for 10 minutes.

Add some of the ingredients with some of the water from the pot to a blender. Blend.*

Continue to add the ingredients, a little at a time to the blender, with just enough water to be able to create a purée.

Continue to blend the sauce until you have a smooth texture. To achieve a good sauce consistency, some additional water may be needed.

Once fully blended, add the lime juice and stir to incorporate well.

Reheat for about 10 minutes before using.
Kitchen Notes
The Number of Chile Pods – This is one's personal preference for the amount of heat you want. I use 8 – 10 hot chile pods for about 2 pounds of pumpkin and get a nice spicy hot sauce. If you want a mild sauce made with hot chile, then decrease the number of chile pods to 5 to 6.   If you aren't sure as to how much chile you need, then remove all but two of the chile pods after cooking. Purée the pumpkin, the 2 chile pods, and other ingredients. Taste. If you want it hotter, blend in more chile, one pod at a time until you get the heat level you want.
Also, if you can find medium dried chile, then you probably won't have to worry about the sauce being too hot.
Amount of Pumpkin –  A 4.5 pound pumpkin, once peeled, seeded, and chopped, yields a heaping 4 cups of pumpkin.  More pumpkin can always be added to make a milder and large batch of sauce.  Just adjust the seasoning accordingly.
Blending - Blending to a purée may take about three batches. A double blend makes an even smoother consistency. After the first blend, let sit for 10 minutes then blend again.
Storing The Sauce – These 6 cups yielded enough sauce for four single servings of red chile enchiladas and enough sauce to freeze for two more meals.  The sauce will keep in the refrigerator for 4 to 5 days. After that, divide into containers and freeze.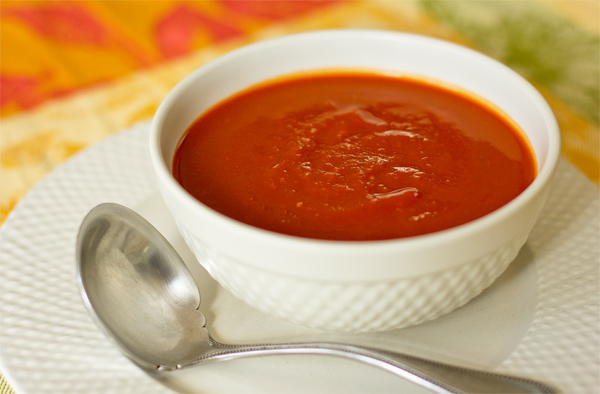 Uses –  Use this Red Chile Pumpkin Sauce on Red Chile Enchiladas, Shiitake and Black Beans Enchiladas, Huevos Rancheros or a Southwestern Pileup.  Use as a topping on a bowl of pinto beans, black beans, or bolita beans along with chopped onion, green olives and feta cheese, or any toppings of your choice.
Save
Save
Save
Save