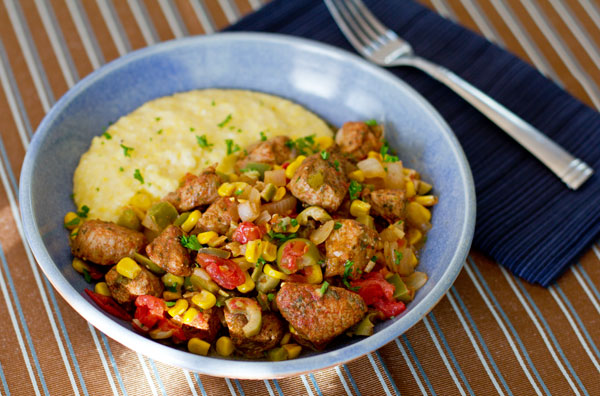 "MMMMM, this is good!" is the common response to this meal.  It's a response like this that ensures that I make again and again. 🙂  This Southwestern Pork Stir Fry can't be any easier to make.  One can literally be ready to start eating in 30 minutes, making it a perfect weekday meal.  It's got everything – protein, several vegetables, spice, and lots and lots of flavor.  For a really hearty meal, you can serve it with a carbohydrate of your choice.  I've served it with tortillas (flour or corn), cornbread, rice, and our favorite – creamy polenta (recipe below).
The following recipe serves two with a nice serving leftover for lunch the next day. To serve 4 to 5, just double the recipe and use a bigger skillet.  The cook times should remain pretty much the same. It's that easy!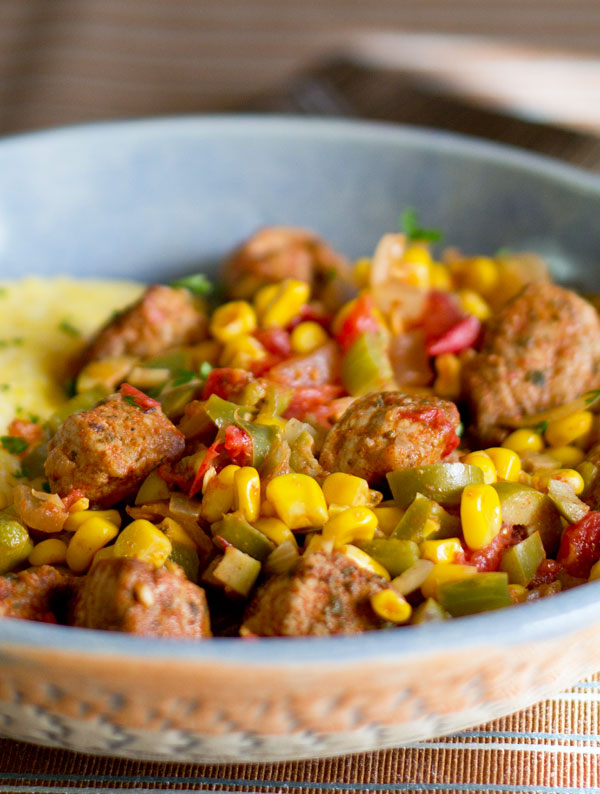 [print_this]
Southwestern Pork Stir Fry Recipe
Serves: 2 to 3 servings depending on the side
Prep and Cook time: 30 minutes
Recipe Author: MJ of MJ's Kitchen
Ingredients
1 pound pork loin or lean pork, cut into ½" cubes
½ tsp. ground cumin
1 tsp. red chile powder (your favorite)
¼ tsp. garlic powder
1 tsp. dried oregano
¼ tsp. salt
1 Tbsp. olive oil
½ large bell pepper (any color), chopped
1 cup corn (frozen, fresh or canned)* or ½ pound summer squash, cut into ½" cubes.
½ medium onion, chopped
2 large garlic cloves, minced
½ cup chopped roasted, green chile (or roasted, chopped poblano)
¼ cup coarsely chopped green olives
1 medium tomato, chopped
2 Tbsp. cilantro or parsley, chopped
Juice from ½ lime
*If using canned corn, add at the end, after the pork
Instructions
Use a skillet large enough to spread all of the ingredients out in one layer.
Combine the cumin, red chile powder, oregano, salt, and garlic powder in bowl. Whisk to mix the spices together.  Add the pork and coat all of the pieces with the spice mix. Set aside or in the refrigerator until ready to cook.  (This step could also be done the night before or in the morning before you leave for work.)
Chop and prepare all of your vegetables.
In a large skillet, heat the olive oil over medium heat. Add the bell pepper, corn, onion, and garlic. Saute' for 3 minutes.
Turn the heat to medium high. Add the pork and spread it out across the pan. Cook for 3 minutes, flip the pieces over and cook for 2 more minutes or until pork is just undercooked. (See Kitchen Notes)
Add the green chile, olives, tomato, and fresh herb.  Cook for another 1 minute, stirring constantly.
Remove from the heat and stir in the lime juice.
Serve with your choice of side.
Suggested sides: Polenta, rice, cornbread, or flour tortilla
[/print_this]
Kitchen Notes
The Pork – From having tried a couple of different cuts of pork, I would highly recommended pork loin or tenderloin.  The cooking time for the pork is quite short so you want a very lean and tender cut.
The Cooking Time for the Pork – Cook the pork for as short a period of time as possible, so it will be tender and juicy, not dry and tough.  Therefore, have the cooking heat medium high, you should only need to cook it for only 5 minutes (turning once) before adding the remaining ingredients.  If you want to check it, then after 5 minutes, pick out the thickest piece of pork in the skillet and test it.  It should be a little undercooked in the middle.  If so, then add the rest of the ingredients, cook for 1 more minute and remove from the heat. The pork will continue to cook as long as it's in the hot skillet.  If the meat is already cooked through, remove from the heat, add the remaining ingredients and toss for 1 minute to extract some of the liquid from the tomatoes.
The Vegetables – This dish can be made with a variety of vegetables.  I usually use corn or yellow squash, mainly for the color. However, broccoli, zucchini, sweet potato, butternut or other vegetables can be used.  Just adjust the initial cook time (the time before you add the pork) accordingly for the vegetables you are using.  Some vegetables will take longer to cook than others.
The Green Chile – Any roasted pepper can be use here – New Mexico green or red, poblano, or even a roasted sweet red pepper.  The addition of the roasted pepper is more for the "roasted" flavor than the "heat" from the chile.
Doubling the Recipe – If you want to double the recipe, then just double each of the ingredients.  The only ingredients you might need to adjust to taste are the chiles (chile powder and green chile).  Test the heat factors before increasing.  You'll also need to use a bigger skillet, one in which you can spread the ingredients out in 1 to 2 layers at the most.  If you have a big enough skillet, you should be able to leave the cook times the same.  You if don't have a big enough skillet to spread all of the ingredients out, then you should increase the cook times by a bit and stir more often to ensure everything gets cooked evenly.

Creamy Polenta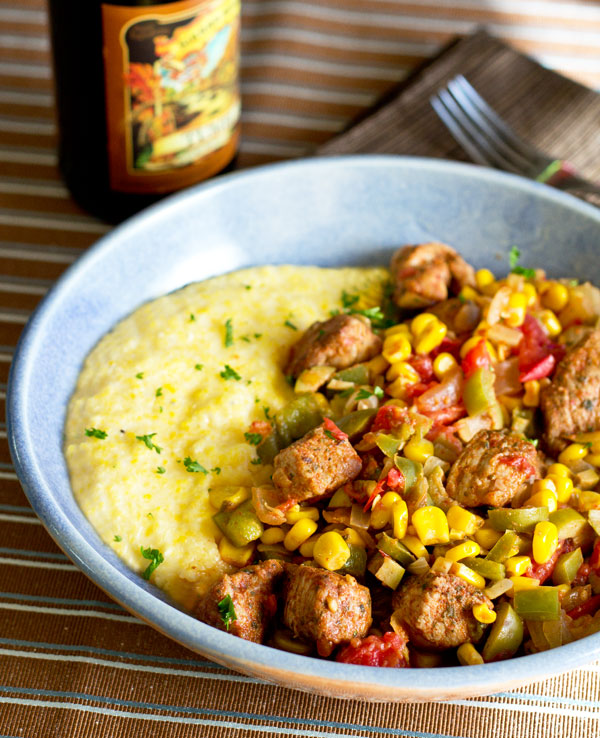 [print_this]
Creamy Polenta Recipe
Serves 4
Prep and Cook Time: less than 30 minutes
Ingredients
3 cups water*
¼ tsp. salt
¾  cup coarsely ground cornmeal* (polenta style cornmeal)
¼ cup feta, crumbled (optional)
Instructions
In a medium size sauce pan, bring the water with the salt to a boil.
Reduce heat to low and SLOWLY whisk in cornmeal. Cover.
For the first 5 minutes, stir at least once for during each minute to ensure it doesn't clump or stick to the bottom of the pot.
Continue cooking on low, covered, stirring frequently until polenta becomes thick, approximately 15 minutes.
Add the feta.  Stir to combine.
Remove from the heat and cover until ready to serve. Stir again before serving.
*Kitchen Notes
Ratio of water to polenta – You can increase or decrease the quantity of this dish by using the ratio of 1 cup water to 1/4 cup coarse cornmeal.
Polenta – Use a coarse ground cornmeal instead of a fine ground or corn flour.  Some products are even called "polenta-style" cornmeal.  You can buy a ready-made polenta, but I prefer to make my own because it's so easy.
Leftover – If you have leftover polenta, pour it into a pan or glass, refrigerate and let set overnight.  Remove, slice and fry over medium-high heat in a non-stick pan with a touch of butter or oil.
[/print_this]
This creamy polenta can be served with a variety of dishes:
Braised Red Chile Chicken and Vegetables
Sauteed Mushrooms with Onion and Spice
Braised Italian Sausage with Vegetables