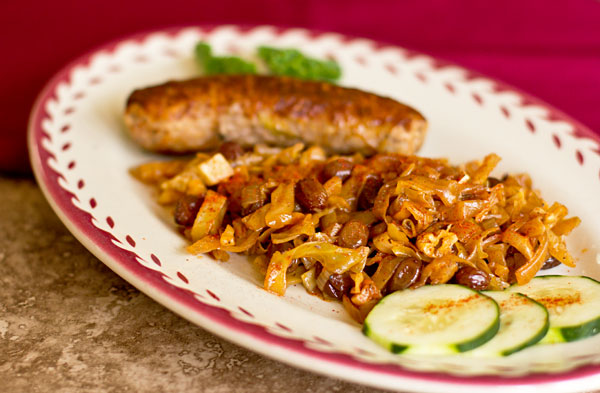 For years, cabbage has been a vegetable that I can just "take it or leave it" – usually leaving it. Coleslaw, sauerkraut, corned beef and cabbage – not on my list of favorite foods. However, Kimchi is an exception, but that's a story for another day. Since Bobby feels the same way as I do about cabbage, it's been a struggle through the years coming up with a cabbage dish that we both love, not just like.  Knowing that cabbage is good for us, and it's one of the few leafy things that I can get fresh in the winter, I had to keep trying.  Today I'm sharing the success of that struggle.  We both LOVE Sausage with Cabbage and Onions and have no problem eating it many, many times a year.  During the cooler months, it's one of our go-to comfort foods.  I hope you'll enjoy it as much as we do.
Braised Sausage with Cabbage and Onions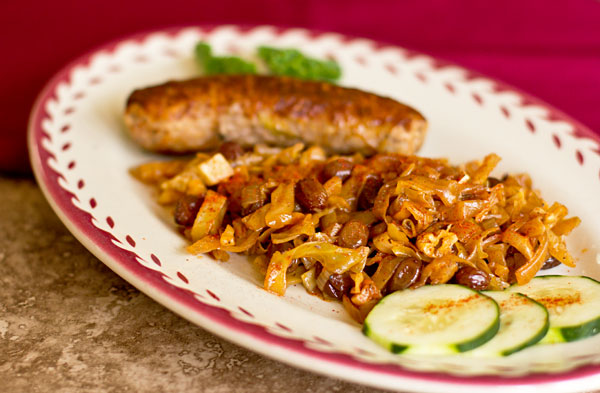 Braised Sausage with Cabbage and Onions Recipe
Cabbage and Sausage - what a great pairing! Even your cabbage hating eater will love this one!
*See Kitchen Notes for substitutions and further information.
Course:
Main Course, Meat Entree
Ingredients
4

large uncooked sausages links*

1

Tbsp.

olive oil

½

large head of cabbage,

shredded

1

medium onion,

halved, sliced

2

garlic cloves,

minced

¼

cup

bourbon

¼ to ½

cup

raisins

½

tsp.

dried sage,

crushed

1

tsp.

paprika

1/8 to 1/4

tsp.

salt

(or to taste)

1/4

tsp

pepper

Toasted Farmer's bread

(optional)
Instructions
In a large skillet with a lid, heat the olive oil over medium heat. Add the sausage and cook, turning once 4 minutes per side or until brown on at least two sides.

Move the sausage to a plate and add the cabbage, garlic, and onion. Reduce heat to medium low.

Sauté, stirring occasionally for 5 minutes or until vegetables start to soften.


Add the bourbon. Deglaze the pan, scraping anything stuck on the bottom.


Add the raisins, sage, paprika, salt and pepper. Stir to combine ingredients.

If all of the moisture has evaporated from the skillet, add ~1/4 cup water.* (See Kitchen Notes)

Place the sausages on top of the cabbage and onion mixture. Turn the heat down to low. Cover and cook for 20 minutes.

Taste. Add additional salt and pepper if desired.

Serve on top of a slice of toasted Farmer's bread if desired. Omit the bread if you don't want the carbs.

Kitchen Notes
Sausage – Use your favorite uncooked sausage – Bratwurst, Knackwurst, Italian, Chorizo, whatever you like.  Smoked sausage does not work because, first of all, you want to the capture all of the rendered fats from the initial cooking of the sausage and incorporate that into the dish.  Also, as the sausage cooks during the "braise", you want any of the juices that escape from the sausage to drip into the cabbage mixture, adding that sausage flavor that we oh so love.  Our favorite is a hot Italian sausage.
Cabbage – Use whatever is available.  Green cabbage, savoy, and Napa all work great!  Of course the flavor and texture of the cabbage mixture will be a little different between types of cabbages, but that just provides you with a way to change up the recipe a bit and to use what's available.
Raisins – The raisins do add some "sweetness" to the dish which I find very complementary with Italian sausage and Bratswurst.  However, when I use Chorizo, I reduce the amount of raisins to 1/4 cup with better results.  If you aren't a fan of "sweet and savory", then definitely use 1/4 cup or less; however, I wouldn't suggest eliminating the raisins altogether.  If you aren't a raisin eater, then you could try substituting with dried cranberries. I can't speak for the results, but I do know that cranberries do make a great substitute in many dishes.
That added water – In order for the sausage to continue cooking once the skillet is covered and to keep the cabbage mixture from burning, there needs to be a small amount of liquid in the skillet when you cover it to finish cooking.  Therefore, if the pan is dry and the ingredients are beginning to stick to the skillet, add up to 1/4 cup water.  That's all that is needed to finish cooking the meal.
Bread or no Bread – I do love serving this dish over a slice of toasted Farmer's Bread.  It feels like eating a Diner's Special. 🙂  However, if I don't have the bread, it doesn't stop me from making it. With or without the toast, this sausage and cabbage dish is a winner!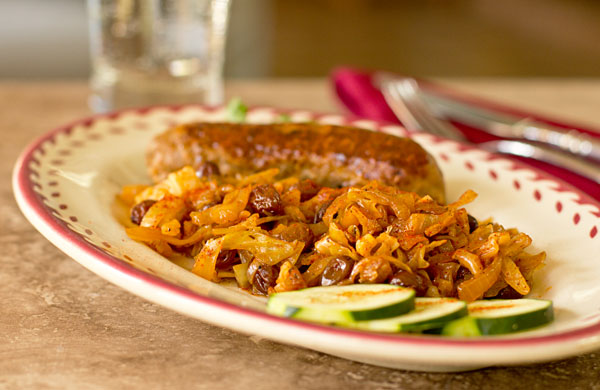 Just a little bit of sausage adds such a great flavor to a dish.  It doesn't have to be much. Here are a few dishes that illustrate how a little sausage can transform a meal
Posole with Italian Sausage and Kale
Suppertime Pileup (Sausage, onion and fennel)