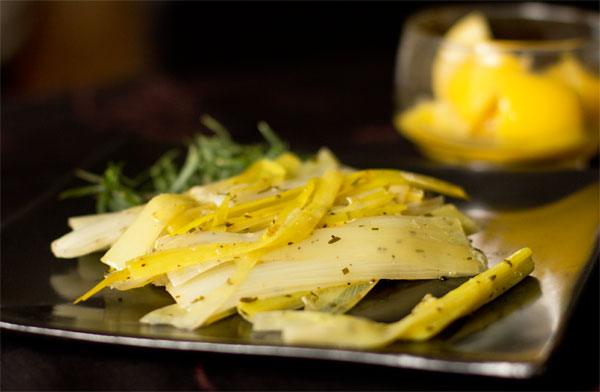 A few weeks ago Bobby and I had an absolutely delicious and memorable dinner at Albuquerque's Farm & Table restaurant.  I had a seared duck breast with greens and a potato side that consisted of the thinnest sliced potatoes I'd ever seen, seasoned and baked to perfection.  Bobby had the special which was a delicately roasted quail and a side of leeks with preserved lemons.  I tried the leeks early on causing Bobby to have to guard his plate until he finished eating.  They were SO good and I knew I would have to try making them at home. Unfortunately, by the time I got around to buying some leeks it had been a couple of weeks and all I could remember were the preserved lemons.  So I reached for the flavor combination used in one of my favorite breads – Buttermilk Tarragon Lemon Bread.  This wonderful quick bread uses lemon, tarragon and black pepper to provide a unique and unexpected flavor.  The combination transferred beautifully to these braised leeks.

Are they the same leeks as what we had at Farm & Table?  No – a little different but very good and a side that will be made over and over again.  These braised leeks are a great side for roast chicken and other poultry, and last night I served them on top of angel hair pasta tossed with sauteed garlic and olive oil.  So good!  I'm sure they will also complement a juicy grilled steak or beef roast as well as ….. just about anything.
Leeks with Preserved Lemon and Tarragon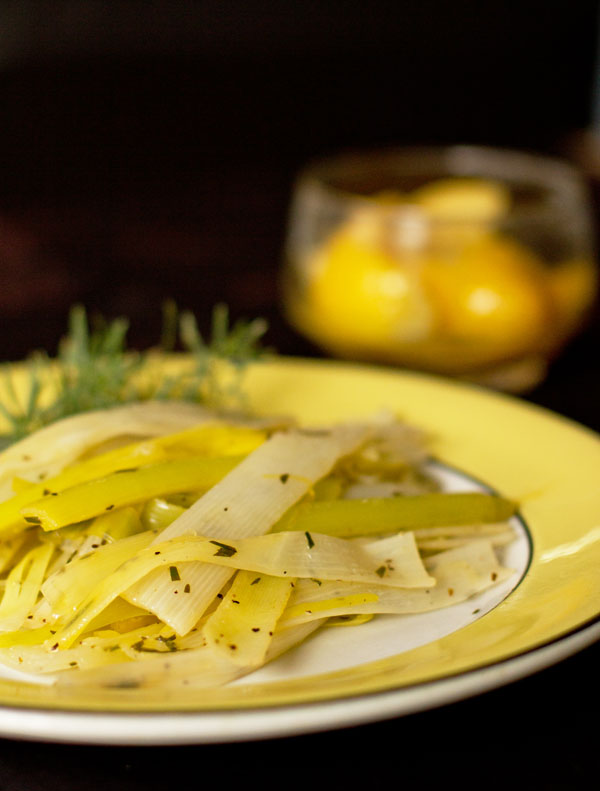 Leeks with Preserved Lemons and Tarragon Recipe
A refreshing and flavorful side dish for a variety of entrees.

"*" See Kitchen Notes for more information or links to special ingredients.
Course:
Side Dish, Vegetarian
Ingredients
2

medium leeks,

about 1 pound untrimmed

1

Tbsp.

olive oil

2

Tbsp.

water

2

tsp.

minced preserved lemons

1

tsp.

minced fresh tarragon or ½ tsp. dried,

crumbled

¼

heaping tsp. black pepper
Instructions
Trim the leeks of all but the white portion. Cut the white portion into 3 to 4 inch lengths. Cut into quarters, lengthwise.

Separate the leek layers into a large bowl of water and rinse. Remove from the water and drain through a colander. Shake off excess water. (They don't need to be completely dry.)

Heat the oil in a skillet over medium heat. When hot, add the leeks, preserved lemon and tarragon. Toss to coat.

Add 2 Tbsp. water, reduce heat to low and cover for 12 to 15 minutes until leeks are tender. About halfway through the cooking time, check to make sure the leeks aren't starting to brown and that a little moisture remains in the pan to finish cooking the leeks. If the leeks are starting to brown or stick, add another tablespoon of water and reduce the heat even more.

When done, remove from the heat, add the pepper and toss to coat.

Serve and enjoy.
Kitchen Notes
This is a simple dish with just a few of simple notes.
The Preserved Lemons – If you don't have preserved lemons you can make my Quick Preserved Lemons the night before, or try some lemon zest and about 1 Tbsp. lemon juice.  You'll need to add a touch of salt if you don't use the preserved lemons.
The Tarragon – Fresh tarragon yields a very delicate tarragon flavor, whereas dried tarragon can be pretty intense.  So if all you have is dried, be sure to cut the amount in half.
No Salt – As you noticed, this recipe doesn't call for salt.  That's because of the preserved lemons.  They are quite salty and provide all of the salt that is really needed for this dish.
Next time you need a quick side bursting with flavor, give these braised leeks with preserved lemons a try.  They'll definitely wake up the plate.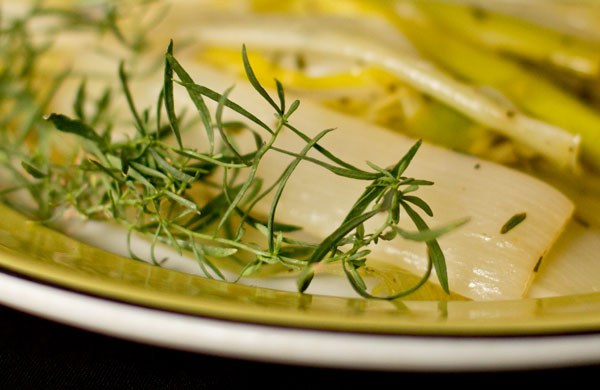 Other recipes with leeks that you might like:
Pasta with Leek Confit and Mushrooms
This Braised Leek recipe was featured in the article Leeks Recipes that we Loved That Aren't Just Leek Potato Soup, The Huffington Post, 03/13/2013.