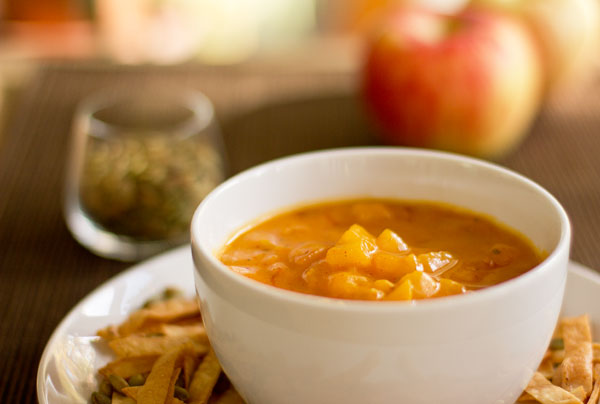 It used to be that I loved the onset of cooler weather, and winters – I relished them!  Cross-country skiing in the winter, especially under a full moon was pure joy and COLD.  Now, just thinking about it makes me shiver.  The only thing I relish about cold weather now a days are comfort foods, afternoon Chai lattes, my winter blankets, and hot soups.  This Butternut Squash Soup with Apples and Red Chile is one of my favorites and just screams FALL and cold nights. It's hot, it's spicy, it's a touch sweet (determined by the sweetness of the apples), it's savory, and it's hearty.  It's a great soup to serve in a cup and sit by a warm fire.
For this butternut squash soup I used the same process that I used with my Calabacitas Chowder – created a soup base with puréed squash.  It's a thinner purée than most butternut squash soups, because this isn't a traditional butternut soup.  This soup uses a generous amount of diced onion and apple, some finely grated cheese and select toppings to create a crunchy, cheesy, comforting dish.  For a little kick, I added some red chile powder, but you already knew that.
Butternut Squash Soup with Apples and Red Chile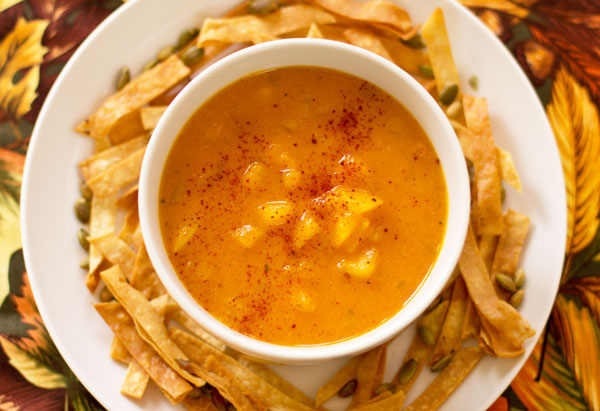 Butternut Squash Soup with Apples and Red Chile Recipe
A different types of butternut squash soup with chunks of sweet apples and a bit of spiciness from New Mexico red chile powder.

"*" See Kitchen Notes for more information or links to special ingredients.
Ingredients
Squash Puree'
1.5 to 2

pound

butternut squash*,

peeled, seeds removed, coarsely chopped

3

cups

water

3

cups

stock

(chicken stock or vegetable stock)

½

tsp.

salt
Additional Soup Ingredients
1

Tbsp.

butter

1

large onion,

diced

2

small, crisp, tart apples*,

cored and diced

1

tsp.

mild to medium red chile powder*

½

tsp.

dried Mexican oregano*

1

tsp.

rice or cider vinegar

1

cup

finely grated, aged cheddar cheese*
Toppings
Fried Corn tortilla strips -

1 tortilla per person + 1 to nibble on while waiting

3

tbsp.

Toasted Pepitas - pumpkin seeds
Instructions
In a large soup pot, bring the 6 cups of liquid with the squash and the salt to a boil. Reduce to a simmer, cover, and cook for about 15 to 20 minutes, until the squash is cooked.

Using an immersion blender or regular blender, purée the butternut squash. It will be a rather thin purée and should yield about 6 cups. Transfer to a large bowl or pitcher. Set aside.

In the soup pot, melt the butter over medium heat. Add the onion and apple. Reduce heat to medium low and slowly cook until the onion is translucent. If the onion starts to brown, reduce the heat. Once the onion is cooked, the apple should still be firm, but not crispy.

Add the chile powder and oregano. Cook for about 1 minute.

Add 6 cups of the butternut puree to the soup pot along with the vinegar. *


Increase the heat to medium and bring back to a simmer. Simmer for 10 minutes.

Remove from the heat and stir in the cheese. If you have a wide whisk, use it to better blend in the cheese.

Taste for salt and heat (spice). Adjust to your personnel taste.

Serve into soup bowls and top with toasted pepitas and crumbled tortilla strips.
Toasted Pepitas
If you're a multi-tasker, you can toast up the seeds and fry the corn tortillas while the squash is cooking or after the soup is done and is "resting".

To toast the pepitas, heat a small, heavy skillet over a medium heat. Add 3 tablespoons pumpkin seeds.

Toast the seeds by flipping them in the pan about every minute or so until toasted. Be aware that pumpkin seeds will swell and pop. Some get so excited that they pop right out of the pan.

Once toasted transfer to a glass dish.
Fried tortilla strips* (great use of stale corn tortillas)
Kitchen Notes
Butternut Purée – This recipe is designed for 6 cups of purée.  If you end up with a little more or a little less than that, not to worry.  Just use what you have.  However, if you have more than 7 cups, save the extra for another use.  If you have less than 5 cups, then cut back proportionally on the soup ingredients.  If you find your purée too thick (more like a traditional puréed soup), then add a little more liquid.  Hopefully you can see from the pictures, that this soup is really not that thick.
Apples – The apples must be crisp apples (e.g., cameo, fugi, Granny Smith).  A crisp, tart apple works best. 
Chile Powder – Remember red chile powder with an "e", not an "i".  Any pure red chile works – New Mexico red chile powder, Ancho, Paprika (but not smoked paprika).  Do NOT substitute a smoked chile powder or chili powder blend.  They would overpower the other flavors and just not work in this soup.  I normally use medium heat chile powder which adds a spicy finish, but doesn't make the soup a "mouth on fire" hot.  If all you have it a HOT chile powder, then cut the amount in half.
Oregano – Mexican oregano works best, but regular oregano is just fine.
Cheese – A hard, aged cheese is best to complement the other flavors in the soup.  However, regular cheddar and Monterey Jack work as well.  To test the cheese flavor with the soup to make sure it is to your liking, scoop out some of the soup into a spoon.  Add a little bit of the cheese you want to use and taste.  If you like the flavor, then go for it!  You could also eliminate the cheese if you don't do dairy.  The soup is still delicious without it.
Cutting the Recipe in Half – If you don't want to make such a big pot of soup, then cut the recipe in half.  It works just fine.  What I have done before is split the butternut squash purée between two different soups, making a half batch of this soup and then another soup.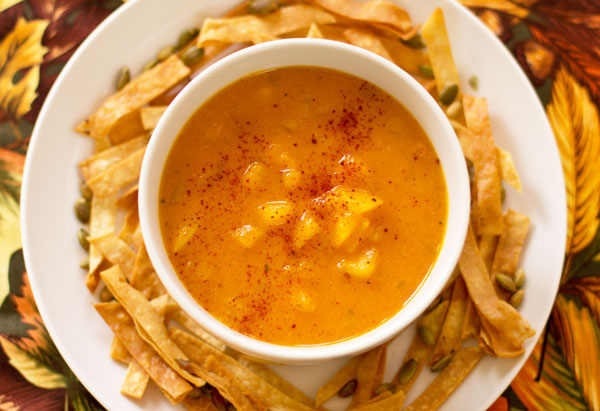 If you like this Butternut Squash Soup with Apples and Red Chile then you'll probably like my Roasted Butternut Squash with Apples and Manchego cheese from last year.  It was actually this dish that inspired this soup.