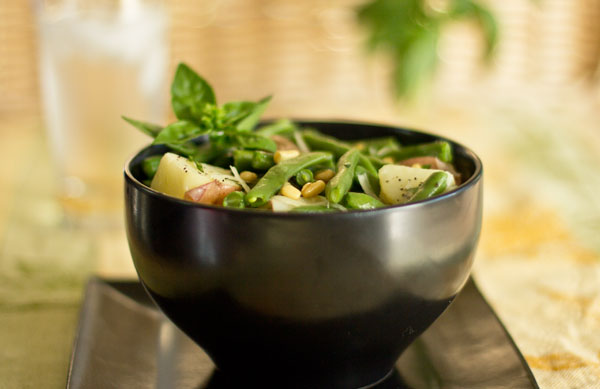 When Bobby and I got married there were two dishes that he had made for himself quite often in college and brought into our kitchen. One was pinto bean burritos and the other was a pot of fresh green beans and potatoes.  Both dishes are still with us today, but both have been gussied up a bit.  To the green beans and potato dish we've added a deconstructed pesto to enhance the original salt and pepper seasoning, and sometimes we'll top it with a protein to make a full meal.  Usually that protein is …….
wait for it, ……..
wait for it…….

bacon!  Of course bacon!  However, we've also used leftover grilled flank steak as well as smoked ham.  Whatever meat we choose to use we cube it, then tossed it in with the beans and potatoes at the end right before adding the cheese.
Our normal way to serve this is just as a big bowl of delicious fresh green beans, potatoes, lots of fresh basil, and a few other special ingredients.  When I make it for the two of us, I serve it as a meal.  When I make it for guests, I serve it as a side.  It's hearty and has so many wonderful flavors that it will have you going MMMMMMMMM.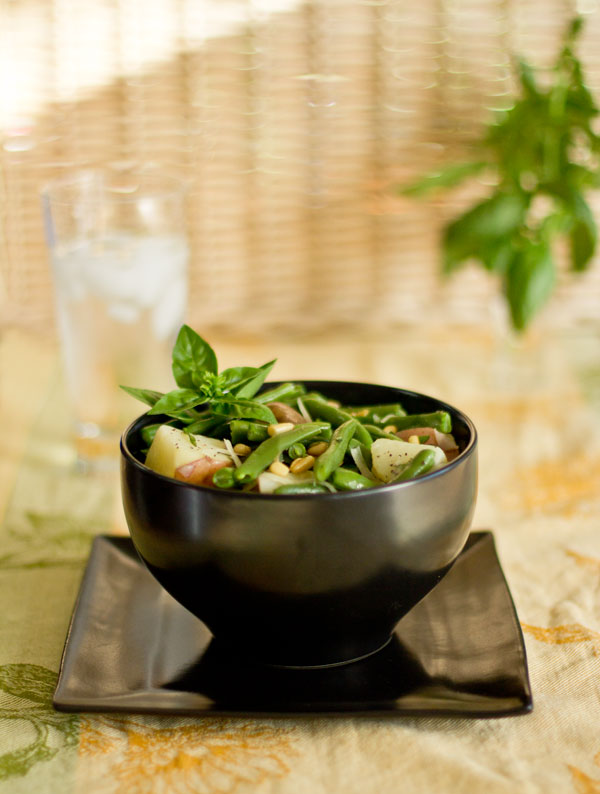 [print_this]
Green Beans and Potatoes with Deconstructed Pesto Recipe
Serves 4
Prep and Cook Time: less than 45 minutes
Recipe Author: MJ of MJ's Kitchen
Ingredients
1 pound fresh green beans, snapped into 2" pieces
½ tsp. salt
1 pound small to medium red potatoes, cut into 1″ pieces
1 Tbsp. butter
1 Tbsp. olive oil
3 Tbsp. Pinon nuts (pine nuts) or chopped pecans
5 large garlic cloves, sliced thin
2 cups loosely packed fresh basil, chopped
½ cup Pecorino Romano cheese, grated
Salt and pepper to taste
Instructions
The green beans and potatoes are cooked separately, but using the same pot of water.  First you cook the beans, then scoop them out of the water, and add the potatoes.
Fill a 4 quart sauce pan with water. Add ½ tsp. salt. Bring to a boil.
Add beans. Reduce heat to a slow boil.
Cook beans until crisp tender about 6 minutes. (Larger beans may take longer)
Remove beans from water using a slotted spoon. Rinse with cold water to stop the cooking process.
Bring the same water back to a boil. Add potatoes and reduce heat to a slow boil. Cook potatoes until done, about 8 to 12 minutes. Poke with a fork to check doneness. Drain.*
Rinse and dry sauce pan.
Using the same sauce pan, heat olive oil and butter over medium-low heat.
When butter is melted, add pinon nuts and garlic. Sauté until nuts and garlic are toasted light brown.  Keep the heat low enough so that the butter won't burn.
Add beans, potatoes, basil and salt and pepper to taste. Gentle toss all ingredients. Heat over medium high until heated through.
Remove from heat. Stir in cheese and serve.
*Drain the water into freezer containers.  Let cool and freeze. Use as a vegetable broth for soups.
[/print_this]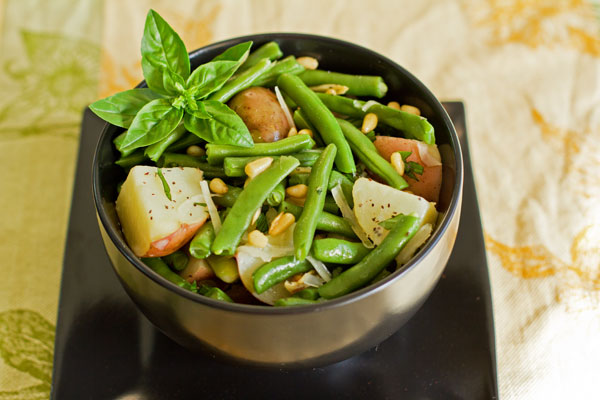 Kitchen Notes
The Green Beans – Fresh green beans are the only way to go with this dish. If desperate, I guess you could used canned, but if all you have it frozen, then don't make this dish.  The texture of frozen greens beans is just too disturbing and would actually ruin this dish.
The Potatoes – Red potatoes are best because of their texture and low starch content.  They hold up quite well to the double cooking and don't fall apart or become gummy.  Even though I love yellow and Yukon golds, they do tend to fall apart during the reheating process, so save them for mashed potatoes.
The Pine nuts (Pinon) – If you don't have pinon nuts, use pecans.  I've used pecans many times and they complement the other flavors in this dish quite well.  In fact, it's a toss up as to which I like better – pinon or pecans?
The Cheese – There are lots of choices here. We prefer Pecorino Romano or Manchego, but any other similar hard cheese works well.  Softer cheeses such as cheddar or Monterey Jack might also work, just be sure to add them at the very end once you remove the dish from the heat, and then serve immediately.
Toppings – As I mentioned before, you can topped this dish with cooked, crumbled bacon, or seared little cubes of beef.  Other proteins such as chicken, pork or tofu work as well; however, use small pieces and if you can make them crispy that would be best. The crispiness adds a nice texture to this dish.
Vegan Modification – Omit the butter and double the amount of olive oil.  Eliminate the cheese or use a non-dairy cheese if you have one you like. Personally, I've never found a non-dairy cheese that I liked, but then I love cheese.
The Deconstructed Pesto – I do love a good pesto, but to be honest, I love a deconstructed pesto better.  It's easier to make, not near as messy, and you get the texture of the nuts.  Plus, you don't need to use near the amount of oil.  Other dishes I make with a deconstructed pesto of sorts are my Sauteed Yellow Squash and Lemon Orzo Pasta Salad.
There are just some dishes that never get old and this green bean and potato dish is one of them.  I hope you enjoy it as much as we do.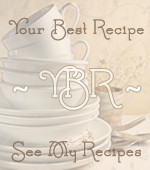 This Green Beans and Potatoes recipe has been shared with Hearth & Soul   .