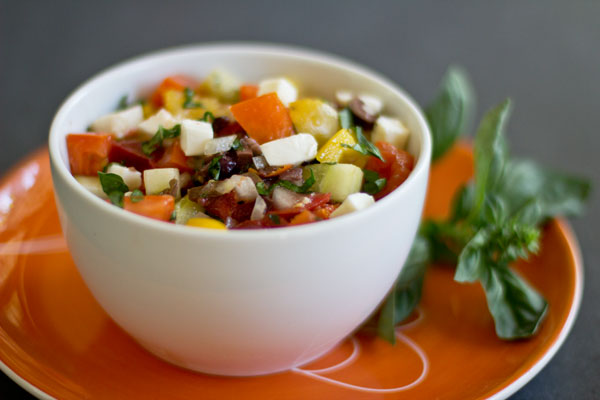 Don't you just hate it when you forget a major ingredient when serving a dish to dinner guests?  That's what I did the other night with this Gazpacho Salad.  The moment I started eating it, I knew something was missing, but I just couldn't come up with what it was – until the next morning.  I looked at my list of "last minute things to do" (which I had obviously failed to look at) and saw "add cheese to salad". Bummer!  Oh well, everyone still enjoyed it, and it was a great complement to the chorizo burgers.
This Gazpacho Salad was developed using my Chunky Gazpacho recipe that I posted last summer.  The two recipes are very close to being the same, but the salad uses bigger pieces of vegetables, a touch of feta or fresh mozzarella cheese, and the best heirloom tomatoes you can find.  When I saw these beautiful heirlooms last week at the growers' market I knew this salad had to be made.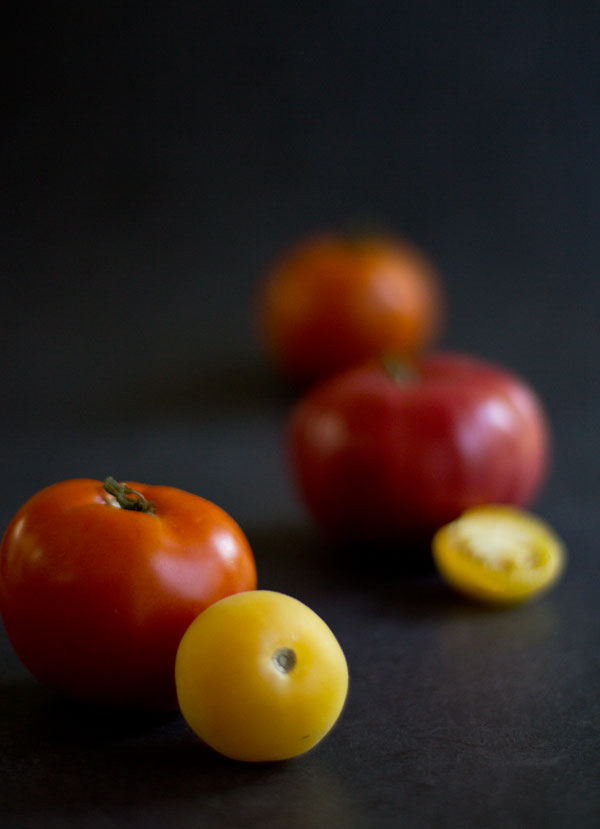 Speaking of heirloom tomatoes – I discovered the "garden peach tomato" the other day at the growers' market.  One of my favorite growers had a few garden peach tomatoes (also called a Wapsipinicon Peach) mixed in with her other heirlooms. I of course had to buy a few to test them out.  They are relatively small, only about 2 inches in diameter, yellow to a pinkish yellow color, and a slightly fuzzy skin.  The flavor is quite a bit sweeter than most tomatoes, and not the least bit acidic.  According to Wikipedia garden peach tomatoes are native to South American, mainly Peru where they are called Coconas.  This tomato was introduced into the United States in the 1860s.  From what I've read about them,  the plants are very prolific.  I've already added them to my list of "possible tomatoes to plant"  next year because they were so good!  Hopefully, I can find some started plants because I've never been very good at starting tomato plants from seed.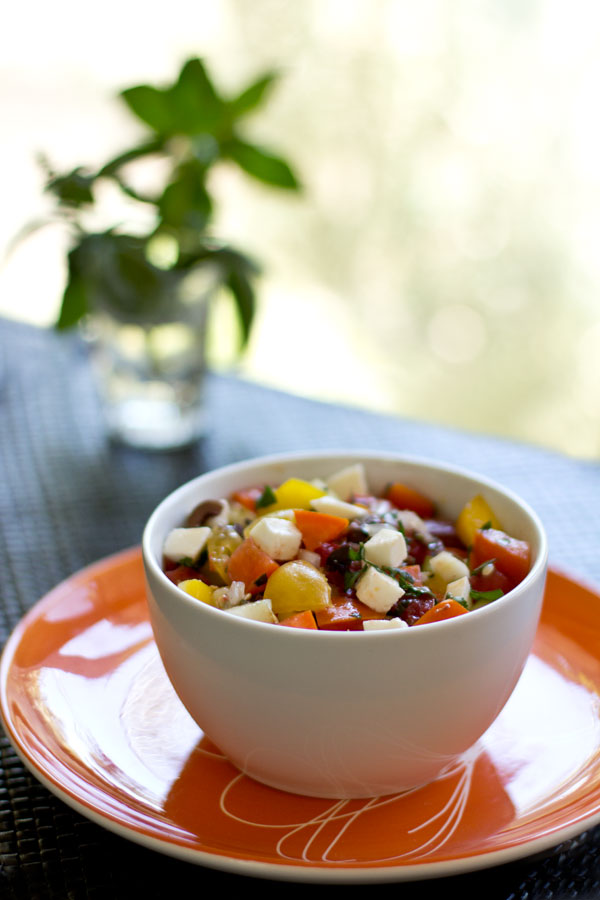 [print_this]
Gazpacho Salad Recipe
Serves 4
Prep Time: 20 minutes, 1 to 2 hours of chill time
Recipe author:  MJ of MJ's Kitchen
Assemble the vegetables and herbs at least an hour before serving.  Add the cheese just before serving.
Ingredients
1 medium cucumber, peeled, cut into 1/2" cubes
1/2 red bell pepper, diced
4 to 5 medium tomatoes, diced
1/4 medium sweet onion, minced
1 medium to large clove garlic, minced
1/4 cup diced Kalamata olives
1 Tbsp. fresh mint, chopped
1 Tbsp. fresh basil, chopped
2 tsp. red wine vinegar
2 Tbsp. olive oil
1/4 tsp. red chile flakes (optional)
ground pepper
1/4 cup feta, crumbled or 1/2 cup fresh mozzarella, cubed
4 large butter or iceberg lettuce leaves (each leave will be used as a bowl for the salad)
Instructions
Chop the vegetables.
Toss together all of the salad ingredients EXCEPT for the cheese and lettuce.
Place the salad in the refrigerator for at least an hour.
Just before serving, mix half of the cheese in with the salad. Save the other half for a topping.
If you want to use a lettuce bowl, place one lettuce leaf on each plate.
Divide the salad between the 4 plates by scooping the salad into the lettuce leaves.
Sprinkle each serving with some of the remaining cheese.
Top with cracked pepper, if desired.
[/print_this]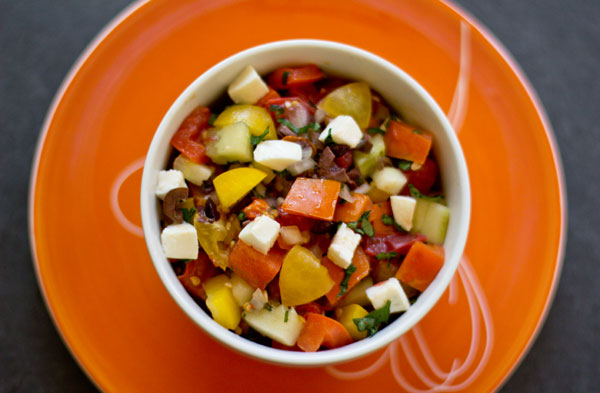 Kitchen Notes
The Tomatoes – This salad really calls for some of the best and tastiest tomatoes you can find.  A mix of meaty heirlooms makes the best salad.
The Cheese – As I recently discovered, this salad is just fine without the cheese; therefore, if you can't eat cheese, just leave it out. However, I personally prefer a little cheese – either feta or fresh mozzarella. Which cheese I use has a lot to do with what I'm serving it with. You definitely get two different results depending on the cheese you use, as you can imagine. My preference is usually feta; however, when I serve this as a side for a spicy dish, I prefer fresh mozzarella.
The Red Chile Flakes – If you want a little spice with the sweetness of the tomatoes, then add the red chile flakes.  Just be careful not to overdo it. Red chile flakes are normally quite hot, so a little goes a long way.
Like many salads this Gazpacho Salad is best the day that you make it.  After about 24 hours, you'll  have gazpacho.
This Gazpacho Salad has been added to Katherine Martinelli's Summer Hop   .