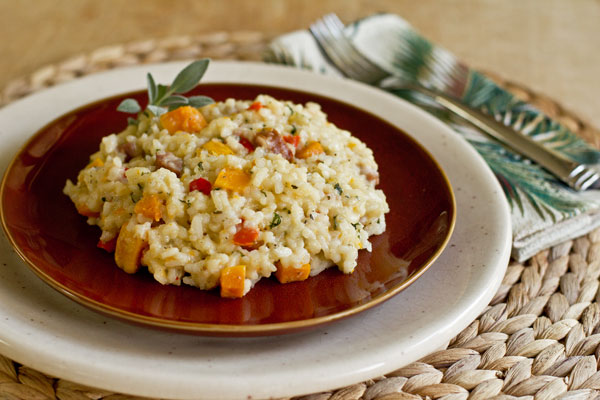 In preparation of a new raised garden bed for next year, Bobby dug up an area of the yard last spring and started piling leaves and compost in it.  Low and behold, we soon had a couple of squash plants growing. We decided to just let them grow at the chance of getting something. We've never had much luck with volunteers before, but we thought "maybe this year".  The two plants grew throughout the summer and, even though they were beautiful plants with a lot of leaves and blooms, we didn't get very much. One produced two butternut squashes and the other, one cute little pumpkin.  Not very prolific, but at least we got something. I picked the first butternut squash around the middle of August and it sat on the countertop for a couple weeks, just waiting for the right inspiration to turn it in a meal. That inspiration came the day I brought home a pound of freshly smoked andouille from the Alpine Sausage Kitchen, a small German sausage smoke house in my neighborhood.  I love sausage with butternut squash so I decided to make this Roasted Butternut Squash Risotto With Andouille.

The roasted butternut squash and the andouille add a wonderful richness to the arborio rice.  The roasted squash held up quite nicely to the smoked andouille sausage.  The andouille is added half way into the cooking process to help render some of the fat and let it seep into the rice. Adding it at this time also prevents the andouille from drying out, which can happen if you add it too early.  The roasted butternut is added at the end of the cooking of the rice in order to keep the squash pieces intact, yielding bites of roasted squash along with little bites of sausage.
I'm not sure what I'll be doing with the other butternut squash nor the pumpkin.  But once the fall apples start showing up at the market, my Roasted Butternut with Apples and Manchego might be on the menu.  As far as the pumpkin goes, maybe a Pumpkin and Red Chile Soup once the weather starts to cool off.  But who knows, there might be something completely different.  And yes, I may be rushing Fall, but it is my favorite time of the year. 🙂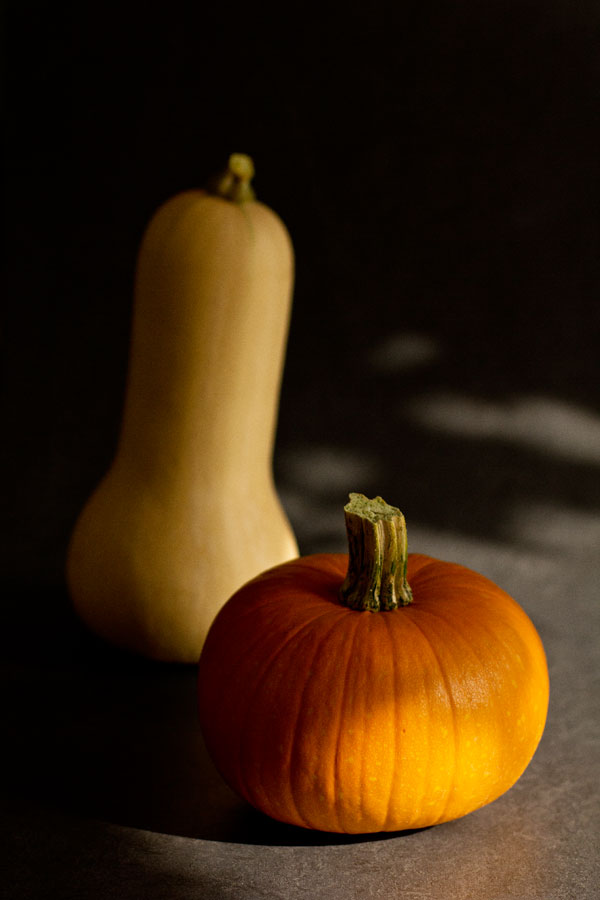 [print_this]
Roasted Butternut and Andouille Risotto Recipe
Yield: 6 servings
Prep and Cook Time:  60 minutes
Recipe Author: MJ of MJ's Kitchen
Ingredients
1 small butternut squash, peeled and deseeded, cut into small cubes (less than ½")
1 Tbsp. garlic infused olive oil or 1  Tbsp. olive oil + ½ tsp. garlic powder
Salt and pepper
2 cups chicken broth or stock
3 cup water or any combination of stock and water to make 5 cups of liquid
1 Tbsp. olive oil
½ medium onion, chopped
1 small sweet pepper, chopped
1 ½ cups Arborio rice
½ cup vermouth or white wine
½ heaping tsp. crumbled, dried sage or 1 tsp. minced fresh sage
6 roasted garlic, smashed, minced or 3 large garlic cloves, minced
1 andouille sausage, cut into ¼'" cubes
Generous amount of fresh cracked white pepper
½ cup Pecorino Romano cheese
1 Tbsp. chopped fresh parsley
Salt to taste
Instructions
Preheat the oven to 400° F.
Toss the butternut squash with the garlic infused oil and sprinkle with salt and pepper.
Bake for 30 minutes.
Once you have the butternut squash in the oven, bring the broth and water in a sauce pan to a simmer. Keep hot on a low heat.
Add the olive oil to a large pot, like a soup pot, and heat over medium low heat.
When the oil is hot, add the onion and sweet pepper and sauté for 3 minutes.
Add the rice and cook, stirring for 5 minutes. Add the vermouth and stir until the vermouth is absorbed.
Start adding the hot liquid, 1 ladle (about ½ cup) at a time. Stir until the liquid is absorbed, and then add another ladle of liquid, stir until that liquid is absorbed.
When you have added about half of the liquid, add the garlic, sage, and Andouille.
Continue to add the liquid one ladle at a time, stirring until it is absorbed.
When all of the liquid has been added and the rice is done, add a add a generous amount of cracked white pepper. Stir in 1 ½ cups of the roasted butternut squash, the cheese and parsley.
Taste for desired salt level.  Add more salt if needed.
Cover and let the risotto sit for about 3 minutes.
When you first serve this risotto is will be pretty creamy.  As it sits, the rice absorbs more and more of the liquid and the dish loses its creaminess.  If you have leftovers, which we always do when I make this for just the two of us, I'll add just "a little" liquid when I heat it back up. "Too much" liquid makes it gummy.
[/print_this]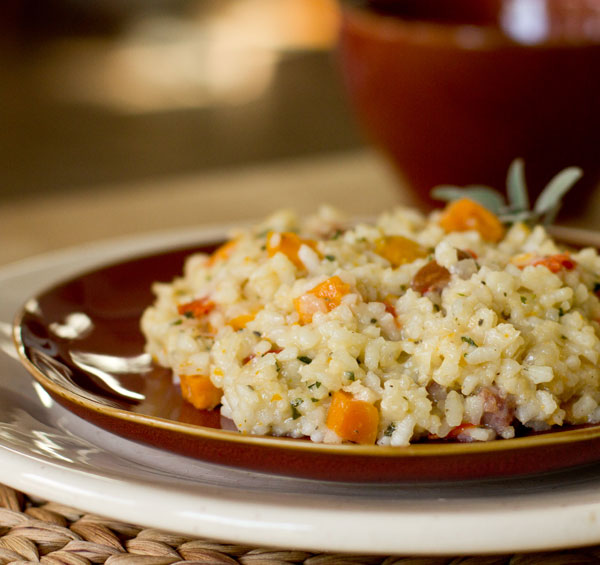 Kitchen Notes
The Butternut Squash – The squash I used was quite small and yielded only 1 ½ cups of roasted squash (2 cups uncooked).  The 1 ½ cups was plenty for this dish.  Therefore, if you use a bigger squash, save the unused portion for another purpose.
The andouille – As you saw in the recipe, the andouille doesn't get added until midway through the cooking process.  Because andouille is a smoked sausage, sauteing it with the onion can "over-render it", drying it out and making it chewy.  Any other smoked sausage works great in this dish (e.g., Kielbasa or Spanish Chorizo), but remember not to add it until halfway through.  Uncooked sausage such as Mexico chorizo or Italian sausage are also great in this risotto; however, uncooked sausage should be saute' early with the onion to ensure that the sausage cooks through.
The herbs – Sage is always an excellent choice for any squash and for many sausages; therefore, if you have it, use it.  As far as the parsley goes, it could be replaced with another fresh herb such as basil or cilantro or a combination of parsley and another herb.
Vegetarian and vegan option – Replace the chicken stock with vegetable broth and eliminate the sausage.  To replace the smokiness and spiciness of the sausage, add ¼ tsp. smoked paprika and ¼ tsp. chile powder halfway through the cooking process.
Because this risotto has proteins of sausage and cheese, I normally serve it as the main meal with a side of chopped tomatoes or tomato slices.  It doesn't need any more than that.
This Roasted Butternut Squash Risotto with Andouille has been shared with the following blog hops:  Clever Chicks, Made With Love Mondays,  Melt In Your Mouth Mondays   .