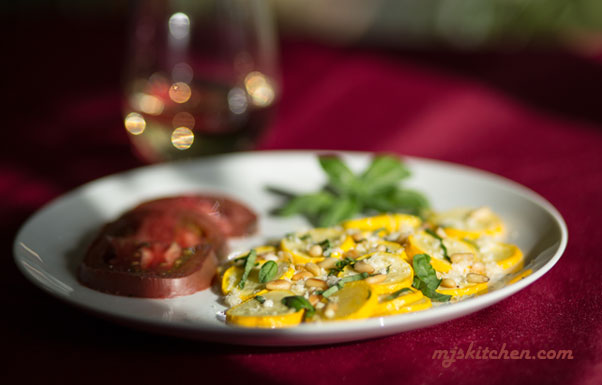 Every time I make yellow squash with basil, I can't help but think of the squash garden that my brother and sister-in-law had when they first moved to New Mexico.  Having just moved from Louisiana they were use to losing most of their squash plants to mildew due to the rain and high humidity.  So like many savvy southern gardeners, when they moved here to New Mexico, they planted two LONG rows of squash with one package yellow squash seeds and one of zucchini.  Before long they had enough squash to feed half the city! 🙂  They were giving squash to all their neighbors, taking bags and bags of squash to their daughter's daycare for anyone that would take them, and even going as far as setting boxes of squash on the curb marked FREE.
Needless to say, I ended up with a lot of the squash as well and it was during that summer that I developed many squash recipes.  Several of these recipes have survived to this day and this Squash with Basil and Pine Nuts (Pinon) is one of them.  In fact, it's one of our favorites.  It is a very simple recipe that takes about 20 minutes to make. It has a lot of flavor and textures, and goes with just about anything.  Hope you enjoy it!


[print_this]
Yellow Squash with Basil and Pinon Recipe
Servings: 2 (To serve 4, just double the recipe)
Prep and Cook time: 20 minutes
Recipe author:  MJ of MJ's Kitchen
Ingredients
1 yellow squash (~½ pound), cut into ¼ " slices
1 to 2 tsp. olive oil or butter or a mix of oil and butter*
¼ cup chopped fresh basil
Salt and pepper to taste
½ cup grated Pecorino Romano (optional)
2 Tbsp. pinon nuts, toasted
Instructions
In a large skillet, heat the olive oil over medium low heat.
Add the squash and toss to coat with oil. Spread the squash across the bottom of the pan. Increase heat to medium.
Cook for 5 minutes, turning the squash once until the squash is tender.
Season with salt and pepper. Toss. Remove from heat.
Add the basil and toss.
Top with cheese and nuts. Cover and let sit for 2 minutes before serving.
Kitchen Notes
The Squash – Yellow squash is my favorite summer squash so that's what I usually buy at the market, however, zucchini would also work or a mix of zucchini and yellow squash.
The cheese – This recipe works with several different types of cheese as well as without cheese. If you choose to use cheese, then let the main dish determine the type of cheese you use.  Our favorites are Pecorini Romano and aged cheddar; however, a mild or sharp cheddar, Monterey Jack, or Manchego also work quite well.
The Pinon  (Pine Nuts) – I prefer pinon, but pecans work as well.  Or, you could just leave out the nuts.
Serving Suggestions – Serve with smoked chicken, roasted or grilled chicken.
[/print_this]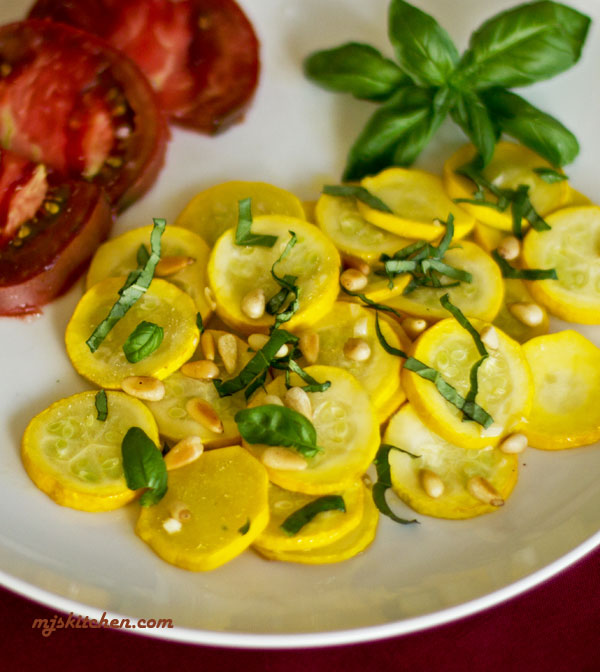 Variations for this dish:
Omit the nuts and cheese, and substitute the basil with minced, fresh rosemary
Omit the nuts and cheese, and add a chopped, roasted red bell pepper
Substitute all of the oil with butter, and replace the cheese with 2 Tbsp. heavy cream (Add the cream about 30 seconds before removing from the heat.) – This one is for those days when I'm not worrying about the extra calories. 🙂
If you like this yellow squash with basil dish, here are some more recipes for you to try:
Squash, Mushrooms and Italian Sausage in Parchment
Calabacitas (Summer Squash, Corn, and Green Chile)
Three Sisters with Green Chile Tomatillo Salsa