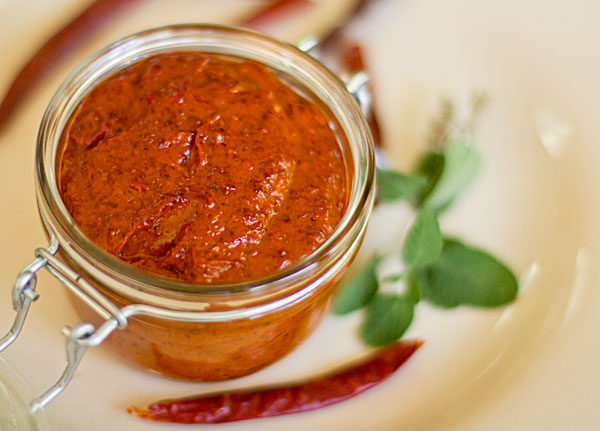 A couple of months ago, I posted a Chile de Arbol Salsa made with those tiny and HOT chile de arbol peppers.  After making several batches throughout the summer I finally had an epiphany to make a batch of chile paste so that when we get the craving for salsa, the prep time is cut by more than half because the initial paste is already made.  The only problem is that a "batch" of chile de arbol paste yields an unbearably hot paste by most people's standards, including mine.  To solve this, I used a blend of New Mexico dried red chile and chile de arbol.  The resulting paste is still hot, but has a wonderful flavor that complements a variety of dishes:  salsas, soups, stews, enchiladas sauce, aiolis and spreads. This paste can be frozen in 1 to 2 tablespoon servings and added to any dish that needs a tasty bite of heat.
As you'll see in the instructions, instead of lightly toasting the chile pods in a dry skillet then rehydrating in hot water as many chile paste recipes do, I rehydrate and toast the chiles at the same time by simmering them in hot oil with garlic and seasoning. The benefit to this other than saving some time, is that this process yields a wonderful bottle of chile infused oil that you can use for many other purposes.  If you are like me, your pantry has at least three infused oils at all times, so one more never hurts.

Red Chile Paste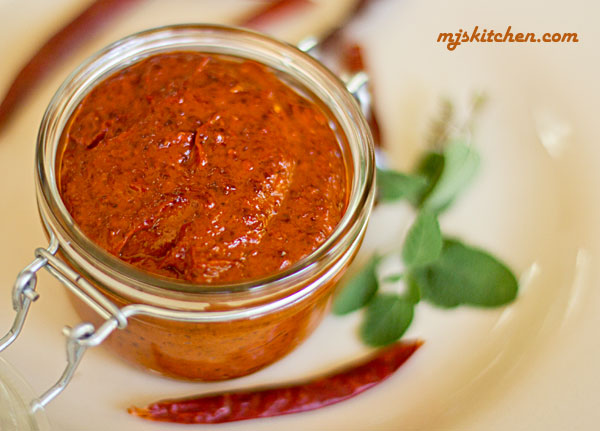 New Mexico Red Chile Paste with Chile de Arbol (Recipe)
This recipe yields a spicy red chile paste that can be added to soups, stews and beans as well as a small bottle of infused chile oil.

"*" See Kitchen Notes for more information or links to special ingredients.
Course:
Condiments, Sauces & Dressings
Cuisine:
Mexican, New Mexico
Ingredients
1

cup

canola or vegetable oil

1

ounce

dried red chile pods,

stems removed and seeds shaken out*

1

ounce

dried chile de arbol pods,

stems removed and seeds shaken out*

½

tsp.

coriander seeds

4

large garlic cloves,

cut in half

½

tsp.

salt

1

Tbsp.

vinegar

½

roasted bell pepper or 1 Roma tomato,

peeled, chopped and drained*
Instructions
Add the oil, chile pods, coriander and garlic to a sauce pan or skillet. If the oil doesn't just cover the chile pods, then add more.

Slowly heat to a simmer (the garlic and pepper should be at a slow, steady sizzle). Simmer on low for 15 minutes.**

Remove from the heat. Using a slotted spoon, carefully scoop the chiles, garlic, and coriander out of the oil and into a blender. To filter the remaining oil for use later, let cool, then strain into a clean bottle.

To the chiles, add the salt, vinegar, roasted bell pepper (or 1/2 tomato), and 3 Tbsp. of the reserved chile oil.

Blend to a puree'. If the mixture gets too thick, add more oil or more roasted bell pepper (or tomato). You want the puree' to be the consistency of a paste.

Use within 3 to 5 days or freeze in an ice tray by scooping 1 to 2 Tbsp. of the paste into each cube compartment.
**By simmering in hot oil, the peppers and garlic will start to brown. If the oil is too hot, they could easily burn, so keep an eye on them. If the garlic starts to turn brown within 10 minutes, turn down the heat. If the peppers turn black, then they are burned and should be tossed. After 15 minutes you want the garlic a light brown and the peppers should be a dark rich red color, not black.
Kitchen Notes
Chiles – Dried chile peppers all have different flavors and heat levels, but pretty much any pepper can be used in this chile paste. Of course we love the flavor of New Mexico red chile, and thanks to my friends at Diaz Farms, I'm now hooked on chile de arbol as well. These two peppers blended together to make a very unique and spicy paste. If you don't have these peppers, I would recommend ancho (dried poblano) as a substitute for the NM red chile and chile pequin, Thai bird's eye or cayenne in place of the chile de arbol – in other words, a medium to medium hot chile and a hot chile. You may want to change of the ratio depending on the heat levels of the peppers. A 1:1 ratio yields a HOT paste whereas 2:1 yields medium.
Roasted Red Bell Pepper or Tomato – The bell pepper is used mainly to add more moisture to the paste in order to achieve a smooth consistency. As an added benefit, it also adds a little sweetness. If you don't have a roasted bell pepper, use a medium sized tomato. I would recommend adding only 1/2 of it at first. If you need more moisture for a smoother texture, add the other half.
Storage – This paste keeps in the refrigerator for 3 to 5 days. Freeze what you don't use. To freeze, scoop 1 – 2 Tbsp. in each pocket of an ice tray and freeze. Once frozen, remove from the tray and transfer to a freezer bag. Throw a cube into soups, stews, salsas, or any dish in which you want a spicy, chile flavor. Below are several suggestions on how to use this paste.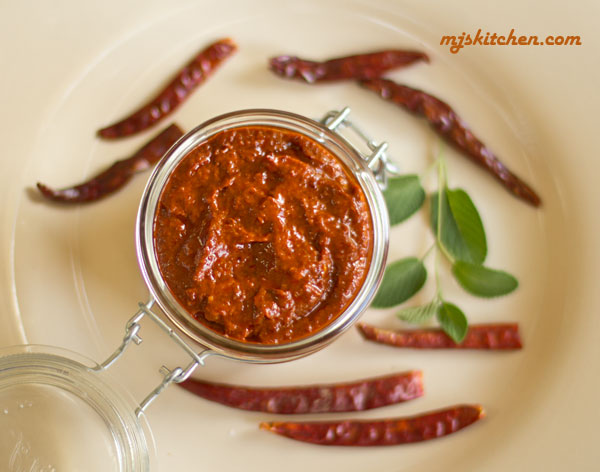 Once you have this red chile paste, fresh or frozen, you can throw my chile de arbol salsa together in about 10 minutes.  Just saute' ¼ cup chopped onion in a little oil for 2 minutes, add to a blender or food processor with a can of fire-roasted diced tomatoes (drained), and pulse for a fine chop. Stir in 1 Tbsp. of red chile paste, chill for about an hour or overnight, and serve with your favorite chips.
OR if you like a chunky salsa, add 1 Tbsp. red chile paste to a can of semi-drained fire roasted diced tomatoes with some minced onion, and start eating. 🙂
This New Mexico Red Chile Paste can also be added to any of the following recipes:
Black-eyed Pea Chipotle Dip (replace the Chipotle with 1 Tbsp. paste)
Spicy Pumpkin and Red Chile Soup (Replace the red chile pods with 1 Tbsp. paste)
Tortilla Egg Sandwich (Replace the Jamaican Jerk with a 1 tsp. paste)
Braised Red Chile Chicken and Vegetables (replace some of the chile powder with about 1 tsp. paste)
Mafe' – A West African Stew (replace the 2 hot peppers with 1 Tbsp. paste)
Red Chile Garlic Bread (replace the chile powder with paste)
Andouille and Black Bean Soup (add a little paste for flavor and heat)
Dried Beans (black bean, pinto beans, bolita beans)  – Add 1 to 2 Tbsp. to a pot of beans during the cooking process
This New Mexico Red Chile Paste was include the the DailyBuzz Food Top 9 Hot Sauce Recipes (September, 2013) and has been shared with Slightly Indulgent Tuesdays  .