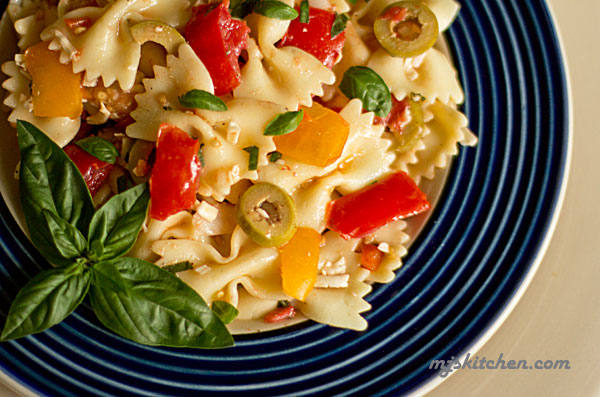 Now that your mouth is burning from the green chile I've been serving up this month, I thought I would help cool things down a bit and introduce you to another of my tried and true recipes – Farfalle with Fresh Tomatoes and Basil (a no cook tomato sauce).  This recipe was inspired by one I saw many years ago in Gourmet magazine (I think).  Over the years I have taken the original recipe and tweaked it a little here and there, playing around with different cheeses, pasta, and a variety of ingredients.   The recipe I'm sharing with you here is the best of them all, and a recipe that I am not allowed to change. 🙂  During tomato season I make this three or four times, then once the fresh, local tomatoes disappear, we wait until next year to have it again.
This dish requires fresh picked, quality, ripe tomatoes and fresh picked basil. The tomatoes and basil are mixed together in a bowl with a few other ingredients, allowed to rest for at least an hour, then tossed with hot pasta.  (If you can't eat pasta, rice works just as well.)   The hot pasta melts the cheese and provides a base for this wonderful no cook tomato sauce.  I think you're going to love it!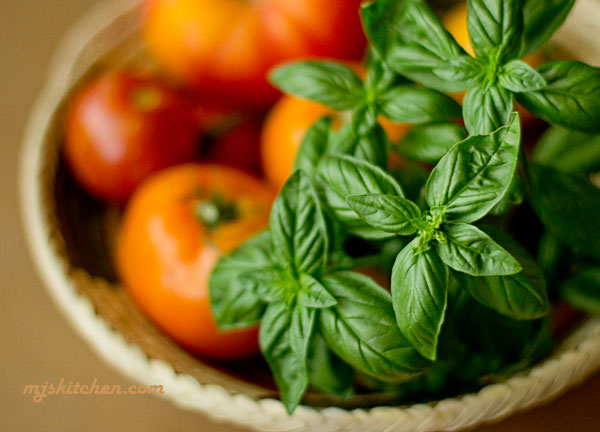 [print_this]
Farfalle with Fresh Tomatoes and Basil
Serves 4
Prep Time: 20 minutes
Rest time: 1 hour
Ingredients
5 – 6 medium fresh tomato, coarsely chopped (1.5 to 2 pounds tomatoes)
1 medium clove garlic, minced
1/2 cup sweet onion, minced
10 large pimento stuffed green olives, sliced thin
1 cup somewhat loosely packed fresh basil, chopped
1 cup grated Monterey jack or Mozzarella cheese
2 Tbsp. olive oil
1 Tbsp. Red wine or fruity vinegar
Generous amount of fresh ground pepper
A touch of sea salt
8 ounces Farfalle (bowtie pasta)
Instructions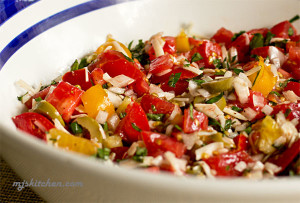 Combine all ingredients, except farfelle, in a large bowl (large enough to hold the tomato mixture and the pasta when it's cooked)
Let the tomato mixture set at room temperature for at least one hour.
Cook the pasta according to the directions and to desired doneness.*
Drain well and add to the fresh tomato mixture, toss to combine.
Serve and Enjoy!
*Since it takes about 30 minutes to make the pasta, I usually start the water for the pasta after the tomato mixture has rested for 30 minutes.
[/print_this]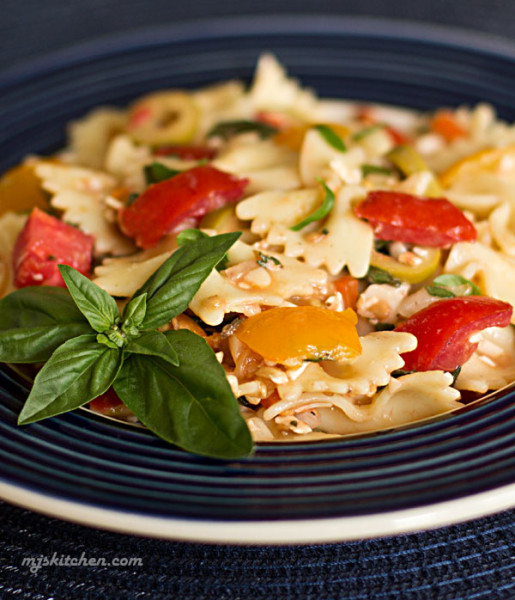 Kitchen Notes
The Basil – There is no replacement for fresh basil.  Dried basil does not work!
The Tomatoes – Always use firm, ripe tomatoes.  If the tomatoes are mushy or overripe, find another use for them, but don't use them for this dish.  As far as the type of tomato goes, whatever type you have, except for Roma or cherry tomatoes. There isn't enough jelly in Romas to help create a "no cook sauce" and cherry tomatoes have too little meat and too much skin.  Large heirlooms are the best!  However, I've used all sorts of tomatoes for this dish and they all work wonderfully, just as long as they are GOOD medium to large, meaty tomatoes.
The Farfalle – For years, I made this with linguine. Then sometime last year, I didn't have any linguine so I used farfelle. We both actually preferred the farfelle. With the farfelle it is easier to grab a little of everything in one bite; therefore, I would highly recommend using it over linguine.  I would not recommend Penne which is too thick for this sauce nor angel hair (Capellini) which is too thin.
The olives – We've had this with green olives, black olives and both, but our favorite are the pimento stuffed olives, and since I buy them in the huge jars, I always have them in the refrigerator.  However, most any type of olive works.  I haven't found one that didn't.
The cheese – Our favorite is Monterey Jack, but most any type of young white cheese works. You want a young cheese with a low melting point.  That way, the cheese will soften and even melt a little bit when you add the hot pasta.
The garlic – Because this recipe uses raw garlic, a medium sized clove yields a relatively strong garlic flavor after an hour of resting in the sauce.  If you're not a garlic fan, just leave the garlic out or use a really small piece.  I've used roasted garlic in this dish, but to be honest – I prefer the raw garlic.
Variations
For a spicy version, add ¼ to ½ tsp. red chile flakes.
For a gluten-free version, use rice instead of pasta.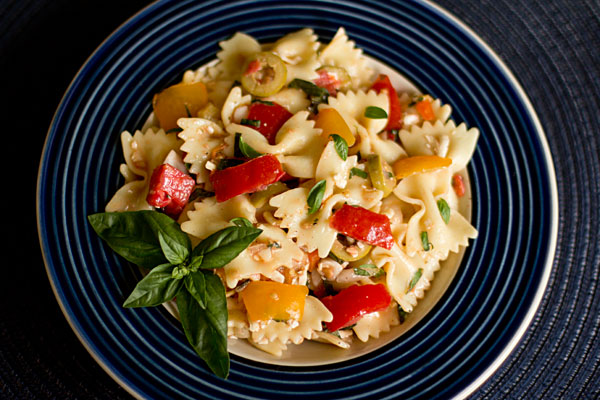 Here is a link to a similar dish – Linguine with Tomatoes, Brie and Basil  – which I saw over at Southernboydishes the other day.  I'm going to be trying this one next.  It looks delicious!
This Pasta with a no cook sauce of fresh tomatoes and basil has been shared with the following blog hops:  My Meatless Monday,  Hearth and Soul  .