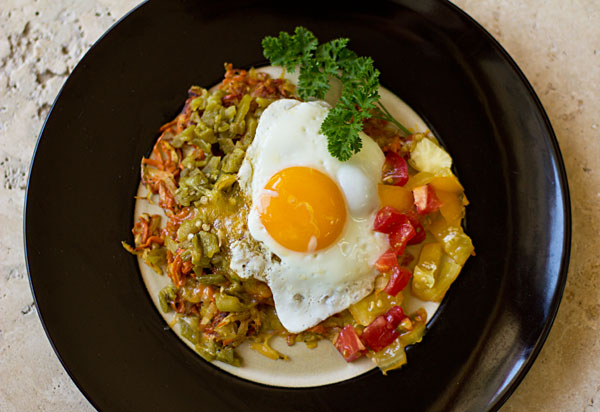 Everybody loves Sunday Brunch whether it's at home or going out. On those Sunday's when you go out, where's you favorite place?  Ours is, and always has been, the Frontier Restaurant in Albuquerque.  It's a funky place occupying half a city block directly across the street from the University of New Mexico. We don't go often because it's very crowded on Sunday mornings, but when the college is on break, it gets slow and relatively quiet – perfect for Sunday brunch. When we go, we invariably get the same things – Bobby gets the Huevos Rancheros with Red (chile sauce) and I get the Western-style hash browns with an egg.  The Huevos include 2 eggs, beans, and red chile on corn tortillas with a freshly made flour tortilla for $6.59.  The Western-Stye hash browns are a LARGE stack of hashed brown potatoes, piled with chopped green chile and cheese, all for the bank busting price of $3.10!  With the egg, tack on another $1.35 for a total of $4.45.  Two delicious, plentiful meals for less than $12 and because it's self-serve, there's no tip.  On the way out, we grab a dozen freshly made flour tortillas, still warm, for $2.99. So if you're ever in Albuquerque and want to get a cheap and delicious New Mexico meal with GOOD chile and a VERY interesting atmosphere, stop by the Frontier.  It will definitely be a meal and an experience to remember. To learn more about the Frontier Restaurant, read Gil's Thrilling (and Filling) review.  He obviously has spent as much time there as I have.
Even though I absolutely LOVE the Frontier's Western-Style Hash browns, they are heavy with the starchy potatoes; therefore, when I make them at home, I try to make them a little healthier.  I substitute part, if not all of the potatoes with sweet potatoes.  The cheese and pile of roasted, chopped green chile?  They stay.  Add the egg, some chopped tomatoes on the side and we've got a tasty, healthy Sunday brunch.
A little something interesting (from Wikipedia):  The first known mention of the term "hashed brown potatoes" was in 1888 by food author Maria Parloa.  Hashed brown potatoes, also called hashed browned potatoes, was later shortened to "hash browns".  The first use of the term "hash browns" was in the pilot episode of the original "The Twilight Zone" in 1959, one of my favorite shows as a kid (actually I still like watching the old black & white reruns).
Green Chile Sweet Potato Hash Browns
Green Chile Sweet Potato Hash browns (Western-Style)
A healthy and hearty breakfast. Makes a great Sunday brunch.
"*" See Kitchen Notes for more information or links to special ingredients.
Ingredients
1

large sweet potato,

washed, scrubbed, and grated

1/2

Tbsp.

butter or margarine

salt and pepper,

to taste

1/2

cup

roasted, chopped green chile*

1/4 to 1/2

cup

cheddar cheese,

grated

2

eggs
Instructions
Heat a skillet (I use a non-stick skillet) over medium heat. Add the butter.

When the butter has melted, add the grated potato and toss to coat with the butter.

Spread the grated potatoes evenly across the skillet.

Sprinkle with salt and pepper.

Cover and cook over medium heat for 4 minutes. Remove lid.

Turn heat up to medium high.

Cook until potatoes are crispy brown on the bottom. Flip.

Continue to cook until the other side of the potatoes are crispy brown.

Reduce the heat and top the potatoes with green chile and cheese. Let sit over a low heat while you cook the eggs.

Cook 2 eggs sunny-side up or over easy*.

Divide the potatoes (with chile and cheese) between two plates. Top each serving with an egg.

Suggested Sides: chopped fresh tomatoes, avocado, or both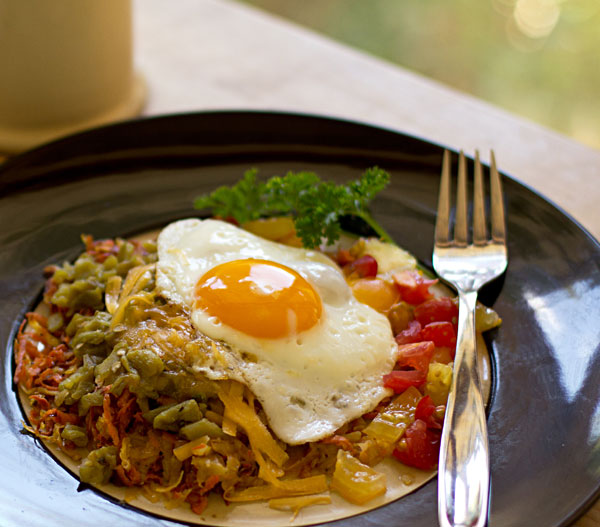 Sunday brunch, Sunday supper or a meal any day of the week, these sweet potato hash browns with green chile are a fast and fabulous option.
For more sweet potato dishes, check out these recipes:
Mashed Sweet Potatoes with Brown Butter and Bourbon
Spicy Orange Roasted Sweet Potatoes
Mashed Sweet Potatoes – Quick and Easy
Massaged Kale and Sweet Potato Salad
Sweet Potato, Fennel and Andouille
These Sweet Potato Hash Browns with Green Chile has been shared with My Meatless Mondays, Clever Chicks Blog Hop , Wonderful Food Wednesday   .