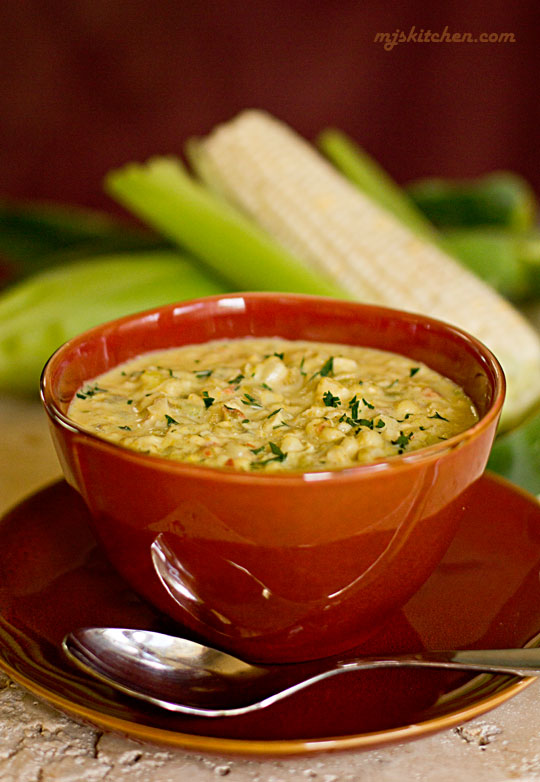 It's hard to believe that it was two years ago when I first talked about calabacitas and introduced you to my Calabacitas Enchiladas.  As much as I make calabacitas in one form or another, I'm surprised I don't have this website full of squash, corn and green chile recipes.  Well, let's fix that shall we.  The other day on my weekly visit to the Nob Hill Growers' Market I picked up some beautiful young leeks, a few yellow squash and some sweet corn (the first I've seen this season).  All I needed now was green chile. July is still a little early for fresh green chile, but I did have some in the freezer.  Therefore, because the cooler weather and rain (finally!), it just felt right to turn such a beautiful bounty into a fresh Calabacitas Chowder.

For this calabacitas chowder, the squash is used as the base by cooking it the way my mother use to cook it, until it is pretty much mush. Once cooked, the squash is pureed with a little water.  The leeks are sauteed in olive oil and added to the pureed squash along with corn and green chile.  A little milk (or milk substitute) and some herbs and spices are added for a delicious sweet and spicy calabacitas chowder.  Top with crumbled bacon or chopped avocado (whichever you prefer), and serve a few tortilla chips on the side.
Calabacitas Chowder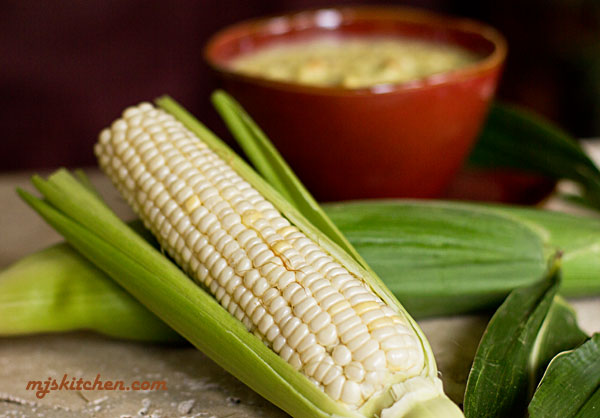 White Sweet Corn from Wagner Farms, Corrales, NM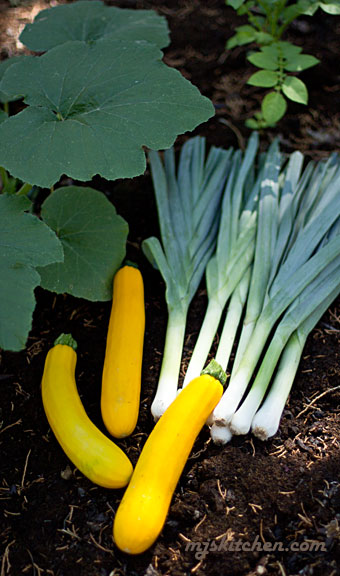 Calabacitas Chowder Recipe
A late summer, early fall chowder made with leeks, summer squash, corn and roasted green chile.
"*" See Kitchen Notes for more information or links to special ingredients.
Cuisine:
New Mexico, Southwestern
Ingredients
Step 1
2

Tbsp.

olive oil

2

medium summer squash (yellow or zucchini),

coarsely chopped

4

large cloves garlic,

chopped

¼

tsp.

cumin-coriander spice mix

2

cups

water and more as needed
Step 2
1

Tbsp.

olive oil

3

young leeks or 1 medium leek,

about 1 cup chopped, whites chopped

2

ears sweet corn,

shucked and cleaned

¼ to ½

cup

roasted, green chile, finely chopped

¼

tsp.

salt

1

cup

half and half or dairy substitute

1

Tbsp.

chopped fresh parsley or cilantro
Toppings (Choose one or two)
Chopped scallions

Chopped cilantro or parsley

Crispy bacon,

crumbled

Chopped Avocado

Grated cheddar or Monterey Jack Cheese
Instructions
Step 1
Heat 2 Tbsp. olive oil in a soup pot over medium heat.

When the oil is hot, add the squash and saute' for about 5 minutes. If squash starts to brown on the edges, reduce heat.

After 5 minutes, add the garlic, reduced heat to medium low and saute' another 5 minutes.

Add 2 cups water and the spice mix. Bring to a boil then reduce to a simmer. Simmer until the squash is translucent, about 10 to 15 minutes.

Transfer to a large bowl (for immersion blender) or to a blender. Blend the squash to a puree'. It should be pretty thick.
Step 2
While the squash is cooking, chopped the leeks and set aside.

Prepare the corn by cutting the kernels off the cobs, then using the back of a knife or a flat edged spoon, scape the cob to extract as much corn and corn milk as possible. Set aside.

Dice the roasted green chile. Set aside.

Once the squash is done and has been transferred into another dish, add 1 Tbsp. oil to the soup pot. When the oil is hot, add the leeks and saute' over a low heat for about 10 minutes or until soft.

Add the corn and saute' 2 minutes.

Add the pureed squash to the leeks and corn. Add another ½ cup liquid. Soup should still be rather thick. Bring to a boil, reduce to a simmer, and cook, stirring frequently for 5 minutes or until the corn is cooked.

Removed from the heat and add the green chile, half and half, and fresh herbs. Stir to combine. If chowder is still too thick, add more liquid ¼ cup at a time, until a desired thickness.

Taste. Add more salt and pepper if needed.

Serve immediately or refrigerate overnight.
To serve, ladle into bowls and top with toppings of choice. Serve with tortilla chips, or warm flour or corn tortillas.
Kitchen Notes
Calabacitas – Calabacitas is a traditional New Mexico early fall dish of summer squashes, corn, and green chile. Some versions add tomatoes and others add cheese.
The Squash – Any summer squash or combination of summer squash can be used.  I prefer yellow squash or one yellow squash and one zucchini.  When cooking the squash, be sure to cook it until it is translucent and soft, and blend it long enough for a nice puree'.  It makes a great base for this soup because it is extremely flavorful and yields a wonderful texture.  If you don't like squash, I can guarantee that you'll still love this dish.  It's not the least bit "squashy".
Corn -Use  fresh corn (cut right off the cob), frozen or canned, whatever you have on hand. Fresh white sweet corn is absolutely delicious!
Green Chile – There is no substitute for New Mexico's roasted, chopped green chile; however, if you can't stand the heat or you don't have green chile, then just roast up a couple of poblanos, or red or green bell pepper.  You won't get the heat with the bell pepper, but the flavor will still be quite good.
Leeks – If you don't have leeks, you can substitute onion or a combination of leeks, onions, shallots, scallions – any of it works.
Cream – Half and half or a milk substitute like almond or soy milk are best.  Anything thicker, like cream or evaporated milk yields too heavy of a chowder.
Toppings – You really don't need much. I usually go for color and texture like some chopped parsley, bacon, and / or chopped avocado. A drizzle of chile infused oil works quite well.
Tortilla chips on the side makes a great complement and like most chowders, can be crumbled on top like crackers.  They add a crunchy texture to this creamy calabacitas chowder.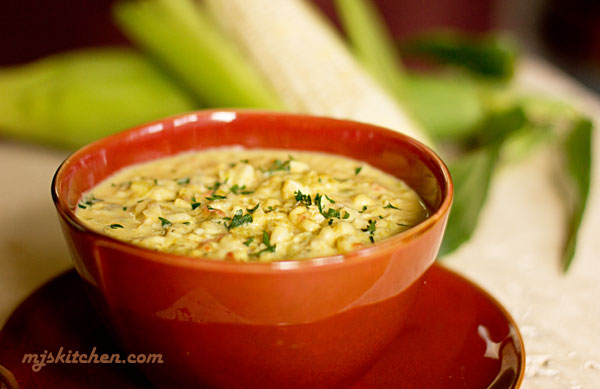 This green chile link will take you to more recipes with green chile.
This squash link will take you to more recipes with squash.
Other Calabacitas dishes: