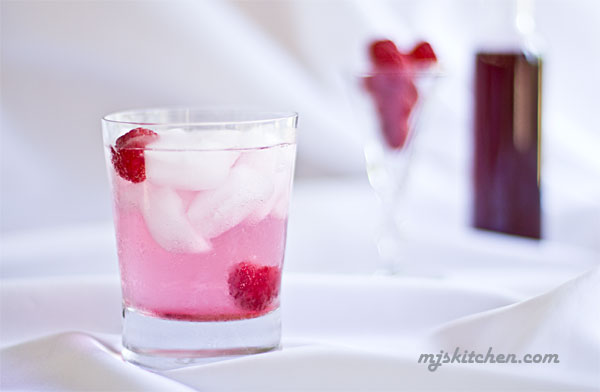 You know how some recipes just never die and we're so glad they didn't? This raspberry vinegar is one of them. It's a raspberry vinegar recipe from 1900 that I found in the New York Times a while back.  It looked so easy to make and, how could it not be good if it's still being made over a century later?  Now that I've made it a few times, I'll probably never use another raspberry vinegar recipe again.
To make this vinegar, raspberries are first macerated in red wine vinegar for 3 days, strained to extract the  juice, then cooked down with some sugar.  Depending on how long you cook it down, you could end up with more of a raspberry syrup that can be poured over ice cream or used for raspberry vinegar sodas. By decreasing the cook time you could make a thinner vinegar that works great in any vinaigrette that you want a little bit of a raspberry flavor.
Below is the original recipe and the adjusted recipe that I used. The original recipe calls for 1 1/2 quarts of raspberries and yields a quart of vinegar. I prefer to make smaller batches, so I adjusted the recipe for 2 cups of raspberries which yields about 1 cup of vinegar. Further along in this post you'll find how just 1 teaspoon of this wonderful vinegar is used to make a refreshing raspberry vinegar soda.
Raspberry Vinegar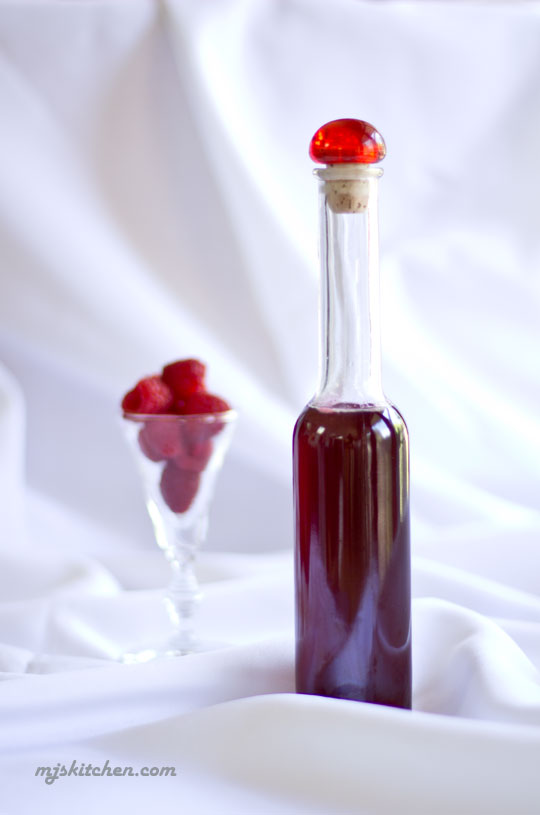 Raspberry Vinegar from a 1900 recipe
Source: Raspberry Vinegar: 1900. Amanda Hesser. New York Times. July 28, 2010. The original recipe make 1 quart. This recipe makes 1 cup.

This recipe requires that the raspberry macerate for 3 days.

"*" See Kitchen Notes for more information or links to special ingredients.
Course:
Condiments, Infused Vinegar/Oil
Ingredients
2

cups

raspberries

1/3

cup

red wine vinegar

1/2

pound

sugar or 1 heaping cup of sugar for 1 cup extracted juice

(2 cups raspberries yields 1 cup juice)
Instructions
In a nonreactive bowl, combine the vinegar and raspberries. Cover and let macerate for 3 days.

After 3 days, mash the raspberries in the bowl, then strain the liquid through a fine-mesh sieve lined with cheesecloth. Twist the cheesecloth into a ball and squeeze to extract as much juice as possible.

To every 1 cup of juice, add ½ pound of sugar. Combine the juice and sugar in a saucepan.

Bring to a boil and simmer (gently!) for 12 - 15 minutes (depending on how thick you want the vinegar to be).

Let cool, then pour into a clean bottle. Keep refrigerated for up to 3 months.
The original recipe used 1 ½ quarts raspberries and 1 cup red wine vinegar. It yielded 1 quart of vinegar.
Kitchen Notes
Proportions – This recipe can be adjusted to any amount of raspberries that you have on hand.  Just use the original ratio of 1 ½ quarts berries : 1 cup red wine vinegar.  For every cup of extracted juice, use 1/2 pound sugar.
Extracting juice – Don't be afraid to make a mess here.  In order to get all of the juice from the macerated berries you must squeeze the cheesecloth as shown in the picture.  Just continue to tighten and squeeze until no more juice can be extracted.
Cook time – With only 1 cup of extracted juice, the 15 minute cook time suggested in the original recipe yields a raspberry syrup rather than a vinegar.  It was an excellent syrup, but almost too thick for a vinaigrette.  It's perfect for some of the suggestions below.  For a thinner vinegar, reduce the cooking time to 10 – 12 minutes. The thinner vinegar can be used the same way as the thicker vinegar, but works better for vinaigrettes.
Suggested Uses
Raspberry Vinegar Float
Raspberry Vinegar Tart
Topping for Vanilla Ice Cream
Syrup for breakfast crepes
Sparkling Raspberry Vinegar Soda (below)
Raspberry Vinaigrette or any vinaigrette
Sparkling Raspberry Vinegar Soda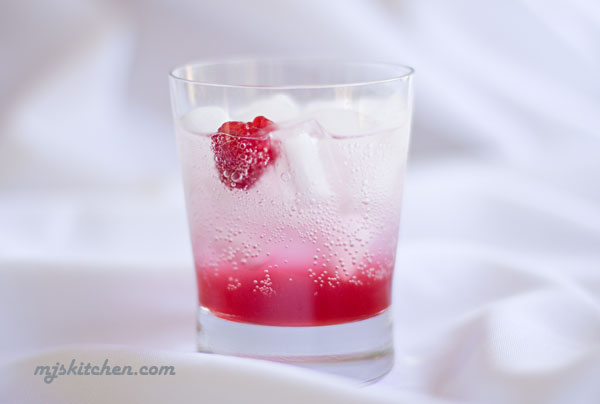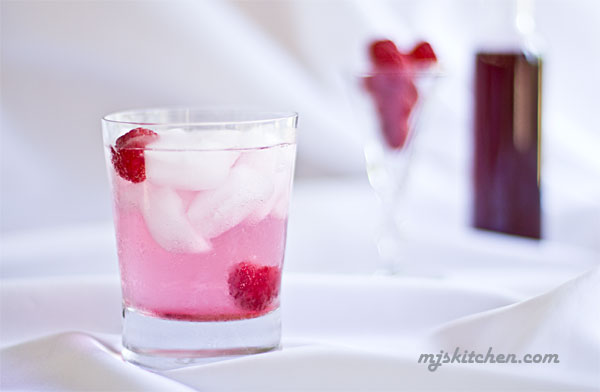 Sparkling Raspberry Vinegar Soda Recipe
A refreshing beverage using raspberry vinegar (See recipe above).

Ingredients
1

tsp.

raspberry vinegar

sparkling water

ice

extra raspberries

(optional)

A few mint leaves or 1 tsp. mint simple syrup

(optional)
Instructions
In an 8 ounce tumbler, add 1 tsp. raspberry vinegar and about 1/4 cup sparkling water.*

Stir to combine.

Add enough ice to fill the glass about halfway.

Fill the glass with sparkling water and add a couple of fresh raspberries and the mint if you want.

Stir and enjoy!
Kitchen Notes
Because the vinegar is rather thick like a syrup, it's easier to blend it in with some soda prior to adding ice.
Hope you enjoy this Raspberry Vinegar and Raspberry Soda as much as we do!
Looking for another way to use raspberries, check out this Mixed Berry Jam and this Raspberry Mole Jam.