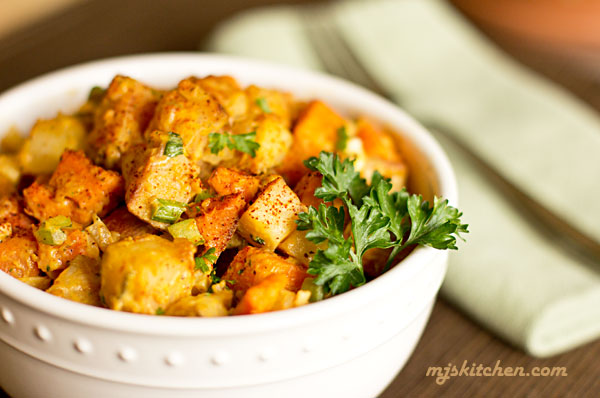 This Roasted Potato Salad was inspired by my mother's homemade sweet pickles.  They were the BEST!  They were perfectly sweet, thick slices of cucumbers with a crispness that everyone in the room heard when you bit into them. The process of making them was long and involved, and something  I should have taken the time to learn over the years, but didn't.  Aside from just eating the pickles right out of the jar, I loved making mayo and sweet pickle sandwiches, and then there was my mama's potato salad.  Those sweet pickles made it! They added a sweetness and crunchiness that I've never been able to duplicate in a potato salad.
Several years ago I gave up on trying to make my mama's salad and started working on one that would be just as good, but different. I've tried to use many of the same ingredients, but threw in a twist with a mix of roasted potatoes. I roast two to three different types of potatoes which provide a depth of flavor, making the potatoes the star of the salad instead of the pickles.  It still has sweet pickles, just not my mama's sweet pickles. 🙂
I've shared this roasted potato salad with Food Writer Friday.  Have you heard of Food Writer Friday (FWF)? FWF is a website authored by Maureen, the Orgasmic Chef and Helene of Masala Herb.   Maureen and Helene have done a beautiful job introducing us to a variety of food writers from all around the globe through engaging, personal interviews.   A few weeks ago I was contacted by Helene about being interviewed. After getting over the surprise of being asked, I accepted, and was sent some questions and requests. One of those requests was for a recipe from my childhood.  I figured that this roasted potato salad recipe did fit the request, because even though it's not my mama's potato salad, she definitely inspired it as she has many of my recipes.  To read the interview, click on over to Food Writer Friday.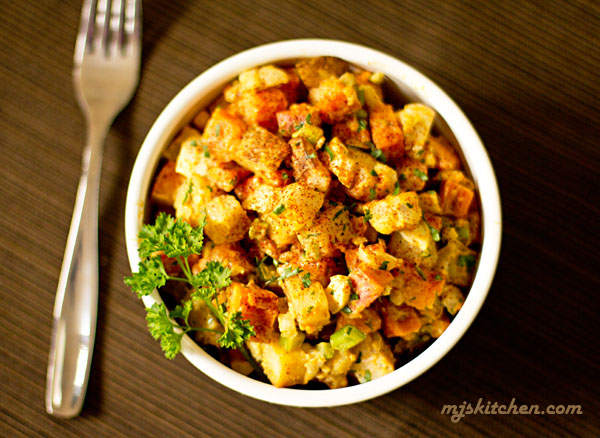 [print_this]
Mixed Roasted Potato Salad Recipe
Serves:  4
Prep and Cook Time: less than an hour (then chilled for at least 4 hours)
Recipe Author: MJ of MJ's Kitchen
Ingredients
1 – 1 ½ pound of mixed potatoes (sweet potato, russet, red, purple) – scrubbed and cut into ½ inch (1.25 cm) pieces
2 Tbsp. oil (chile infused if you have it)
Salt and pepper
½ cup onion, diced
1 large celery stalk, diced
3 Tbsp. sweet pickle relish
2 hardboiled eggs (separate after cooking. Use the cooked yokes in the dressing.)
¼ tsp. smoked paprika
¼ tsp. chile powder (Ancho, sweet paprika or New Mexico red)
½ tsp. dried tarragon, crumbled
½ tsp. dried dill weed
Fresh parsley (add before serving)
Dressing
2 cooked egg yolks from the hard boiled eggs
1 tsp. Dijon
2 heaping Tbsp. mayonnaise
Juice from ½ lemon
Instructions
You can roast the potatoes in the oven or on the stovetop.  The directions for both methods are below.
 
Roasting the potatoes on stovetop (One to two batches depending on the size of your skillet)
Add 1 Tbsp. oil to large skillet over medium low heat.
When hot, add half of the potatoes. Sprinkle with salt and pepper. Toss to coat.
Spread the potatoes out into one layer. Cover and cook 5 minutes.
Flip the potatoes over, spread into one layer, cover and cook 5 minutes.
Increase heat to medium, flip potatoes again, cover and cook another 5 minutes.
Check one of the larger pieces to see if they are done.
Cook for another 2 to 5 minutes, uncovered, until done nicely toasted.
Transfer to mixing bowl and repeat with the other half of the potatoes.
Roasting the potatoes in the oven
Preheat oven to 400° F.
Place the cut potatoes in a large oven dish. Drizzle with 2 Tbsp. oil and salt and pepper. Mix well to coat the pieces.
Roast in oven about 35 to 40 minutes until tender and brown.
The dressing and assembly
Mash the yolks with a fork.
Mix in the other ingredients and whisk until smooth.
Put all ingredients including the dressing in a large bowl and combine well.
Taste. Add more salt and pepper if needed.
Refrigerate at least 4 hours before serving.
Right before serving, stir in the parsley.
[/print_this]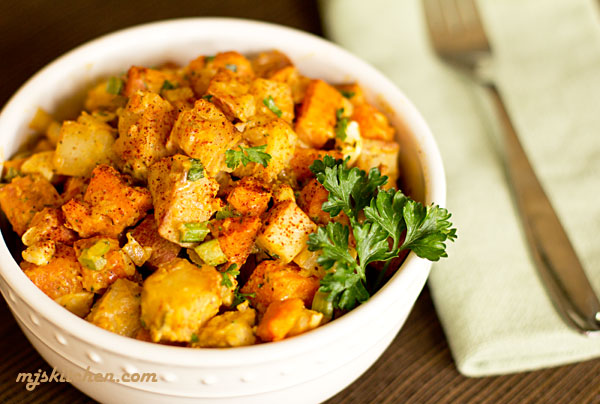 Kitchen Notes
The Potatoes – This roasted potato salad is made with a mix of potatoes; however, you could just use one type of potato if desired. I personally love the mix for the different flavors and textures you get.
The Chile Powders – The amount of chile powders used in this recipe is relatively minimal.  For a spicier salad, add more.  The chile powder also affects the taste of the salad. I don't recommend smoked chiles such as chipotle. They tend to overpower the flavor of the potatoes.
The Pickle Relish – Chopped sweet pickles, sour pickles or a mix are good substitutes for the sweet pickle relish.
This Roasted Potato Salad was featured on Fetish Worthy Food.