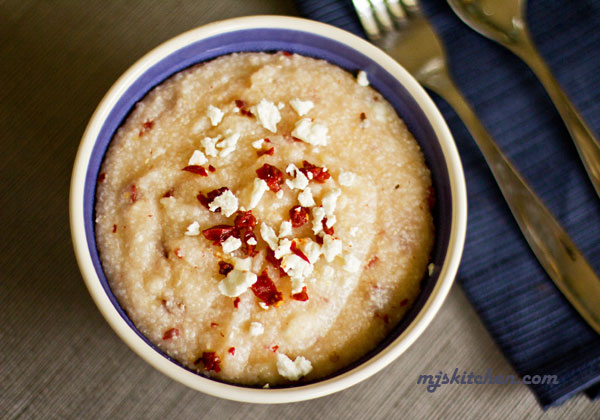 Before I tell you how chipotle peppers ended up in grits, I have a question for you. What are three things that you absolutely can not run out of?  Running out of any one of these three things would be devastating.  Do you have them?  I would be willing to bet that the first item is toilet paper. No one wants to run out of toilet paper and believe me, having used the pages of a Sears catalog when I was a kid visiting the grandparents, toilet paper has no substitute. 🙂  O.K. so TP is number one.  What about the next two items?  In this house those items are milk and green chile.  Well, guess what I ran out of a couple of weeks ago?  Green chile!!! Yep – you read it right. I ran out of green chile.
I was planning on making Grits and Green Chile and had already started the grits, when I went to pull some green chile from the freezer. There was none to be found.  UGH!  So what's a girl to do?  You know how it is – once your family expects one thing, you better come up with something just as good if not better. Rummaging through the pantry I found a can of chipotle peppers in adobo sauce, so decided to give them a try in place of the green chile.  Instead of cheddar cheese, I went with feta which turned out to be the right decision.  What a delicious bowl of chipotle grits!!!  I'm not going to say that chipotle grits with feta was better than grits and green chile, but it certainly turned out to be a fabulous substitute.  We've had it twice since and I still haven't bought any green chile. I think that might convince you as to how good this is.
So for those of you who have wanted to try my Grits and Green Chile but have no access to New Mexico's wonderful green chile, here is a great alternative.  Of course the flavor is completely different because there is a huge difference between green chile and chipotle; however, the combination of chipotle and feta transformed a simple bowl of grits into a creamy, spicy, and smokey breakfast that was thoroughly enjoyed by all.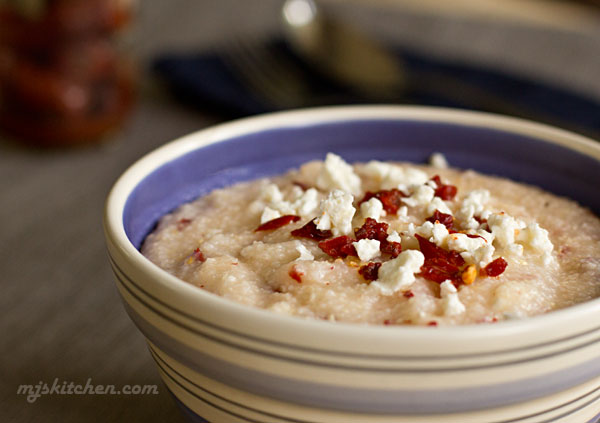 [print_this]
Chipotle Grits with Feta Cheese
Serves 2 to 3
Prep and cook time: 15 minutes
Ingredients
3 cups water
1/4 tsp. salt
3/4 cup quick-cooking grits (not instant!)
1 to 2 chipotle peppers in adobo sauce, minced (the amount depends on the heat of the chipotle and how much heat you want)
1/4 cup feta cheese, crumbled
1 overeasy or sunnyside up egg per person (optional)
Instructions
Bring the water with salt to a boil.
SLOWLY whisk in the grits. Reduce heat to low and cover. Whisk every 1 minute for 5 minutes to keep the grits from lumping.
Once the grits have thickened (after about 5 minutes), stir in the chipotle. Cook for another 1 minute.
Add the feta cheese and stir.
Remove from heat and pour into bowls.
If desired, top each bowl of grits with a fried egg.
Enjoy!
[/print_this]
Kitchen Notes
Grits – If you're not familiar with grits, then you might want to read What are Grits? in the Grits and Green Chile post to learn more.  If you don't have grits, then a coarse ground yellow cornmeal, normally used for polenta, can be used instead.
To increase or decrease the amount of grits, just maintain the ratio of 1/4 cup grits to 1 cup water.
The chile pepper – If you don't have chipotle peppers in adobo sauce, but you do have New Mexico green chile, then make my Grits and Green Chile instead.  You can even use feta. That works great with green chile.
The feta  – We really liked the feta with the chipotle and even when we made this a second and third time, I still used feta.  It was just SO good.  I'm sure another cheese would work, like cheddar or Monterey Jack, so don't hesitate to substitute whatever you have in the fridge.
An egg on top – Bobby loves a fried egg on top of his grits. Me…not so much.  If you find the grits too spicy, then you might want to add an egg. It can help to calm the heat.
I can promise you, even if you say "I don't like grits", you are going to LOVE grits with chipotle and feta!
These Chipotle Grits with Feta has been shared with the following blog hops: Fat Tuesday  .