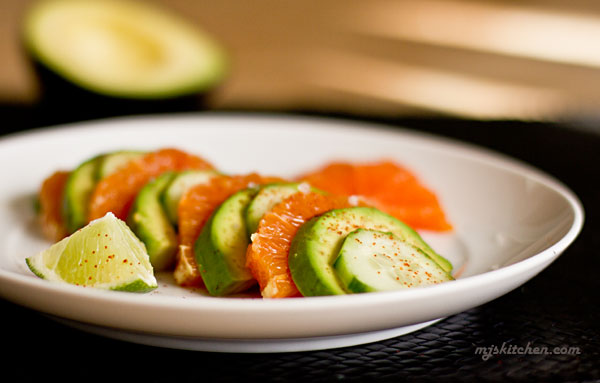 I don't remember when I discovered that a dinner salad could be more than iceberg lettuce and bottled dressing, but WHEW- I'm so glad I finally did!  Of course I do have to say that there was a time when iceberg lettuce was the only lettuce you could find at the grocer, thus its past popularity.  But now let's ponder this question.  Does a dinner salad really have to have lettuce at all? Actually – No.
A dinner salad can be just about anything you want it to be. It can be made with just a few ingredients or a whole host of ingredients, none of which are lettuce. The main thing I enjoy about making a salad is incorporating different textures and flavors, and – in my opinion – the fewer the better. This avocado, orange, cucumber salad is representative of the type of salad that Bobby and I love to eat. It only has three main ingredients – avocado, orange, cucumber, and the dressing (if you can call it that) is a little lime juice, some sea salt and a dusting of red chile powder.  It's a refreshing little salad that makes a great brunch, lunch or side at dinnertime.
Avocado, Orange, Cucumber Salad
Recipe Author:  MJ of MJ's Kitchen
Serves 2
Prep time: 15 minutes
Ingredients
Ingredients should be chilled before slicing.
1 avocado, halved and sliced horizontally
1 orange, peeled, halved vertically, sliced horizontally
½ cucumber, peeled, sliced
¼ lime, cut in half
Sea salt
Red chile powder
Instructions
Divide the cucumber, orange and avocado between two plates, alternating the pieces.
Squeeze lime juice over each salad and sprinkle with sea salt and red pepper.
Serve chilled.
[/print_this]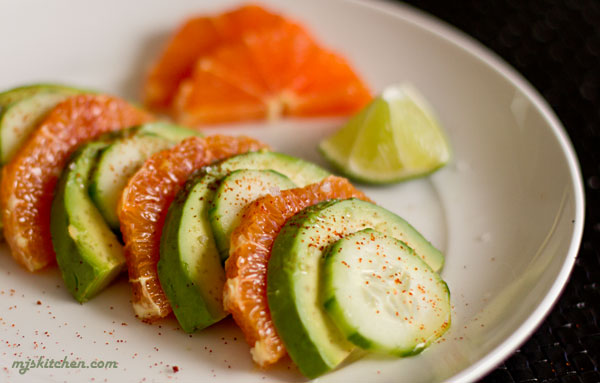 Kitchen Notes
The orange – I used Cara Cara orange because they are my favorite orange and I try to eat as many of them as I can this time of year. They are SO good. However, you can use any sweet and tasty orange.  And speaking of oranges, if you missed Anne's delicious Orange Brown Butter Tart, be sure to check it out. Another fabulous dish for all of the oranges on the market this time of year.
The red chile powder – Use whatever you have in the pantry – cayenne, ancho, NM red chile, chipotle, paprika. You only need a little bit – just enough for a touch of spicy, smokey flavor. Of course you know that I used New Mexico red chile powder, but I've also made it with smoked paprika and chipotle powder. All were excellent.
Serving suggestions – We had this salad as a side for my Swiss Chard Leek Quiche, and then again with a spicy pork loin. It went great with both dishes.  I've always found that citrus, and of course avocado, make a great side for spicy dishes; therefore, this would be a great salad for enchiladas, chili, or a spicy sandwich.
Similar salads to this avocado, orange, cucumber salad:
Avocado and Cucumber rolls @ DC in Style.
Citrus Salad with Spicy Pepitas
This Avocado, Orange, Cucumber Salad has been shared with Made w/ Love Mondays  .