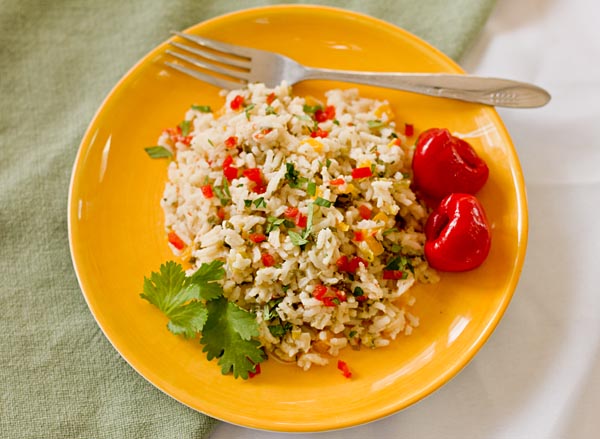 Some of the leftovers from Thanksgiving were a few pickled cherry bomb peppers. I had intended to put them on a relish tray with olives and marinated feta but totally forgot about the relish tray. A minor holiday mishap. The other night when I was making coconut rice, I decided to throw a couple of the peppers into the rice at the last minute. WOW! Coconut rice just got taken to a whole new level!
My coconut rice recipe has always been a few diced vegetables and rice cooked up in coconut milk and finished off with lime juice and cilantro.  For this recipe, I replaced the lime juice with minced pickled peppers.  Bobby and I both agreed this was the best coconut rice I had ever made.  It's a very easy rice dish to make because everything gets thrown into the pan and cooked. In 20 minutes, you have a delicious little rice and vegetable dish and a very festive looking dish at that.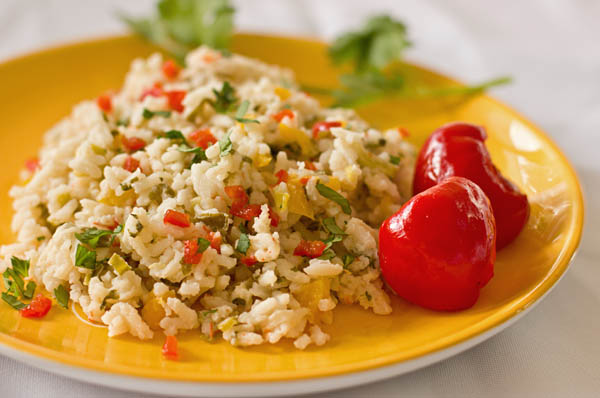 [print_this]
Coconut Rice with Pickled Peppers Recipe
Recipe Author:  MJ of MJ's Kitchen
Servings: 4
Prep Time and Cook time:  30 minutes
Ingredients
1 1/2 cups or 1 can coconut milk
2 Tbsp. fish sauce (optional)
Water
¼ tsp. salt
1 bunch green onions, whites and green tops, chopped
½ sweet pepper, chopped (red, yellow or orange)
1 stalk celery, sliced thin
1 cup white rice (I use Jasmine)
2 Tbsp. pickled peppers, minced
2 Tbsp. cilantro or parsley, chopped
Instructions
In a medium sauce pan or your standard rice pan, combine the coconut milk, fish sauce, and enough water to make 2 cups of liquid.  Whisk together until a smooth consistency.  This is necessary if you use a coconut milk with a high fat content. (See Kitchen Notes)
Add the green onions, sweet peppers, celery, and salt.
Cover and bring to a boil.
Add the rice; stir briefly; reduce heat for a simmer and cover.
Cook 15 to 20 minutes until liquid is absorbed and rice is done.
Remove from heat and stir in the cilantro and pickled peppers.
Taste and add more salt to fit your taste.
Serve.
[/print_this]
Kitchen Notes
Coconut milk – The coconut milk that I use is closer to what some people call coconut cream.  It has a 22% fat content.  You could use a coconut milk that is lower in fat if desired.  To learn more about the difference types of coconut milk, check out How to Buy Coconut Milk @Wok With Ray.
The pickled peppers – As you can see in the picture, the pickled peppers I used were the sweet and spicy cherry bomb peppers. However, you could also use almost any type of pickled pepper such as pickled jalapeno or Peperoncini peppers, with each yielding a different overall flavor to the dish.
Why "pickled" peppers?  I like a little acid in coconut rice to cut the sweetness of the coconut. That's why I always add lime. The vinegar of the pickled pepper supplied the acid.
Green Onion (Scallions) – If you don't have green onion, do not fear. Regular onion works great.  Just replace the green onion with 1 cup diced onion.
The fish sauce – If you are vegan or vegetarian, omit the fish sauce of course. Also, I know a lot people that don't keep fish sauce in their fridge, so if you don't have any, just leave it out. The dish will still be quite delicious.
This coconut rice is a perfect side dish for grilled soy ginger chicken.
This Coconut Rice with Pickled Peppers has been shared with the following blog hops. Gluten-Free Fridays, Weekend Potluck, Made With Love Monday  .