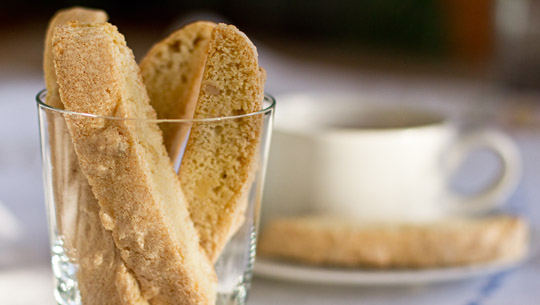 I made cookies!! Biscotti no less – pinon biscotti to be exact. This may not seem like a big deal but for me, it is a big deal.  I can count on one hand the number of times I have made cookies in the past 25 years!
I was inspired to not only make cookies, but to develop a cookie recipe when Anne of A Salad for All Seasons invited me to take part in a very special event called Pass the Plate.  Sharon & Denise of  Be Betsy, were inspired by Kitchenaid's Cook for the Cure® to join the fight against breast cancer.  They purchased a plate specially designed by Jacques Pepin.  The plate is filled with cookies and literally passed from blogger to blogger.  Each time the plate reaches a new destination, Kitchenaid donates $5 to Susan G. Komen for the Cure®.  Last week I became the proud recipient of these absolutely delicious Ginger Chili Caramel Cookies that Anne made just for me (although I did share a few with Bobby).  Sweet and spicy – one of my favorite flavor combinations!  Thank you Anne for the perfect cookie!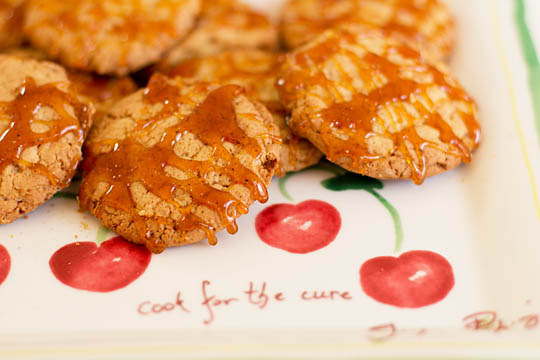 Now for the pinon biscotti!
Pinon Biscotti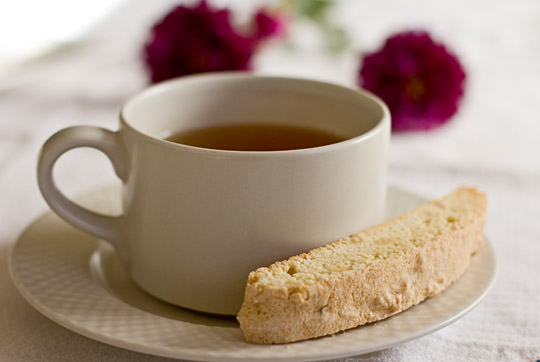 Whenever we can, Bobby and I take a break from work and have afternoon tea and cookies.  One of the perks of working from home. 🙂  Biscotti are our favorite cookies because we love to dip.  In the past I have always bought them, but the past is the past. Last weekend I made biscotti for the first time. I was so thrilled with the results that I had to make another batch just to make sure it wasn't beginner's luck.  The second batch was as good as the first.
Now for the recipe. As I mentioned before, these are pinon biscotti. What I didn't mention is that they have a hint of lavender that makes them extra special. I hope you enjoy them.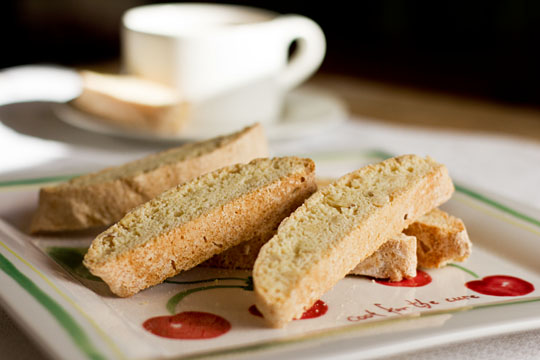 Pinon Biscotti Recipe
A wonderful little cookie that goes great with your afternoon or evening tea.
"*" See Kitchen Notes for more information or links to special ingredients.
Course:
Cookies, Dessert, Snack
Ingredients
2 ¼

cup

sifted unbleached AP flour

½

tsp.

salt

1

tsp.

baking powder

¼

tsp.

dried lavender*,

crush between fingers

½

cup

pinon nuts

(pine nuts)

3

eggs

1

cup

sugar

½

tsp.

vanilla extract

2

Tbsp.

butter*,

softened (add if you prefer your biscotti less crispy)
Instructions
Preheat oven to 350° F*.


In bowl whisk together the flour, salt and baking powder. Add the lavender by crushing it between your fingers into the dry mixture. Whisk to incorporate. Stir in the pinon nuts.

In a larger bowl, beat together the eggs and sugar (and butter, if using) until a light yellow color. Add the vanilla extract and blend in.

Add the dry ingredients to the wet ingredients, a little at a time, and fold until a dough forms.

Divide the dough in half and place each half at least 2 inches apart, onto a parchment lined baking sheet. Using lightly flour-dusted hands, shape the dough into logs about 12 inches long by 3 inches wide, by 1 inch high. (These are NOT exact measurements.)

Place baking sheet with cookie logs in oven and bake for 15 minutes. Turn and bake another 10 - 15 minutes or until top of dough is crusty and firm to the touch.

Remove from the oven and reduce oven temperature to 325° F. Transfer cookie logs to a cutting board. Let cool 5 minutes.

Using a serrated knife and cutting motion, cut the logs on a diagonal into 3/4 inch wide pieces. Transfer the cut pieces back to the baking sheet or cookie sheet (will take 2 sheets), cut side down.

Bake for 8 minutes. Turn each cookie over to the other cut side and bake for another 8 minutes.

Transfer to cooling rack to cool. Store in an airtight container.
Kitchen Notes
As the references for this recipe, I studied the biscotti recipes in Cook's Illustrated and the Double Chocolate Pecan biscotti recipe and high altitude baking instructions in the cookbook Pie In the Sky.
Lavender – I decided to add a little lavender because we have some wonderful local lavender at an organic lavender farm called Los Poblanos in the north valley. In the early summer it has fields and fields of beautiful blooming lavender. In July it holds a Lavender Festival and features all types of goodies and classes about lavender.
Butter vs. no butter – Since I had never made biscotti before, I did quite a bit of research and found some recipes with butter and some without. For example, The Pie In The Sky recipe had butter and 3 eggs, while the Cook's Illustrated recipe had no butter and 2 eggs. Apparently, it's the fat content that controls the crispiness – too little fat and the biscotti gets too crispy and too much fat they are too soft. I decided to split the difference between these two and omit the butter altogether and use 3 eggs.  The result were crispy, but not tooth cracking biscotti. I preferred them this way because I always dip them in my tea anyway. Bobby preferred them a little less crispy.
In the third batch, I blended in 2 Tbsp. softened butter with the eggs and sugar. The result was a less crispy biscotto that stayed "soft" for several days. Bobby prefer these. I preferred them crispier. So there you go – for more crispy, omit the butter; for less crispy and more cookie like, add butter.
Second baking time – The first time I made these I did an experiment with the second baking. Actually, the whole thing was an experiment. Anyway, I divided the cut cookies into two batches. The first batch I baked 7 minutes per side. The second batch I baked 9 minutes per side. The 7 minute batch was a touch gummy in the center and the 9 minute batch was pretty crispy. Knowing that they would get even more crispy from day to day, I felt that 9 minutes was too long. When I made these again, I did 8 minutes per side on the second bake and they were "just right".  They still get a little crispier after a few days, but they are dipping cookies, so just serve them with a nice hot cup of tea.
Oven Temperature – Pie In the Sky recommended an oven temperature of 350° F for any place over 3000 feet in elevation and 325° F for the second baking.  At sea level, the recommended oven temperatures were 325° F and 275° F, respectively but a minute or two longer on the cooking time. So keep that in mind if you live at sea level.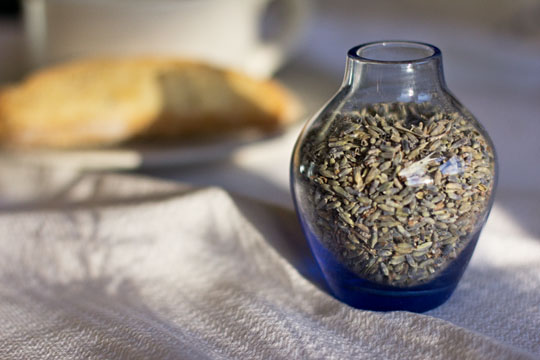 Dipped in chocolate (didn't work) – Bobby was curious to see how they tasted dipped in chocolate so we gave it a try.  We both agreed that the chocolate overpowered the original flavors, so that idea got trashed.  Sometimes you just need to leave well enough alone.
The brave recipient of this plate of pinon biscotti is Biren of Roti n Rice, a beautiful blog packed with unique and traditional Malaysian, Indian and Asian recipes. Biren takes you into some very exotic places through her delicious food! Now she has extended her talents into Tea Tattler where you are introduced to her love of tea, her incredible collection of teapots and tea cups, and various tea treats.  So please visit both of Biren's websites. You'll love what you find!