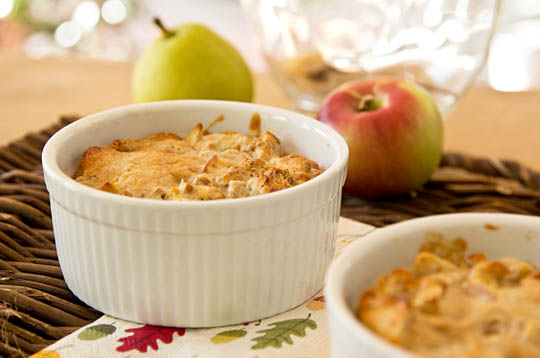 My absolutely favorite dessert is my mama's southern peach cobbler.  It is SO easy to make and you can use any fruit that is in season or that you have in the freezer (it's just that peach is the best :)). I'm calling it "classic" because it is one of those recipes that goes back several generations. My southern grandmother made it and I'm sure she got the recipe from her mom.  My mother made it all of the time and I am continuing with the tradition.  I call it "southern" but a friend of mine that was born and raised in New Mexico by native New Mexican parents has used the same recipe all of her life as well. So go figure.  It's obviously made and loved by a lot of people.
The only problem with the recipe is that it makes enough for 6 people. Since it's just the two of us, that means Bobby eats two servings and I eat the rest. 🙂 I have no willpower when it comes to this cobbler. If it's sitting on the counter, I'll take a bite every single time I walk through the kitchen.  Before you know it, it's gone.  In an effort to be good, I decided to experiment with the recipe, by cutting back on the quantity as well as the fat and sugar.  The result was excellent!  The first time I made these individual servings I used a Bosc pear. The next time, I added a small Winesap apple with the pear.  Both versions were delicious and very easy to throw together. Bobby and I each got one serving with no tempting leftovers. It was perfect.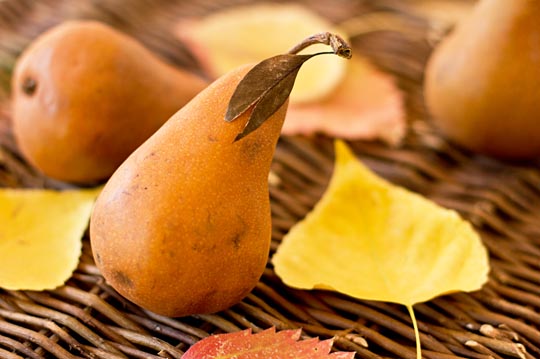 [print_this]
Pear Apple Cobbler for Two Recipe
Prep and Cook time:  60 minutes
Serves 2 (will need two ramekins)
Ingredients
½ Tbsp. butter
¼ cup flour
½ tsp. baking powder
1/8 tsp. salt
1/8 tsp. cardamom
¼ cup milk
1 Tbsp. maple syrup
1 firm pear, cored and chopped (peeling is optional)
1 small tart apple, chopped (e.g., winesap)
1 Tbsp. pecans, minced
A little maple syrup for the drizzle
Instructions
Preheat oven to 350° F.
Cut the butter in half and place a piece in each of the ramekins. Heat in the oven until melted. Be careful not to let the butter burn.
Combine the dry ingredients in a bowl (flour, baking powder, salt, cardamom).
Stir together the milk and maple syrup then stir into dry ingredients to just combine. Add the fruit and pecans and stir to coat. Be careful not to over stir or you'll kill the baking powder.
Divide the batter between the two ramekins.
Bake for 35 to 40 minutes or until golden brown.*
Serve with a drizzle of maple syrup or a scoop of ice cream.
*I used a convection oven, so for standard bake you might need to add 5 to 10 minutes.
[/print_this]
Kitchen Notes
The sweetener – I substituted 1 Tbsp. maple syrup for what would have been 1/4 cup sugar from the original recipe. I was amazed that 1 tablespoon of maple syrup provided plenty of sweetness to this little cobbler.
The pecans – These were a really nice touch.  If you can't find pecans, I'm sure walnuts would be great as well.
The fruit – I used pears and apples because that's what is in season right now. But you could use any fruit you want.
The topping – A drizzle of maple syrup on the top of the cooked cobblers was a nice touch. You could also top this cobbler with whipped cream or ice cream of course.
For four servings just double the recipe.  For six servings or more, I'd recommend making the classic cobbler below.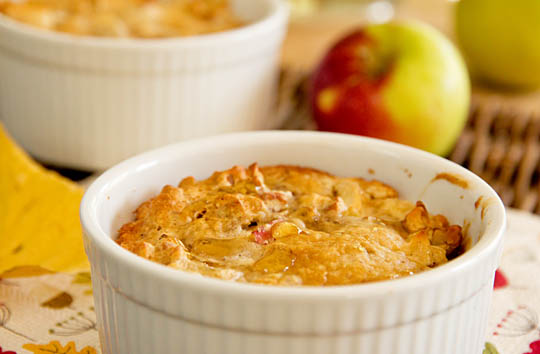 [print_this]
Southern Fruit Cobbler Recipe
Prep and Cook time: 1 to 1.25 hours
Serves 6
Ingredients
1 stick (1/2 cup) butter (I always cut this in half: 1/4 cup or 1/2 stick)
1 cup flour (Many recipes call for self-rising and no baking powder or salt)
1 Tbsp. baking powder
1/4 tsp. salt
1 cup sugar
1/2 tsp. spice (cinnamon, cardamom, ginger – whichever you want)
1 cup milk
3-4 cups fruit (fresh, frozen, canned)
Instructions
Preheat oven to 350°
While oven is heating, place butter in a casserole dish and place in oven. Remove from oven when melted.  Be careful not to let the butter burn.
In a mixing bowl combine flour, sugar, baking power, spice, and salt.
Add milk. Stir until ingredients are combined. Do not over stir.
Pour mixture into casserole dish over melted butter. Do not stir.
Spread fruit on top of the mixture.
Bake in oven for 50 to 60 minutes or until the crust is crispy brown.
Serve with vanilla ice cream or nothing at all.
[/print_this]
There are several variation of this cobbler, but this is the version we've always enjoyed. My favorite fruits for this cobbler are peach, rhubarb, strawberry-rhubarb, blueberry, mixed berry, apple, and apple-pear.  Am I missing anything? 🙂
For a step-by-step guide to the classic southern cobbler, check out Mama's Strawberry Cobbler.
This Pear Apple Cobbler Recipe has been shared with the following blog hops.  Be sure to click on the links for more delicious recipes!
Mix It Up Monday, Melt In Your Mouth Monday, Bizzy's Recipe Box, Totally Tasty Tuesday, Slightly Indulgent Tuesday, Heath and Soul, Weekend Potluck