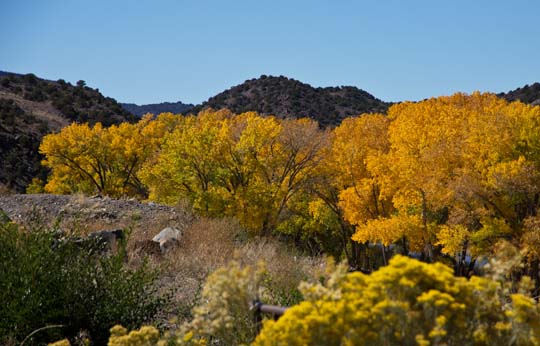 A Drive along the Rio Grande
One of our annual fall trips is to take a drive along the Rio Grande.  By mid to late October the cottonwoods are at their peak and absolutely gorgeous.  We stop next to the river and set up a picnic to enjoy under a canopy of yellow leaves.  Our picnic lunch consists of cheese, summer sausage, New Mexico fall apples and local bread.  During the loop home, we venture off on side trips depending on mood, always keeping an eye out for a farmer's produce stand.
I hope you enjoy some of the beauty of the northern Rio Grande Valley here in New Mexico during the fall.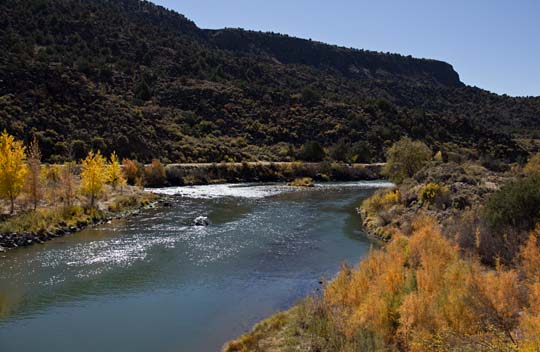 This time of year, unless we've had a lot of rain, the river is usually quite low.  The year that this picture was taken we were in a drought and had had very little snowfall the previous winter.  These conditions led to a lower than normal amount of flow.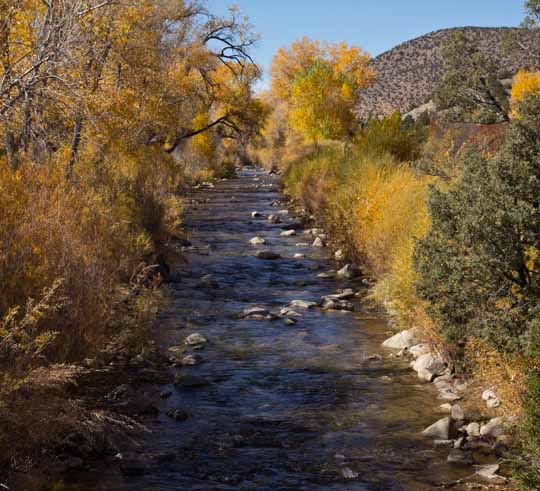 Rio Embudo – a small tributary that flows into the Rio Grande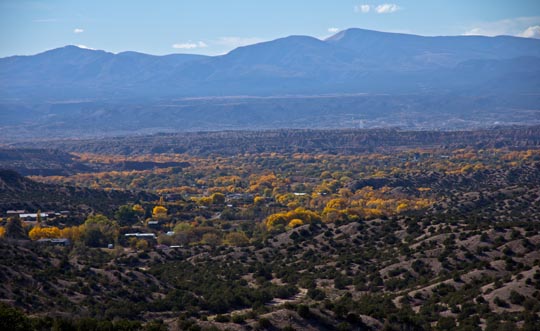 Driving into Chimayo, New Mexico
Chimayo is a small village north or Santa Fe, home to the El Santuario de Chimayo, a Catholic mission and also a National Historic Landmark. It is a contemporary pilgrimage site and is considered "the most important Catholic pilgrimage center in the United States".  If you ever find yourself hungry in Chimayo, be sure to stop and have a meal at Rancho de Chimayo, winner of the 2016 James Beard's Foundation American Classic Award.

Heading down from Chimayo along a dirt road, one is provided with this beautiful view of the Truchas mountains and Pecos Baldy to the south (right).  This is a beautiful view of the mountains but the views from the tops of those peaks are even more breathtaking!
During the drive we usually do find a few roadside stands where we purchase local apples, pumpkins, winter squash, and dried red chiles.  I do love the dried red chile from northern New Mexico.
Hope you enjoyed seeing of little of northern New Mexico, specifically the Rio Grande valley in the fall.  Now you know a little more of why New Mexico is called the Land of Enchantment.