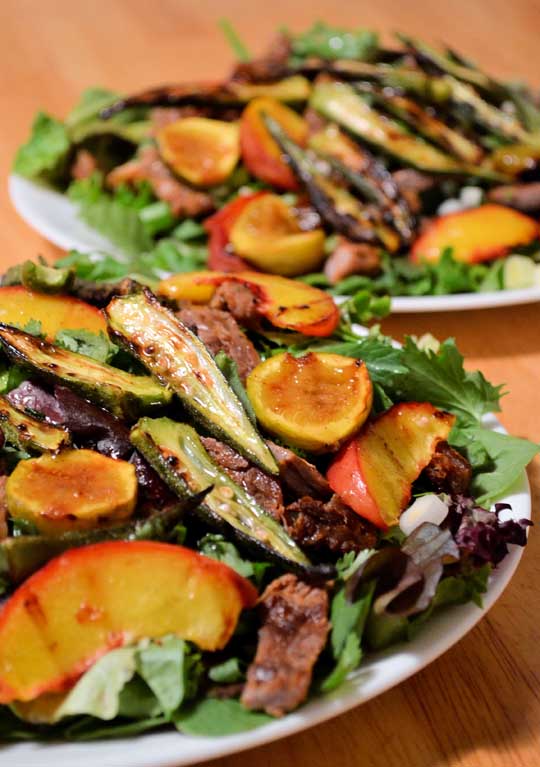 Due to a kitchen remodel I'll be without a kitchen for another 2 weeks, so I've asked some friends to keep my virtual kitchen going with some of their fabulous recipes. Today I have someone that I have known and loved all of my life – my sister, Nadalyn. This is the sister who inspired me with my Chunky Gazpacho that I posted a while back.  Nadalyn and I have always been very close even though we have lived more than 1000 miles apart most of our lives.  We both have a passion for food (I think that's a family gene), we love to cook, and have cooked nightly for our families most of our lives.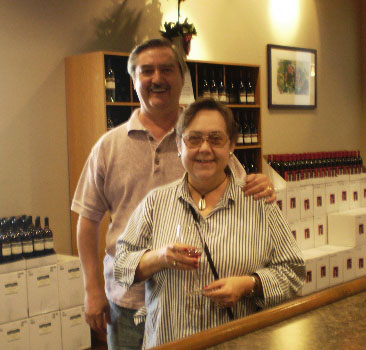 When Nadalyn accepted my invitation to share a recipe I asked her to do something with okra, something she cooks quite often when she can find it fresh.  I don't cook okra because neither Bobby nor I like it, but I do know that a lot of my readers like okra, so I wanted to have at least one okra recipe in my kitchen.  I do have to admit, that after seeing her recipe it makes me want to grill up some okra!  So without further ado, here's my lovely sister.

Nadalyn:
One of the best parts about summer in the Deep South is the late summer fruits and vegetables; okra, figs, and peaches being three of my favorites. Everyone loves peaches, but not as many people love figs, and hardly anyone outside the South loves okra. This much maligned vegetable is one of our favorites. With okra it's all about how it's cooked. Most people think of it as slimy and hard to swallow. Some have had it fried and others may be aware of it as a primary ingredient in gumbo.
I remember as a child dreading the meals when Mama would cook okra because I knew that Daddy's rule was that we had to eat some of everything Mama put on the table, and that included the okra. Sometimes I would still be sitting at the table an hour after everyone else had left trying to fight back the gag reflex every time I put a piece of that slimy substance in my mouth. Finally, Mama would sneak into the kitchen and finish off the rest for me, God Bless Her. Somewhere along the line, I think it was in college where if you didn't eat what was there then you didn't eat anything, that I learned to eat okra. In the dining hall the okra was fried crisp in cornmeal. Yummy! I still remember the first time Mama and Daddy came to eat with me in the cafeteria. When I took a serving of fried okra I heard Mama warn Daddy not to say anything. Later I found out that he was going to harass me about finally eating okra.
Now days we have found all kinds of ways to cook okra so that there is no slime and you get to enjoy the delicious flavor of the vegetable. For this recipe and for your okra enjoying pleasure later on there are other ways to cook the okra. In the pictures I show it grilled, but you can also prepare it the same way then cook it on a cookie sheet in the oven. More in the Kitchen Notes about this. This salad, which is a full meal, is loosely adapted from a recipe in the June 2012 issue of Country Living magazine. It is extremely versatile and I hope you not only enjoy it as is but also adapt it for your own likes and dislikes.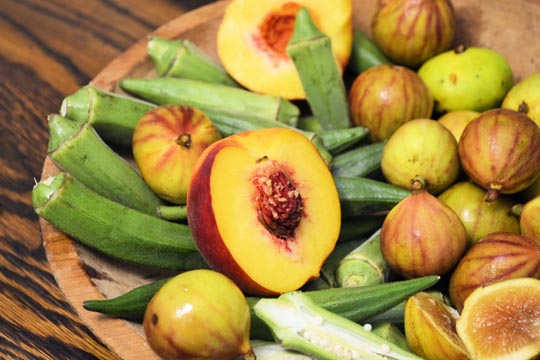 [print_this]
Grilled Meat and Late Summer Vegetable Salad Recipe
This salad is loosely adapted from the "Mizuna with Pan-Seared Duck and Mango" salad in the June 2012 issue of Country Living recipe.
Yields:  2 large portions
Ingredients
½ lb marinated grilled flank steak or fajita meat or grilled game meat (see cooking notes)
8 to 10 okra pods sliced in half lengthwise
6 firm figs halved lengthwise
1 firm peach cut in vertical slices about ½ inch thick
1 tbsp. of olive oil
2 scallions sliced in ¼ inch slices bulbs and green parts
Fresh mixed spring salad greens or a herb salad green mix (these can be purchased in bags in the market)
¼ cup of chopped cilantro
¼ cup of roasted nuts such as almonds, pecans, or walnuts
Dressing:
Juice of 1 lime (if the limes are small use 1 ½)
1 heaping tsp. ground coriander
½ tsp. Salt
½ tsp. fresh ground black pepper
1 tbsp. honey
¼ cup extra virgin olive oil
Instructions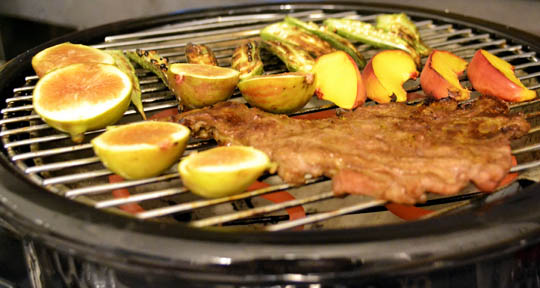 Preheat the grill or hibachi.
Begin cooking the meat on the grill.
Drizzle the okra, figs, and peach slices with olive oil and place on the grill. The okra should cook until it is a little brown on both sides. Cook the figs and peaches only until they are nicely lined from the grill. Don't overcook.
While the meat and fruit/okra are cooking, assemble the salad. I usually mix the cilantro with the greens and divide the greens between two plates. Sprinkle the sliced scallions and nuts over the greens and put in the refrigerator until ready to assemble the rest of the salad.
Make the dressing by whisking all the ingredients together and then adding the olive oil slowly as you whisk. Set this in the fridge too.
When the okra and fruit are cooked, take them off the grill and cool on a plate.
When the meat is cooked to your liking, we like medium rare, take it off the grill and let it rest at least 10 minutes. When cooled down slice the meat into thin slices.
Divide the meat, okra and fruit between the two plates of greens and then drizzle with the dressing.
Eat at once.
[/print_this]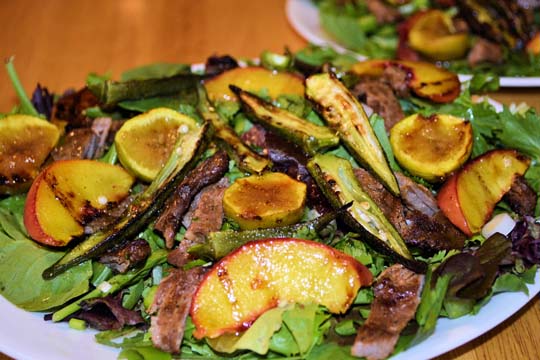 Kitchen Notes
The meat – A variety of meat can be used successfully in this salad. In the picture I used fajita beef that I bought all ready marinated at the meat market. You can also use leftover MJ's Grilled Flank Steak, leftover roast duck, and grilled marinated quail. There is a restaurant in our area that makes the most incredible grilled quail. When we go we always make sure we order enough to take one or two home. When I use them for this salad, I warm them just enough to make it easy to take the meat off the bones and distribute the meat over the greens.
The fruit – I specify firm, but not green, figs and peaches because if they are too ripe the cooking will turn them to mush. The grilling brings out the sweetness of the young fruit.
When I have it I have also sprinkled crumbled goat cheese on this salad. The goat cheese goes well with the fruit and adds even more richness to the meal.
Cooking okra –
Besides grilling the okra, another way to cook okra with slime is to slice it in half lengthwise and lightly coat it in olive oil and seasonings of your choice and roast in the oven. Usually, I just sprinkle a little sea salt and garlic powder on it. An Indian friend coats it heavily in Indian spices and then bakes it in the oven. I usually cook it on 350 F for about 20 to 30 minutes. Start with the green side down and the inside of the pods up. Keep an eye on it. You want it to be lightly brown on the edges and that takes about 10 to 15 minutes. Turn and cook the same amount of time on the other side.
If you are frying something, think about fried okra. The traditional way to fry okra is to cut it into ½ inch slices across each pod, moisten with milk or buttermilk and coat with cornmeal. My favorite is just to rinse the cut okra slightly with water and coat with either Jiffybrand Corn Muffin mix or Zataran's Fish Fry mix, then deep fry.
One other non-slimy method of cooking okra is to slice lengthwise and sauté in a skillet with a little oil then drain on paper towel.
MJ: Thanks so much Nadalyn!!!  I saw some okra at the growers' market yesterday.  If it's still there once I get back in the kitchen, I'm going to give this salad a try.  You threw the peaches in there just for me, didn't you? You've convinced me! 🙂
This recipe has been linked to the following blog hops.
Weekend Potluck, Foodie Friends Friday, Mix It Up Monday, Melt In Your Mouth Monday