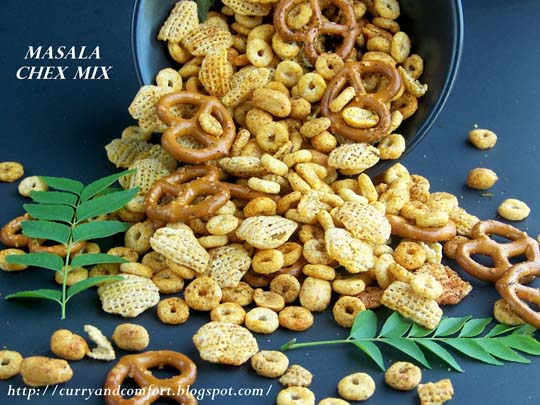 Due to a kitchen remodel I'll be without a kitchen for a few weeks, so I've asked some friends to keep my virtual kitchen going with some of their fabulous recipes. This week Ramona from Kitchen Simmer (aka Curry and Comfort) dropped by and brought me a batch of nostalgia; however, as Ramona always does, she added her signature seasonings and made it extra special.
If you don't k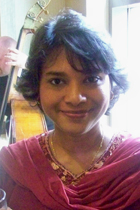 now Ramona, then you need to change that! 🙂  I've been following her blog for quite a while and have made several of her dishes – all of which were wonderful!  One of the best things I love about Ramona, is that she is fun!  You can read it in her writing and see it in her food – she's having fun and just loves spoiling us all with her wonderful recipes!
So please give my good friend Ramona a warm welcome.

Hello Everyone! My name is Ramona from Curry and Comfort, Kitchen Simmer and I was thrilled when MJ asked me to do a guest post on her fun blog. It has been such a great pleasure getting to know MJ through her love of cooking (especially her dishes from the southwest where she lives). MJ recently found some dried curry leaves so I had to make a dish that used them in a recipe. I love curry leaves and think they make savory food taste wonderful. I had so many ideas on what to make for her guest post today, but I finally settled on a fun fusion snack like Masala Chex Mix. I thought it would be a great way to introduce you all to some spicy delights and the flavors of Indo-Asian foods. Who doesn't love a nice salty snack to munch on while watching TV? Well, my family sure does, but they want something spicy too. This snack fits the bill because it's got a nice spicy kick that makes you want to eat just one more until the bowl is almost finished. My kids love this Masala Chex mix and they dove into it as soon as I told them I was done taking my pictures.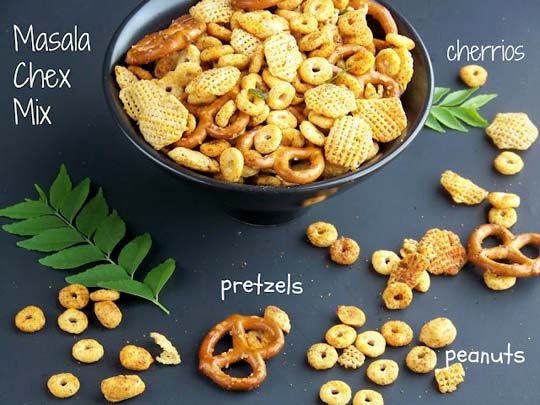 [print_this]
Masala Chex Mix Recipe
Ingredients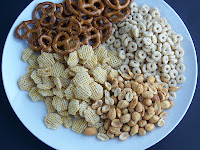 2 cups Chex cereal
2 cups Cheerios cereal
2 cups pretzels
1 cup roasted peanuts (or honey roasted)
2-3 Tbs of canola oil
1 tsp mustard seed
1 tsp cumin seed
1/2 tsp of fennel seeds
1/4 cup of curry leaves (torn apart)
Seasoning Mix (mix the following spices in a bowl and have it waiting for the final step)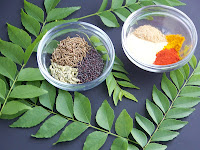 1 tsp garlic powder
1 tsp red chili powder (or to taste)
1/4 tsp turmeric
1/4 tsp sugar
1/2 salt tsp (or to taste)
3/4 tsp mango powder ( substitute well ground citric acid if mango powder is not available).
1/2 cup raisins (optional)
Directions
This is a quick recipe so you must gather and measure all your ingredients before you proceed. Keep the seasoning mix mixed up and ready to sprinkle on the chex mix in the last step.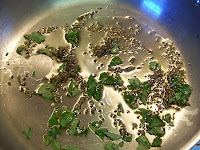 Heat oil in a large (scratch resistant) pan.  Once heated add the torn curry leaves, cumin seeds, fennel seeds and mustard seeds and fry for 20-30 seconds without burning.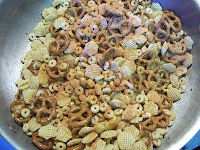 Then add the cereals, pretzels and peanuts and toss well with the oil and fried seeds and curry leaves for about 30 seconds.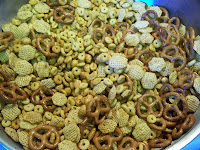 Turn heat off the stove and sprinkle with the seasoning mix and toss well. Allow chex mix to cool down and serve.
Store in an airtight container. Enjoy.
[/print_this]
MJ:  Now who can resist this?!?!  My older sister use to make several batches of Chex Party Mix during the holidays and I would stuff myself for days.  So when I saw Ramona's recipe, I was thrilled!  I can't wait to make it.
Thank you Ramona for sharing this spicy, crunchy and irresistible snack!